The goal of the Green Rights and Warrior Lawyers project is to create a cutting-edge educational platform that brings issues of environmental rights and the rights of nature vividly to life through the power of stories: the personal stories of individual environmental defenders around the world and the "warrior lawyers" who represent them in their pursuit of "green rights".
---
Around the world, environmental defenders are using law to vindicate people's right to live in a healthy environment, and the rights of nature to exist and flourish.
The legal systems of more than 150 countries recognize the human right to live in a healthy environment. Several recognize the legal rights of nature or Mother Earth. And a campaign for a global treaty on environmental rights is gaining steam. Canada, Australia, the US and a handful of other countries are increasingly isolated in their failure to recognize a right to live in a healthy environment in their constitutions or other national laws.
At the same time, young people, land defenders and public interest lawyers in Canada and beyond are pursuing environmental justice by asserting a human right to clean air, water, land, food or a stable climate system, or by standing up for the rights of animals, rivers, species or ecosystems.
Building a multimedia learning platform
A collaboration with renowned environmental author and educator, the late Dr. Silver Donald Cameron, the project draws these stories from in-depth video interviews and documentary films selected from Dr. Cameron's collection at The Green Interview. 
The project takes its name from Dr. Cameron's 2016 documentary film Green Rights: The Human Right to a Healthy World and book Warrior Lawyers: From Manila to Manhattan, Attorneys for the Earth.
The project is developing a suite of educational resources for educators and students in a range of fields, at various stages of lifelong learning, in a variety of formats including:
For-credit university courses, both in-person and online, including a seminar on Warrior Lawyers and Green Rights taught by Professor Stepan Wood in the Allard JD program (and previously a senior undergraduate political science course on Green Rights which was taught by Dr. Cameron at Cape Breton University);
Open-access short educational videos available to educators and the public for free online;
Open online courses for anyone curious about the subject;
Fee-based continuing education and certificate programs for working professionals including lawyers, business managers, government officials, non-governmental organization staffers and community organizers.
These educational tools explore the theory and practice of environmental rights and public interest lawyering through real world stories of lawyers and others involved in struggles to protect people, species and ecosystems from environmental harm. Some of these stories come from the frontlines of environmental injustice, others from legal thinkers working behind the scenes. 
The Green Rights & Warrior Lawyers project is designed to raise awareness and understanding of environmental rights and help galvanize movements to give these rights effective legal protection.
This project was born out of an exciting bi-coastal collaboration between British Columbia (Professor Wood and the Centre for Law & the Environment) and Nova Scotia (Dr. Cameron and The Green Interview). It carves out a unique niche in the environmental law education ecosystem by combining legal and journalistic methods. It mixes tools of legal theory, analysis and advocacy with journalistic techniques of documentary film, interviews, biography, blogging and storytelling to bring pressing environmental issues to life.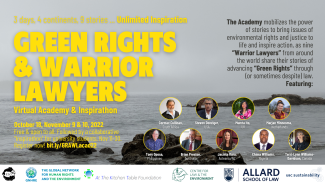 GREEN RIGHTS AND WARRIOR LAWYERS VIRTUAL ACADEMY AND INSPIRATHON 
The Green Rights & Warrior Lawyers Virtual Academy and Inspirathon seeks to inform and inspire interested people around the world about the role of law in securing environmental rights and justice.
This innovative program mobilizes the power of stories to bring issues of environmental rights and justice to life and inspire action. It has two parts: a virtual Academy, which is free and open to all, and a collaborative Inspirathon, also free and open to university students anywhere in the world. 
The Academy features courageous "Warrior Lawyers" from around the world who share their stories of advancing "Green Rights" through (or sometimes despite) law in an interactive online format. The Inspirathon is an innovative collaborative exercise in which university students in any discipline, anywhere in the world, research a problem posed by one of our featured Warrior Lawyers, and collaboratively brainstorm inspiring solutions. 
The First Academy and Inspirathon were held in October-November 2022. The Academy featured nine leading "Warrior Lawyers" from five global regions:
Cormac Cullinan, lawyer and pioneer of Wild Law and Earth Jurisprudence (South Africa)
Steven Donziger, attorney for the Ecuadorean plaintiffs in the Chevron Toxico saga (USA)
Mumta Ito, lawyer, environmental campaigner and Executive Director of Nature's Rights (UK)
Marjan Minnesma, lawyer, social entrepreneur, Goldman Prize winner and Executive Director of the Urgenda Foundation (Netherlands)
Tony Oposa, lawyer, storyteller, change maker and Normandy Chair for Peace (Philippines)
Brian Preston, Chief Justice of the New South Wales Land & Environment Court (Australia)
Jacinta Ruru, Māori legal scholar, University of Otago (Aotearoa/New Zealand)
Chima Williams, lawyer, Goldman Prize winner and Executive Director of Environmental Rights Action/Friends of the Earth Nigeria (Nigeria)
Terri-Lynn Williams-Davidson, Haida lawyer, artist and musician (Canada)
Recordings of their inspiring talks are available on our YouTube channel.
SEE DETAILS AND RECORDINGS OF THE 2022 ACADEMY & INSPIRATHON  
The 2023 Inspirathon is happening in October-November 2023 and is a collaboration with Warrior Lawyer extraordinaire Dr. David Boyd, UN Special Rapporteur on Human Rights and the Environment, on the topic of Business and the Right to a Clean, Healthy and Sustainable Environment. The next Virtual Academy is planned for Fall, 2024.

Allard School of Law JD Seminar
Launched in January 2019, Green Rights and Warrior Lawyers is an elective, semester-long seminar for upper-year students in the JD program at the Allard School of law, where Professor Stepan Wood is the Canada Research Chair in Law, Society and Sustainability.
Around the world, citizens and lawyers are trying to use law to realize the rights of people to live in a healthy environment and the rights of nature to exist and flourish. In this seminar, students explore the theory and practice of environmental rights and public interest legal advocacy through real world case studies of environmental lawyers and defenders on the front lines of struggles to protect people, species and ecosystems in Canada and beyond. Using a range of sources including documentary film, video interviews, guest lectures, biographical materials, news media, case law, legislation and scholarly writing, students select a "warrior lawyer" to profile, make a presentation to the class on that lawyer and their work, and conduct a research project applying lessons from the theory and practice of environmental rights to a current environmental law issue in Canada or abroad.
The seminar is structured around The Green Interview's video interviews with environmental lawyers around the world. Over the semester, we connect live with several of these "warrior lawyers" via video to learn about new developments in their work and lives.
The seminar was co-developed by Professor Stepan Wood of Allard and the late Dr. Silver Donald Cameron of Cape Breton University and was offered in parallel with Dr. Cameron's Cape Breton University course, with video-linked classrooms.
"Warrior Lawyer" Profiles
As part of the Allard "Green Rights and Warrior Lawyers" seminar, students research and write a biographical profile about one of the many lawyers working to advance environmental rights around the world. These profiles are published on the CLE blog.