Coronavirus (COVID-19) Notice
Please be advised the ICLC will be providing legal services only by phone and email until further notice. We are not providing in person services.
The ICLC is working hard to comply with the federal and provincial governments' and public health officials' advice on social distancing. We believe this action is necessary to help ensure the safety, health, and wellness of all. We remain committed to providing the legal support we can right now. We will keep you updated and aim to be as responsive as possible to meet Indigenous peoples' legal needs in the coming days, weeks, and months.
How to reach the ICLC
The best way to reach us right now is by phone or email.
Phone: 604-822-1311
Email: iclc@allard.ubc.ca
If you have an appointment with any of our student clinicians they will call you at the appointment time scheduled. If you don't have an appointment at this time, but need legal help please call or email us as noted above and we'll do our best to assist.
The Indigenous Community Legal Clinic is located in the Downtown Eastside on traditional, ancestral, and unceded Coast Salish territories and exists for two purposes: first, to provide free legal services to the Indigenous community and second, to provide legal education to Allard School of Law students. By participating in the ICLC program, students interested in advocacy, social justice and Indigenous peoples can gain practical experience and make a meaningful contribution to a historically underserved and marginalized community.  The ICLC provides students with the opportunity to gain practical hands-on experience managing client files and making court appearances.
Indigenous Community Legal Clinic Contact Information:
Tel: 604.822.1311
Toll Free: 1.888.684.7874
Fax: 604.684.7874
E-mail: iclc@allard.ubc.ca 
Office: Indigenous Community Legal Clinic, 148 Alexander St., Vancouver, BC
---
---
Profiles
Patricia M. Barkaskas - Academic Director, Indigenous Community Legal Clinic
B.A. (University of Victoria), M.A. and J.D. (University of British Columbia)
Member: Law Society of British Columbia
Patricia Barkaskas earned a M.A. in History, with a focus on Indigenous histories in North America, and a J.D., with a specialization in social justice, from the University of British Columbia. She is a sole practitioner and practices in the areas of child protection (as parent's counsel), criminal, and family law, and has practiced prison and civil law. She has worked closely with Indigenous peoples in their encounters with the justice system and has worked for Residential school survivors as an historical legal researcher for the Indian Residential Schools Settlement Agreement. In addition she has written Gladue reports for the Provincial and Supreme Courts of British Columbia, and the British Columbia Court of Appeal. Her teaching and research interests include restorative justice and experiential learning in clinical legal education. Patricia was born in Alberta and is Métis from the Lac Ste. Anne Cree/Métis and Red River Métis communities.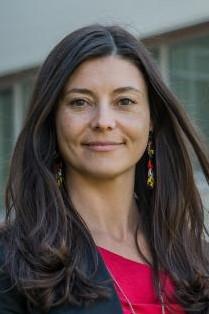 Mark Gervin - Lecturer/Legal Services Director
B.A. (Simon Fraser University), L.L.B.  (University of British Columbia)
Member: Law Society of British Columbia
Mark is an alumnus of the Allard School of Law; he articled with Glenn Orris, QC and was called to the British Columbia Bar in 2000. A criminal defence lawyer, Mark has worked on and continues to work on murder trials across the province of British Columbia, in addition to many other criminal law offences. Currently, he appears regularly in the British Columbia Provincial and Supreme Courts both as defence counsel and as ad hoc Crown Counsel.  Mark also serves as Chair of the Criminal Law sub-section of the Canadian Bar Association's BC Branch and is a founding member and Vice President of the Criminal Defence Advocacy Society (C-DAS).