Allard School of Law Alumni
The ultimate measure of a law school is its graduates. At the Allard School of Law, we've educated generations of outstanding leaders who have made their mark in a broad range of spheres, from the legal profession and the judiciary to business, government and academia. Our alumni are not only excelling in their professions, they're contributing to their communities, working in diverse ways to improve the world around them and creating a more just and equitable society. The law school takes great pride in its many graduates.
Do you know an alum who is truly accomplished? Who has a fascinating life story? Who has given back to their community in a remarkable way? Every month we profile one of our alumni in our newsletter and we would appreciate your suggestions of alumni who deserve to be profiled. Please send your suggestions to Jennifer Regan.
---
---
Alumni E-Newsletter
Our monthly e-newsletter keeps you up to date and informed about the latest law community and alumni news and achievements. It also provides event information and reunion updates.
Recent Alumni Profiles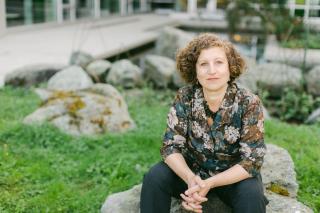 Lisa Martz is a senior litigation lawyer with a wealth of advocacy and leadership experience — and she says she's thrilled to have the chance to share what she's learned with Allard Law students.
Nigel is a Gitxsan-Cree lawyer at White Raven Law. He's also the lead dancer with the Vancouver-based Indigenous dance troupe Dancers of Damelahamid, a scholar and a teacher of law, as well as a father to two young children – and just three years out of law school.
When Marcie Moriarty made the leap from Animal Biology at UBC to her JD at Allard Law, she had no idea she was embarking on a path that would lead to her dream job. As the Chief of Protection and Outreach at the BC SPCA, Marcie Moriarty advocates for the elimination of animal cruelty (with her trusty sidekicks Pip and Zorro at her side).