Allard School of Law Alumni
The ultimate measure of a law school is its graduates. At the Allard School of Law, we've educated generations of outstanding leaders who have made their mark in a broad range of spheres, from the legal profession and the judiciary to business, government and academia. Our alumni are not only excelling in their professions, they're contributing to their communities, working in diverse ways to improve the world around them and creating a more just and equitable society. The law school takes great pride in its many graduates.
Do you know an alum who is truly accomplished? Who has a fascinating life story? Who has given back to their community in a remarkable way? Every month we profile one of our alumni in our newsletter and we would appreciate your suggestions of alumni who deserve to be profiled. Please send your suggestions to Jennifer Regan.
---
---
Alumni E-Newsletter
Our monthly e-newsletter keeps you up to date and informed about the latest law community and alumni news and achievements. It also provides event information and reunion updates.
Recent Alumni Profiles
In honour of National Volunteer Month in April, alumni UBC spoke with the Hon. Linda Loo (LLB '74) about her involvement with Allard Law's Student, Alumni & Community Dinners program and why giving back is so important to her.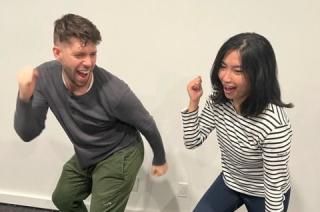 Jonathon Braun (JD '15) and Jennine Punzalan (JD '21) are just two of the many Allard Law alumni in this year's production of The Lawyer Show. They answered our questions about the power of ABBA, how to (discretely) rehearse for a musical while at the office and how to learn to play the bagpipes badly!
Brian Patterson (LLB/JD'95) serves as Senior Corporate Counsel for a global law firm with offices in 80+ countries. Brian talked to the UBC Magazine about living in his hometown of Grand Cayman, Cayman Islands.