Warrior Lawyer Profile: Pablo Fajardo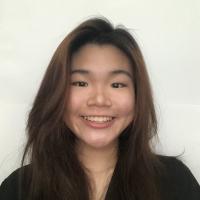 Ashton Siow
Allard Exchange Student 2022-2023, Bachelor of Laws Candidate National University of Singapore
Jul 7, 2023
An Ecuadorian Voice for the People, Environment and Justice
In 1986, a 14-year-old boy from a family of farmers living in extreme poverty found work in an oil palm plantation and an oil company. The boy, Pablo Fajardo, was subsequently fired for standing up against the severe environmental damage caused by his employers and again for defending the rights of his fellow employees.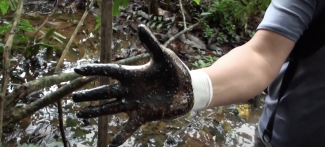 His passion for the people and the environment only grew as 19 years later, he represented 30,000 Indigenous people in an action against one of the largest oil and gas corporations in the world, Chevron-Texaco. Eventually, in 2011, the Ecuadorean trial court ruled in favour of the plaintiffs and ordered Chevron to pay US $18 billion in damages to ameliorate the lingering effects of the 17 million gallons of crude oil dumped into the Ecuadorian Amazon. The damage award was later reduced to US $9.5 billion on appeal. 
The spirit of his 14-year-old self continues to live through Pablo Fajardo.
Fajardo's childhood
Fajardo grew up in Lago Agrio, the centre of the oil industry in eastern Ecuador. This region, named after the town of Sour Lake in Texas where Texaco originated, is located in the Ecuadorian Amazon, one of the most biodiverse places on Earth. Fajardo was born into a family of poor farmers. He had to earn his own money to continue his education beyond the eighth grade. He was eventually able to attend law school thanks to financial support from his church, which paid more than half his tuition. Even so, he had to hold down several jobs to afford his schooling – he studied from four until seven in the morning, and then worked until six at night.
The battle against Chevron-Texaco
A year after he graduated from law school, he took leadership of the suit against Chevron-Texaco.  Chevron's predecessor company Texaco, instead of extracting oil responsibly in accordance with its own industrial handbook, chose not to re-inject wastewater into the oil wells and instead deliberately dumped nearly 17 million gallons of oil into soils and waterways along with 20 billion gallons of contaminated water. The oozing pits at the well sites invoke indignation for the environment and its residents. Water sources were contaminated throughout the region and few fish survive in the rivers, depriving local Indigenous peoples of a staple of their diet. On top of this, prolonged exposure to toxins led to a serious health crisis amongst the Cofán people, one of the Indigenous communities that call the Amazon home.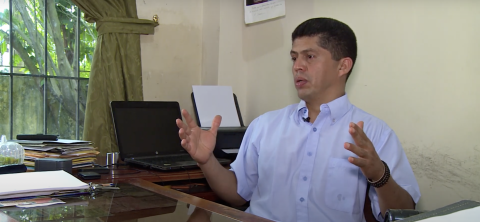 Unfortunately, months after Fajardo joined the legal team against Chevron-Texaco, his brother was cruelly tortured and killed. No investigation took place and no one was arrested for the homicide. Fajardo was forced to sleep in a different place each night, but his spirit remains unwavering – he was resolute in staying in his town. This was his way of respecting nature, people and life, and upholding justice.   
After a long battle, Fajardo and his team emerged victorious in 2011 – a judge in Ecuador handed down the verdict against Chevron-Texaco, then doubled the damages to US $18 billion after Chevron refused an order to apologize. While the award was subsequently reduced to $9.5 billion, it was nevertheless upheld by the higher Ecuadorean Court. However, over the 20 year long litigation, the company had liquidated all its assets in Ecuador. The plaintiffs sued to enforce the judgment in Argentina, Brazil and Canada – places where the company continues to operate. 
In a major blow to the affected communities, in March 2014, a federal judge in the US concluded that Fajardo's co-counsel, Steven Donziger, and his team had submitted false evidence in Ecuador. The judge also found that they paid off a court-appointed expert, ghost-wrote much of his evidence, and bribed an Ecuadorean judge. In 2018, an international arbitration panel once again sided with Chevron, ordering Ecuador to wipe out all consequences of the court verdict and preclude anyone from enforcing it. This was done on grounds that the judgement was obtained fraudulently. 
Nevertheless, Fajardo emphatically states that this case isn't just about Chevron-Texaco. More than that, as he told Silver Donald Cameron in 2014, his work is against "an entire system of impunity for business that has existed, and still exists, through the world." Indeed, he stresses that "our work in Ecuador is an example of the good things that can happen when thousands of people, most without money or power, can come together in a common effort to better themselves and the planet".
His work has been extensively covered by media outlets internationally and has been the subject of many books, news articles and documentaries. This has engendered important discussions on corporate accountability, especially in the oil and gas industry, as well as human rights. 
Outside of the courts, Fajardo and his team have been working on plans to clean the soil and reconstitute displaced Indigenous communities.
Pablo Fajardo's spirit in fighting this David-and-Goliath battle is truly inspiring. His bravery, tenacity, and sheer passion to save nature and its people make him an exceptional lawyer – a warrior lawyer for the environment. 
You can watch Silver Donald Cameron's 2014 interview of Pablo Fajardo on The Green Interview website, which contains interviews with more than 100 environmental thinkers, defenders, lawyers and activists around the world, along with feature-length documentary films about struggles for environmental rights.
---
Centre for Law and the Environment