Warrior Lawyer Profile: Camille Labchuk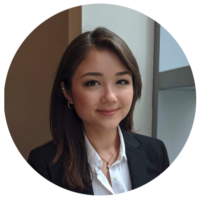 Marie Turcott
Allard JD 2021
Dec 27, 2019
A Voice for the Voiceless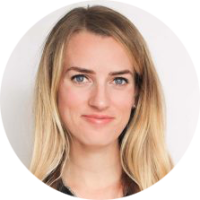 "We are expanding rights constantly to [marginalized] groups … and there's a lot progress left to be made for women, for … racialized communities, for the environment certainly and especially for animals," Canadian animal rights lawyer Camille Labchuk told Silver Donald Cameron of The Green Interview in 2016.
"The situation won't improve, she said, "without people being extremely vocal, extremely active and trying innovative legal strategies."
Labchuk is a leading example of how "warrior lawyers" can employ media, advocacy and law to instigate socio-political change. Labchuk's concern for animal and environmental issues was sparked at age nine by footage of a seal hunt on television. Her mother, former leader of the P.E.I. Green Party and a long-time environmental activist, was a role model and inspired Labchuk's interest in environmentalism. Labchuk would accompany her mother to activism events and meetings with politicians, which gave rise to her relationship with current Green Party of Canada leader, Elizabeth May. As May's press secretary, Labchuk observed firsthand how lawyers could utilize their legal training to be powerful activists. Combined with her experience volunteering with the Humane Society International to document the east coast commercial seal hunt, Labchuk grew determined to pursue a legal career advocating on behalf of animals.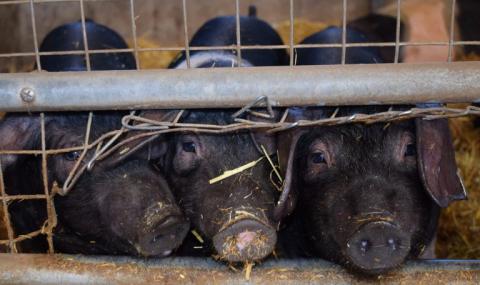 Today, as the Executive Director of Animal Justice, a not-for-profit organization dedicated to improving legal protections for animals, Labchuk tirelessly advocates for the recognition of animal rights in Canadian law. Given the pervasive use of animals for food, clothing and entertainment, the animal rights movement is up against very powerful industries that rely on maintaining the "animals-as-property" paradigm: an anthropocentric framework that places human interests in flavour, fashion and amusement above the interests of nonhuman animals. Where a pig's desire to live conflicts with the human desire to eat bacon, the human interest prevails, even if the pig had been adopted from an animal shelter as a pet. This property designation creates loopholes where animals are not protected by the law, and standing rules preclude advocates from representing their interests in the courtroom. Even where laws exist to protect their welfare, for example regulating transport, animal cruelty, and animal welfare in captivity, enforcement has historically been poor.
Labchuk's work shows how legal and non-legal strategies can be used to confront these obstacles in the fight for animal rights. In the legal arena, she gets animal issues into court as much as she can, and helps legislatures pass better laws. With her background in criminal law, Labchuk represents animal activists who find themselves in trouble during protests and demonstrations. She also seeks out high-profile cases of animal cruelty to bring or in which to intervene. For instance, in 2015, Animal Justice filed a legal complaint with the Competition Bureau against apparel maker Canada Goose, alleging that the company's website contains many misleading claims regarding the welfare of animals used to make their jackets. In 2016, Animal Justice intervened in a high-profile case before the Supreme Court of Canada concerning the scope of bestiality as a criminal offence.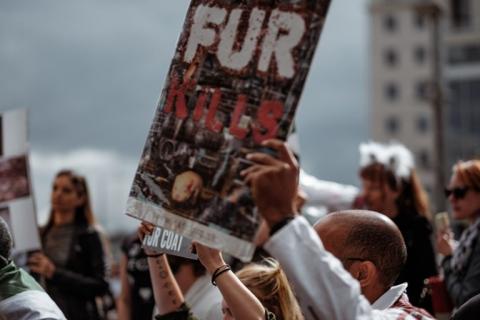 Labchuk has actively advocated for legislative reform at all three levels of government in Canada. With Animal Justice, she has run campaigns in collaboration with other organizations and passionate individuals, pushing for the enactment of legislation protecting animals and the election of "animal-friendly" political representatives. After years of hard work by Animal Justice and others, in 2019 Parliament passed three ground-breaking bills (S-203, C-68 and C-84) that ban cetacean captivity, shark finning, bestiality and animal fighting.
When Labchuk is not in the courtroom, she stays active in the media, bringing animal cases to the public's attention and urging action.
Labchuk believes that "one of the best ways to get a legal actor to actually do their job is by public pressure."
Labchuk co-hosts Canada's only animal law podcast, Paw & Order, in which she and animal rights scholar Peter Sankoff discuss cases and legislation and routinely encourage listeners to contact their Members of Parliament regarding the issues raised in the show. Animal Justice was also one of the first groups to call out the Calgary Humane Society for choosing not to exercise its authority to enforce the Albertan anti-cruelty laws in the context of the Calgary Stampede. In the above-mentioned legal complaint regarding Canada Goose, the Competition Bureau ultimately decided not to order the company to revoke its claims. Nevertheless, Labchuk has continued to be vocal by giving interviews, writing for media outlets and getting the public involved on her Twitter feed. Finally, to bring together seasoned and aspiring animal activists and advocates, Labchuk and Animal Justice co-hosted the inaugural Canadian Animal Law Conference with the Schulich School of Law at Dalhousie University in October 2019.
Aspiring warrior lawyers, whether advocating for animal or environmental rights, can gain a toolbox of legal and non-legal strategies from Labchuk's efforts and victories. With the parallels between the animal and environmental rights movements, we are beginning to see a merging of animal and climate activists, for good reason: a collective voice is harder to ignore. As Labchuk's favourite quote, widely (but not quite accurately) attributed to civil rights activist Martin Luther King Jr., goes, "Our lives begin to end the day we become silent about things that matter."
You can watch Silver Donald Cameron's 2016 interview of Camille Labchuk on The Green Interview website, which contains interviews with more than 100 environmental thinkers, defenders, lawyers and activists around the world, along with feature-length documentary films about struggles for environmental rights (teasers are free; full access requires a modest subscription).
---
Centre for Law and the Environment