Warrior Lawyer Profile: Marjan Minnesma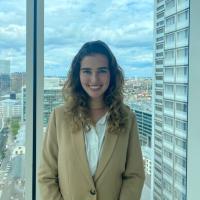 Jade Windsant
Allard Exchange Student 2022-2023, LLB Candidate Leiden University
Jul 21, 2023
Fueling a Sustainable Future with Passion and Purpose
The Urgenda case is often called a lawsuit based on hope. It gave people all over the world hope to continue pleading for the environment. Finally, a court acknowledged the problem of climate change and forced a national government into taking action.
For Marjan Minnesma, the executive director of the Urgenda Foundation, it is a court case born out of love. She started this case out of love for future generations, not to seek financial gain.
She put her entire heart into this ground-breaking case and it showed. It put Minnesma and Urgenda on the map. But who is Marjan Minnesma?
Marjan Minnesma is a lawyer, climate activist and social entrepreneur. She has a master's in business administration and international law and has a broad experience in the working field, as she told Silver Donald Cameron in an interview in 2015. She has worked for Greenpeace and Royal Dutch Shell as well as the government and several Dutch universities. She eventually ended up working at the Institute for Transactions (DRIFT), where she met Professor Jan Rotmans, co-founder of the Urgenda Foundation.
Minnesma and Rotmans worked with 40 PhD students on a theory towards a more sustainable society. This theory was put into practice when Minnesma and Rotmans created their "urgent agenda" for concrete actions contributing to a more sustainable society. When this gained support after publication in a newspaper, Minnesma and Rotmans decided to create the Urgenda Foundation, which strives to make the Netherlands a 100% renewable energy society by 2030.
Perseverance is the key to success
"I just want to show that it's possible," said Minnesma when Silver Donald Cameron asked why she takes on these innovative and experimental projects. Her perseverance is what makes her stand out. When something seems far-fetched to people, she does not back down: she strives to prove them wrong. This attitude made her number one in the "sustainable 100" of the Dutch magazine Trouw, for three consecutive years.
Minnesma is a lover, not a fighter. She describes herself as a connector of the people, who tries to engage people through conversation. She tries to educate and influence people on environmental issues and sustainability, but her heart truly lies with starting projects and getting them off the ground.
One of her first projects cost roughly 20 million euros. In an effort to make solar panels more accessible to Dutch citizens, Minnesma planned to buy 50,000 solar panels directly from China to drastically reduce the price. She convinced her buyers to pay 20% upfront, but banks refused to finance her project due to her lack of experience.
Of course, Minnesma didn't give up. She went to China herself to negotiate a deal. With this bold move, she was able to secure an agreement with the manufacturer to delay payment for six weeks after the shipment's arrival in the Netherlands. This enabled her to complete this daring transaction despite the banks' resistance. Minnesma's problem solving attitude is what makes unique projects like this possible.
Besides this, Urgenda has launched many projects for a more sustainable future, including the Day of Sustainability, The People's Climate March and The Climate Miles.
A new era for Dutch environmental law
This brings us to the famous Urgenda case itself. The Dutch Supreme Court ruled in 2019 that the government has a legal obligation to protect Dutch citizens from climate change and to implement a target of reducing greenhouse gas emissions by at least 25% by the end of 2020. Inspired by the book Revolution Justified by the lawyer Roger Cox, Minnesma brought this case from an unusual angle: tort law. Urgenda claimed that the government had failed to fulfill its duty of care to Dutch citizens through its negligence in meeting the minimum reduction of emissions set by the European Union.
The government argued that it was afraid to be a frontrunner, but Minnesma has no such fear. Through a newfound method of crowd pleading, Urgenda, along with 899 citizens, successfully sued the government and legally bound them into taking action to fight climate change. Minnesma's input and unique strategy in this case led to her winning the 2022 Goldman Environmental Prize, the first Dutch person to do so.
Despite its legal obligations, the Dutch government is still failing to make climate change an urgent priority. Minnesma's remarkable tenacity was demonstrated once again when she got the Dutch prime minister to agree to sit down and receive a lesson on climate change from her, as she revealed in a 2022 webinar.
Though she does not actively practice law, her innovativeness, determination and heart for the environment are what make Minnesma a true warrior lawyer.
You can watch Silver Donald Cameron's 2015 interview of Marjan Minnesma on The Green Interview website, which contains interviews with more than 100 environmental thinkers, defenders, lawyers and activists around the world, along with feature-length documentary films about struggles for environmental rights. You can also earn more about Marjan's work by watching her talk at the First Annual Green Rights & Warrior Lawyers Virtual Academy, November 9, 2022. 
---
Centre for Law and the Environment