Warrior Lawyer Profile: Kaitlyn Mitchell
Kaeleigh Phillips
Allard JD 2022
Mar 24, 2021
Animal Rights Lawyer working to strike down ag-gag laws 
Many animals spend their entire lives in windowless and dark rooms, subject to horrific abuse and perpetual fear from birth until slaughter. Farmed animals are virtually unprotected in Canadian law, and one of the only ways to help these animals is to document and expose animal abuse on farms. Unfortunately, Ontario and Alberta have recently enacted so-called "ag-gag" laws to deter and criminalize this practice and Manitoba is considering a similar bill.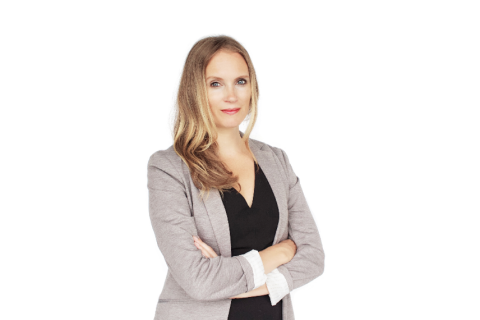 Ag-gag laws penalize activists for documenting animal abuse and other unlawful activities in slaughterhouses. These laws are typically enacted by making into an offence to enter a facility under false pretenses and prevent an individual's ability to document and publicly expose animal abuse. Luckily, there is a lawyer on the frontlines fighting ag-gag laws in Canada. I sat down with animal rights lawyer, Kaitlyn Mitchell, in a virtual interview in October 2020 and questioned her on her ag-gag work and her journey through her environmental and animal rights law career. Kaitlyn Mitchell is an animal rights lawyer with Canada's only animal law advocacy organization, Animal Justice and ag-gag laws are a main focus of her current legal work.
"We are expecting to challenge Ontario's ag-gag law once it comes into force and most of it is not in force yet," Mitchell explains Animal Justice's role in combatting these ag-gag laws in Canada. "We are working on the public consultation for Manitoba's ag-gag law and we are hoping to stop them from introducing an ag-gag law in the province". Mitchell remains hopeful though as ag-gag laws have been struck down in six US states as unconstitutional violations of the First Amendment right to freedom of speech and have failed to pass in over 20 US states.
Before Animal Justice, Mitchell had several years of experience in the field of environmental public interest law. She was called to the bar in 2008 after graduating with a JD degree from Dalhousie University. Mitchell articled at the Canadian Environmental Law Association (CELA) in Toronto and continued there for two years following her articling position, focusing on environmental equity and environmental justice.
In 2010, Mitchell moved to Ecojustice as a staff lawyer and focused on environmental justice, air pollution in First Nations communities, and the human right to a healthy environment. While at Ecojustice, Mitchell was a legal counsel in the Chemical Valley Charter Challenge and worked on this case for six years. Representing Ada Lockridge and Ron Plain of the Aamjiwnaang First Nation, Mitchell was one of the lawyers who pursued a court challenge to declare that the Ontario Ministry of the Environment 's decision to allow Suncor to increase production at one of its petrochemical facilities violated Lockridge and Plain's rights under sections 7 and 15 of the Charter. In my interview with Mitchell, she describes the cumulative impacts of the air pollution on the Aamjiwnaag First Nation as "death by one thousand cuts". She also sought recognition of the human right to a healthy environment, which includes clean air, clean water, and a healthy climate. The court case led the Ontario government to fix some of the health and environmental problems at issue and the lawsuit was withdrawn. The Ontario government has since taken action by addressing benzene leaks and lowering limits on sulphur dioxide emissions, though they have been criticized for backtracking on their commitments for the first few years after the lawsuit was dropped.
Mitchell is also interested in rights of nature for animals in Canada, which would grant animals and nature certain rights and protection under Canadian law. She presented in Canada's Animal Law Conference 2020 on potential opportunities these rights could present for Canadian animals. She further explains, "To obtain rights of nature, it is best to combine litigation and law reform, to push for constitutional recognition on the rights of nature, while also pursuing litigation opportunities including and most notably under the Species at Risk Act". Mitchell argues that rights of nature are a strategic starting point to recognize and enforce animal rights in Canadian courts, drawing from the dissent of Justice Fraser in the Lucy case, the difficulty of obtaining standing for an elephant in this case, and the need for creative ways to obtain standing for animals in Canada. Lucy is an elephant in the Edmonton Zoo who is suffering greatly from acute health problems and there is very little animals advocates can do to help her in the courtroom currently. Rights of nature could help animals like Lucy and point a way forward to protect all animals in the future.
Mitchell's strategic focus, legal experience, and passionate dedication to obtain justice for animals in Canada gives hope to future animal law advocates and points a way forward for granting rights to animals, and a better life for these miraculous beings.
---
Centre for Law and the Environment