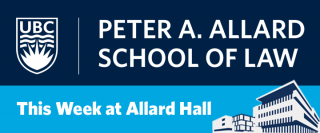 Our weekly internal newsletter "This Week at Allard Hall" provides members of our community with important updates and reminders from Academic Services and other departments within the law school. A snapshot of upcoming events hosted at Allard Hall is also included in the newsletter each week. The newsletter is emailed to all students, staff and faculty at the Allard School of Law every Monday during the school year. To make a submission for the "This Week at Allard Hall" newsletter, send an email to communications@allard.ubc.ca.
You can find newsletter editions from this term below: 

May 9th, 2022
May 16th, 2022
May 24th, 2022
May 30th, 2022
June 6th, 2022
June 13th, 2022
June 20th, 2022
June 27th, 2022
Students, staff, and faculty associated with Allard Law are welcome to subscribe to the newsletter here.