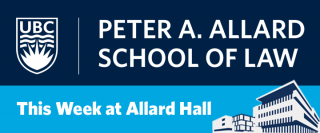 Our weekly internal newsletter, This Week at Allard Hall, provides members of our community with important updates and reminders from academic and student services as well as upcoming events hosted at Allard Hall. The newsletter is sent out to all students, staff and faculty at the Allard School of Law. To make a submission or read older editions of the newsletter, send an email to communications@allard.ubc.ca.
You can find all editions from the Winter 2020 term below: 

September 8th, 2020
September 14th, 2020
September 21st, 2020
September 28th, 2020
October 5th, 2020
October 13th, 2020
October 26th, 2020
November 2nd, 2020
November 9th, 2020
November 16th, 2020
November 23rd, 2020
November 30th, 2020
December 7th, 2020
December 14th, 2020
January 11th, 2021
January 18th, 2021
January 25th, 2021
February 1st, 2021
February 22nd, 2021
March 1st, 2021
March 8th, 2021
March 22nd, 2021
March 29th, 2021
April 6th, 2021
April 12th, 2021
Students, staff, and faculty associated with Allard Law are welcome to subscribe to the newsletter here.