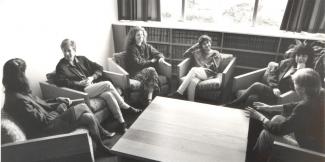 A brief history of the CFLS:
Feminist initiatives at the law school date back to the 1970s-80s. Before the Centre for Feminist Legal Studies (CFLS) was established in 1997, feminist faculty and students came together to develop various seminars covering a wide range of feminist topics, including "Women in the Law" (offered by Penny Bain, Lynn Smith, Marguerite Jackson and barbara findlay), "Feminist Legal Theory" (offered by Marlee Kline),  "Reproduction and the Law" (offered by Nitya Iyer), "Women, Law, and Family" (offered by Susan Boyd) and more. 
During the early 1990s, the endowed Chair in Feminist Legal Studies was established to reinforce and strengthen the existing base of feminist legal studies in the Faculty and to foster scholarship and learning directed toward social change related to the position of women position in society. Susan B. Boyd was appointed as the first incumbent of the Chair. The CFLS was then established in 1997, with Susan B. Boyd appointed as Director of the CFLS.
The CFLS became a centre for collaborating on research projects and sharing new ideas amongst faculty and visiting scholars from the wider feminist legal community. The CFLS launched its Lecture Series in the late 1990s, which featured speakers on various topics on feminism and the law, and continues on today. The Centre also drew interest from visiting scholars, who would speak at the Lecture Series and collaborate with feminist faculty members affiliated with the CFLS. 
In 2004, to honour the passing of esteemed faculty member, Marlee G. Kline, the CFLS held the Inaugural Marlee Kline Lecture in Social Justice. On October 14, 2004, the CFLS welcomed the Honourable Mary Ellen Turpel Lafond, then a judge of the Saskatchewan Provincial Court of Justice, who spoke on Women in Leadership and Advocacy for Children. The annual Marlee Kline Lecture in Social Justice continues today, with the most recent lecture delivered by the Honourable Lynn Smith, Q.C. on January 28, 2020, "Real Hate in a Virtual World: Misogyny in Cyberspace." 
Today, the CFLS is proud to continue and expand the work of prominent feminist scholars and activists in the legal community and socio-legal studies. The CFLS continues to attract visiting scholars, students and practitioners from the wider feminist community as a space for collaborating on research and sharing their work. The Centre continues to hold its weekly lecture series, the Marlee Kline Lecture in Social Justice, as well as conferences, workshops and other events that vary each year.
Follow us on our social media to stay updated!
---
Archives
See below to access the full CFLS history archive (1970s-present) and the LawFemme Newsletter (2001-2013).