Professor Kline died in 2001 after a lengthy and determined struggle with leukemia. Her work on feminist legal theory, critical race theory, child welfare law and policy, law's continued colonialism, and the restructuring of the social welfare state is internationally acclaimed.
---
The Centre for Feminist Legal Studies is pleased to present the annual Marlee Kline Lecture in Social Justice each Fall and to award the Marlee Kline Essay Prize to a deserving student (or students) each academic year. Marlee's library, which contains many volumes on the intersection of class, race and gender in the legal arena, is housed at the Centre.
2022-2023
Sylvia McAdam: "Skirting Around Colonialism" (March 6, 2023)
This lecture explores the clothing of nēhīyaw and Anishinaabe women at the time of European contact to its current state; how the influence of church and state have violently and brutally impacted women and 2spirit peoples place in the structures of nēhīyaw and Anishinaabe life. Policing and controlling women's bodies has fractured and decimated the power of women: the use of canon law and common law continues to uphold and enforce current colonial projects and systems in the typologies of genocide.
This event is eligible for 1 CPD credit.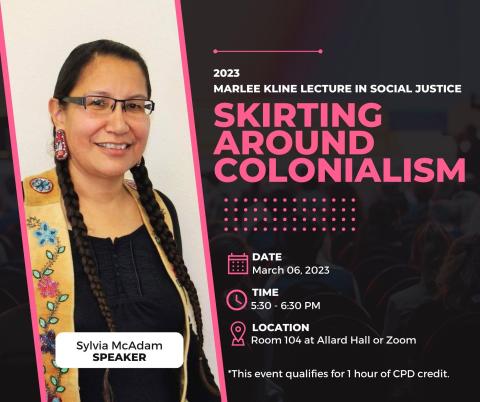 Sylvia McAdam (Saysewahum) is from the Treaty 6 lands in what is now called "Canada."  She is a direct descendant of Treaty peoples and Original peoples of these lands. Sylvia is from the nēhīyaw Nation. She has her Juris Doctorate from the University of Saskatchewan and a Bachelor's degree in Human Justice from the University of Regina.  Sylvia is co-founder of a global grassroots Indigenous-led movement called "Idle No More." Idle No More has changed the political and social landscape of Canada as well as reached the global community to defend and protect all lands, waters, and animals.
Sylvia is also co-founder of the "One House Many Nations" Campaign, which designs off-the-grid sustainable tiny-homes to address and raise awareness about the epidemic unacceptable proportions of homelessness in such a wealthy state as "Canada" especially amongst Indigenous/Original peoples.   
Through the work of protecting land and water, Idle No More has been selected for several awards, namely: the Carole Gellar Human Rights Award, Foreign Policy Top 100 Global Thinkers 2013, Social Justice Award, and 2014 Global Citizen Award. ​Most recently, it was awarded the Margolese National Design for Living Prize.
---
Previous Marlee Kline Lectures:
2021-2022
Brenda Cossmann: "The New Sex Wars: Sexual Harm in the #MeToo Era" (March 10, 2022) 
2020-2021
Dean Donna Young: "Say Her Name: Law and Activism at the Intersection of Race and Gender" (February 8, 2021) 
2019-2020
Honourable Lynn Smith, Q.C.: "Real Hate in a Virtual World: Misogyny in Cyberspace" (January 28, 2020)
2018-2019
Sonia Lawrence: "What we talk about when we talk about rights: infinite loops and uncertain futures for feminist legal strategies" (January 15, 2019)
2017-2018
Jacinta Ruru: "Honouring Our Ancestors in Law: Legal Personality and Indigenous Governance of Lands and Waters" (January 31, 2018)
2016-2017
Constance Backhouse: "Canada's First Lesbian Sexual Assault Trial" (November 9, 2016)
2015-2016
Kim Pate: "The Terrible Truth about Canadian Crime: No Justice for Indigenous Women" (October 29, 2015)
2014-2015
Colleen Flood: "The Poverty of Health Human Rights in Canada" (March 26, 2015)
2013-2014
Bonnie Sherr Klein: "I Am Who You Are" (January 30, 2014)
2012-2013
Jean Teillet: "The Métis of the Northwest: Finding Justice for Invisible People" (January 17, 2013)
2011-2012
Hester Lessard: "Jurisdictional Justice and the 'Dream of Democracy': Missing Voices in the Struggle for Insite" (January 26, 2012)
2010-2011
Ruthann Robson: "UnSettled" – this presentation explored the links and dissonances amongst five colonial/post-colonial societies (March 3, 2011)
2009-2010
Tracey Lindberg: "DE(CON)STRUCTION: Canadian Law and Indigenous Women" (March 25, 2010)
2008-2009
Camille Nelson: "Racializing Disability, Disabling Race: Policing the Intersection of Race and Mental Disability" (October 16, 2008)
2007-2008
Carol Smart: "Memory, Law and Family Secrets" (November 1, 2007)
2006-2007
Lucie White: "Rights-Based Development" (October 19, 2006)
2005-2006
Didi Herman: "An 'Unfortunate Coincidence': Jews and Jewishness in English Courts" (October 24, 2005)
2004-2005
Mary Ellen Turpel-Lafond: "Women in Leadership and Advocacy for Children" (October 14, 2004)