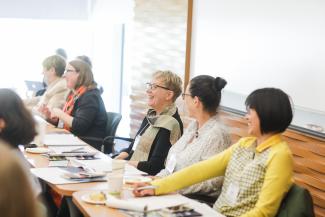 The Centre for Feminist Legal Studies (CFLS) and its faculty affiliates have been involved in organizing numerous conferences and workshops to bring together scholars and practitioners of the feminist legal community. See below for upcoming and recent conferences and workshops. 
Follow our Facebook and Twitter to stay updated on new conferences and workshops. You can also join our email list by contacting us at cfls@allard.ubc.ca. 
---
Recent Conferences & Workshops
 
Constitutional Crossroads in Canada and Around the World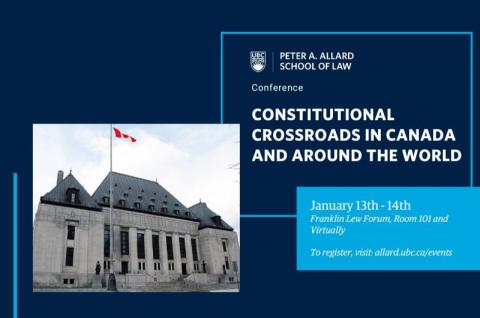 Constitutional orders around the world are at a crossroads and Canada is no exception. On January 13th and 14th, this conference gathered constitutional law scholars and theorists to discuss some of the most pressing issues in constitutional law, both in Canada and elsewhere.

2022 marked the 40-year anniversary of the 1982 amendments to the Canadian Constitution. The Constitutional Act, 1982 includes the Canadian Charter of Rights and Freedoms, provisions protecting Aboriginal rights, an amendment formula, and a constitutional supremacy clause. Panelists discussed debates arising from these provisions and from other areas of Canadian constitutional law.

The conference program also included some of the leading voices in comparative constitutional law and transnational law. Panelists discussed challenges that are common to contemporary constitutional orders, including those posed by populism, pluralism, globalization, gender inequality, colonization and climate change.

This conference was a launch event for the Canadian branch of ICON-S and it is the first in what the organizers hope will be a series of events on constitutional law co-hosted by UBC's Allard School of Law and the University of Alberta's Centre for Constitutional Studies.

The conference was also a collaborative endeavor that brings together four of Allard Law's research groups: Indigenous Legal Studies, the Centre for Asian Legal Studies, the Centre for Feminist Legal Studies, and the Centre for Law and the Environment.
---
Shifting Normativities: Families, Feminisms, Laws
Celebrating the Work of Professor Susan Boyd
How we define families has changed drastically over the last few decades and the laws in Canada are catching-up to the evolving and growing needs of families across Canada.
On May 9th and May 10th, scholars and practitioners from around the world came together at Allard Hall for an interdisciplinary conference focusing on family law and feminist theory, discussing relevant and cutting-edge topics like "Trans Parents and Trans Minors-Intertwined Paths of Recognition" and "Interplay of Family Law and Immigration Law for Mothers Without Status."
"Such a gathering, beyond the immediate fruitful exchange of ideas, contributes to celebrations and production of original family law scholarship, which is essential in order to crafting a better family law. Particularly because there is a shortage of family law scholarship in Canada," said Professor Erez Aloni who served as the co-organizer of the conference alongside Professor Régine Tremblay.
The conference was also an opportunity to celebrate and honour the work of Professor Emerita Susan Boyd (F.R.S.C.), a leading socio-legal scholar who has made exceptional contributions to family law and feminist legal studies at the Allard School of Law and beyond. She joined the Allard School of Law in 1992 and was instrumental to the creation of the Centre for Feminist Legal Studies (CFLS). She served as director of the CFLS from 1997 to 2002.
"The conference embodied some of Susan Boyd's qualities: rigorous and critical academic work in a spirit of comradery," said Professor Tremblay. "This combination is especially conducive to successful exchange of ideas."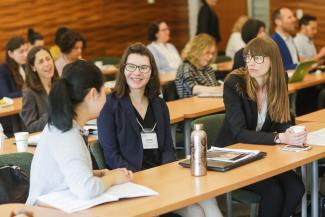 The conference will result in a collection of essays pulled together into a book co-edited by Professors Tremblay and Aloni, and a special issue of the Canadian Journal of Family Law. The underlying theme of the book is the exploration of how the law has struggled to adjust its normative content in the face of dramatic shifts in family life over the last few decades. It aims at producing interdisciplinary scholarship about the shifting normativities in family law and family life. The special issue will celebrates Susan Boyd's scholarship. 
---
Disability, Family & Law
A Symposium in Honour of Professor Judith Mosoff
&
Launch of a Special Issue of the Canadian Journal of Family Law
On March 9, 2018 in the Terrace Lounge at Allard Hall, this half-day symposium featured a keynote address by Professors Natasha Bakht and Lynda Collins (University of Ottawa) entitled "Are You My Mother? Parentage in a Non-Conjugal Family," as well as reflections by faculty members, former students, and community members on Professor Mosoff's contributions to law, legal education, and social policy; and a launch of the special issue of the Canadian Journal of Family Law in honour of Professor Judith Mosoff.
Key themes of the special issue include children's rights to legal representation, best interests of the child, mothers with mental health issues, legal definitions of family, the social construction of impairment and disability, and filial relationships. Copies of the Journal were made available.
---