In 2017 the Centre for Feminist Legal Studies celebrated its 20th anniversary.  This milestone provided an opportunity to celebrate the students, alumni, and faculty members who contribute to feminist legal work at the law school and in the community. It also provided an opportunity to launch a new fundraising initiative to create a base of sustaining funds for the Centre. 
Over the past two decades the Centre has successfully facilitated links between students, faculty, and feminist social justice communities. The Centre has been active in organizing a range of events on campus open to the community, including the popular weekly noon-hour lecture series, the annual Marlee Kline Lecture, and research symposia and workshops featuring world renowned scholars. 
There is much work to do to promote equality for all women and to ensure the Centre for Feminist Legal Studies continues as a leader in research, teaching, and community engagement.  To allow the Centre to expand its programming and reach, the support of our alumnae/i is integral. 
We wish to thank all of our 'Friends' of the Centre who demonstrate their passion for, and commitment to, the ongoing success of the Centre's work and future ambitions through a financial contribution.
---
Friends of the Centre:
Susan B. Boyd
Lyndsay Campbell
Catherine Dauvergne
Claire Haaf
Lori Lothian
Kim Stanton
Sonya Wall
Claire F. L. Young
---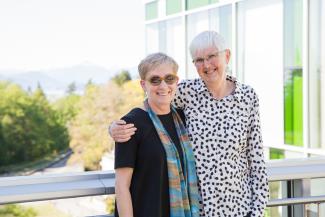 Special thanks to Professor Emerita Susan B. Boyd, the inaugural Chair in Feminist Legal Studies (left), and Professor Emerita Claire F. L. Young (right) for kick-starting this initiative with a generous gift of $20,000 and for making a further $50,000 gift in 2018. 
---
Becoming a 'Friend' of the Centre will enable it to maintain its world-class reputation while finding new ways of sharing the important and impressive contributions our students and faculty are making in this important area. A donation at any gift level will qualify you to be recognized as a 'Friend' of the Centre for the 2020-2021 academic year.