Lynn Smith
The Honourable Lynn Smith, OC KC
BA (Hons) U of Calgary, LLB UBC, Hon LLD SFU
Profile
The Honourable Lynn Smith, OC, KC, practiced law with Shrum, Liddle and Hebenton (now McCarthy Tetrault), taught law at the UBC Faculty of Law (1981-98) and served as its Dean of Law (1991-97).  Her areas of research were Evidence, the Canadian Charter of Rights and Freedoms, and Human Rights. 
She was appointed to the Supreme Court of British Columbia in 1998 and sat as a Justice of that Court until her retirement in September 2012.  She heard and decided cases in a wide variety of areas, including constitutional law.  She was the trial judge in Carter v. Canada, the constitutional challenge to the prohibition against medically assisted dying.
She has long been active in judicial education, and served a term as Executive Director of the National Judicial Institute.  She led national judicial education programs, including the NJI intensive programs on Evidence and on the Canadian Charter of Rights and Freedoms.
Smith has returned as an Honorary Professor to the Allard School of Law and teaches a seminar on Charter Litigation. She served as a Pierre Elliot Trudeau Foundation Mentor for doctoral students and continues to be active in judicial education, including the CIAJ-NJI New Federally Appointed Judges Program.  Her recent scholarly work includes a co-written article on expert opinion evidence (Carla L. MacLean, Lynn Smith, and Itiel E. Dror, "Expert Evidence on Trial:  Unearthing Bias in Expert Testimony" (2020), 53 U.B.C. Law Review 101), the 2020 Marlee Kline Lecture at the Peter A. Allard School of Law ("Real Hate in a Virtual World:  Cybermisogyny and the Law") and the inaugural lecture in the U.B.C. Provost's Lecture Series on Academic Freedom in 2021. 
Lynn Smith has served on numerous boards and commissions, including the Law Foundation of British Columbia (Chair), the Vancouver Foundation, the Women's Hospital and Health Centre (Chair), the Vancouver Opera Foundation, the National Forum on Health, the National Judicial Institute and the 2017 Alberta Judicial Compensation Commission.  She was a founding Director of the national Women's Legal Education and Action Fund, and founding Chair of West Coast LEAF.
Her current voluntary work includes service on the Board of the Music in the Morning Society and of the Health Arts Society, the Dean's Advisory Council for the Allard School of Law, and the Advisory Committee for Allard's Feminist Legal Studies Centre. 
She was named a Vancouver Y.W.C.A. Woman of Distinction in 1992, received the Georges Goyer Award from the B.C. Branch of the Canadian Bar Association in 2003, and an Honorary Doctorate from Simon Fraser University in 2004.  The UBC Law Alumni Association in 2016 awarded her a Lifetime Achievement Award. In December 2020, she was appointed an Officer of the Order of Canada.
Courses
Constitutional Law 349D (Charter Litigation Seminar)
Positions
Dean's Advisory Council
Centre for Feminist Legal Studies Advisory Committee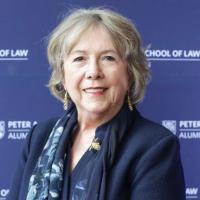 Organization Affiliations
Allard School of Law
Centre for Feminist Legal Studies
Research Interests
Courts, litigation and access to justice
Feminist legal studies
Health law and policy
Human rights
Law and society
Public and constitutional law
---