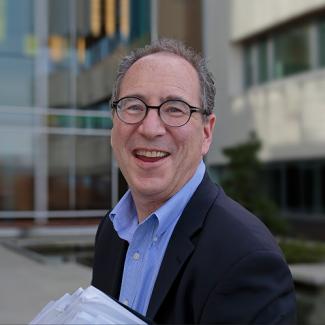 Mr. Festinger is a Vancouver based counsel and educator. As an Adjunct Professor, he has taught a wide variety of law courses relating to intellectual property, media & communications, and business over more than 25 years at the law school at UBC. He is a Professor of Professional Practice at Simon Fraser University, a faculty member of the Centre for Digital Media, and Honorary Industry Professor in the Centre for Commercial Studies, Queen Mary University of London School of Law. Mr. Festinger is the author of the first edition of Video Game Law published by LexisNexis in 2005, and co-author of the second edition published in 2012, and is Co-editor and Chief of the Interactive Entertainment Law Journal. Additionally, he practices law through Festinger Law & Strategy. He is Chair of viaSport B.C. and a member of the Law Society of British Columbia's Rule of Law and Lawyer Independence Advisory Committee.
What do you enjoy most about teaching?
To me, the interesting part is what actually results in student learning. The biggest factor is clearly getting student engagement. If a student is truly engaged with a subject, with a problem, with a question – they tend to really learn more deeply. As a result, teaching for me over the 20 years that I've been an Adjunct at Allard has become an evolving experiment around ways to engage students more deeply in the legal and cross disciplinary questions inherent in the subjects I'm privileged to teach. Developing open websites that students can contribute to, flipping classrooms, devising in-class collaborative exercises, and generally trying to create as many different ways for students to contribute as possible has been the really enjoyable and satisfying part – because of the opportunity to witness real learning, not just assume or hope it happens.
How did you first become interested in media, entertainment, communications, and sports law?
It's much more of a straight line than most people would think. As a young lawyer I was lucky to get an urgent file request to write a contract for a broadcast rights deal between a radio station and a sports team. It was circa 1982. A partner in my firm who knew a lot about broadcasting law said something like "We could call New York and try to get you a precedent, but that's not what the client really wants. I suggest you go into the boardroom and start drafting, and don't come out until you're done." I emerged from the boardroom with a draft contract and an absolute conviction that broadcasting was the most fascinating area of legal endeavour for me. From there opportunities just seemed to manifest almost magically. Notably, I was a junior in a huge ban on publication case involving the "Squamish 5" and the media, and then spent the next several years of my practice as a newsroom lawyer fighting for freedom of expression, and giving advice to radio and TV newsrooms about stories going to air. At that time, the CRTC was quite active in dealing with complaints about broadcast newsrooms, so in an almost imperceptible shift I started becoming an administrative lawyer dealing with CRTC issues. This eventually led me to appear in front of the CRTC on various matters including takeover transactions. That, in turn, led me to solicitor's work as I helped put together and paper those transactions. Lots more adventures followed as I became, at various times, in-house counsel at a B.C. based broadcasting and communications company (one of Canada's largest); an SVP of the CTV Television Network; and EVP Business & General Counsel of the Vancouver Canucks and GM Place. 
You recently chaired a panel at the B.C. Legal Innovation Forum on how the structure of the legal sector is changing. What do you think are the most pressing shifts in the legal ecosystem and how can lawyers recalibrate their approaches accordingly?
Perhaps I will start with what I don't believe. I do not believe that these changes and innovations (most of which seem to involve "big data" and artificial intelligence) are going to give lawyers more leisure time. I have been sold that bill of goods several times over nearly 38 years at the Bar, and each time we as a profession have accelerated the hamster wheel and put additional emphasis on working harder (if smarter), and generating incremental revenues. What I do believe is that we lawyers are a remarkably resilient species that thinks hard, deeply and strategically about our client' problems. Perhaps one-day, digital systems will be able to do that, but that day seems at least a quarter century away. Unlike Chess or even the game of Go, the best result for a client can never be wholly mathematical or probabilistic. As humans we are too individuated for that. 
But we do need to ensure that we, as lawyers, are focused on the issues that require our unique skills or experience, because that's where our greatest value resides. Indeed, intelligent machines will allow us to take on more sophisticated and more fulfilling work that is a far better match to our strengths. It's going to be a while before robots are arguing cases at the Supreme Court of Canada, but until then, there is a lot changing in how we practice, and tremendous opportunity. In other words, the qualities of establishing trust and empathy, coupled with critical thinking appears to be among the last places technology will be able to reliably follow us – so that's what we should be emphasizing in practice.
What research topics are currently of particular interest to you?
My current research interest is in how digital media structurally individuates and parses us to enable a variety of commerce related purposes, and the legal and other consequences that manifest as a result. Related to this dynamic are questions of when in digitally enhanced and tracked environments we lose aspects of human agency, how freedom of thought can be reconfigured for the digital world, and how our rights based understanding of the rule of law could change as a result of this "new subjectivity". On a pedagogic plane, I am applying some of this thinking to developing "Self-Socratic" methodologies and beginnings of a digital A.I. enabled teaching assistant (not nearly as ominous as it sounds) with the help of the UBC Centre of Teaching, Learning & Technology ("CTLT") and UBC I.T. respectively
What advice would you give to law students entering the legal profession?
To the current generation of law students I find myself saying the same thing repeatedly – don't narrow your options based on preconceived judgments about opportunities that you don't yet have. Way too often I hear students circumscribing their possibilities because of rumors or other misinformation about practice, law firms, or institutions. I usually advise them to apply everywhere and then use their judgment make a choices they actually have, rather than prematurely navigate in their heads through choices that have not yet presented themselves. Students too often "take themselves out of the game" because they feel unsuited or uncomfortable for this or that. Because those feelings are frequently based on insecurity and/or limited data, students generally should collect as many opportunities as possible, and then (and only then) make the best judgment they can based on what they feel and know. Moreover, though I am perhaps too bullish about the legal profession, in my view law really is a field of dreams where you can actually create a path to anywhere you really want to go, based on your passion, intellectual drive, and a lot of hard work. So no decision need ever feel like it is the final one – because there are many more twists and turns, and opportunities, to come. 
Published Spring 2019