Towards Legal Recognition for Non-Human Relations: Webinar Series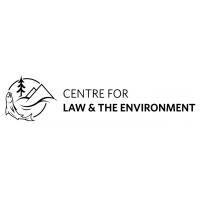 Centre for the Law and the Environment Assistant
Aug 26, 2021
The Centre for Law & the Environment (CLE) at the University of British Columbia, in Vancouver, in collaboration with the UBC Sustainability Initiative and the Center for Democratic and Environmental Rights (CDER), presents a webinar series and workshop for individuals and organizations from Indigenous and non-Indigenous communities interested in implementing laws that respect and protect non-human beings like rivers, lakes, species and ecosystems.
The webinars will be free and online, to facilitate participation from across North America. The fourth event will be an in-person workshop at the University of British Columbia. Originally planned for February 16, 2022, the final workshop will be rescheduled for later in the spring due to the COVID-19 pandemic. Stay tuned for an update. The workshop will focus on practical grassroots campaign strategy. Space is limited at the workshop, with priority given to individuals who have attended previous webinars. There will be a nominal fee to attend the workshop. Travel subsidies may be available for some participants.
Webinar attendees will hear directly from people who have taken part in campaigns to achieve legal recognition of non-human relations in Canada and abroad, about why and how they pursued such recognition, what opportunities and obstacles they encountered and what lessons they learned.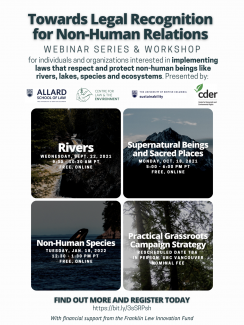 ---
Centre for Law and the Environment