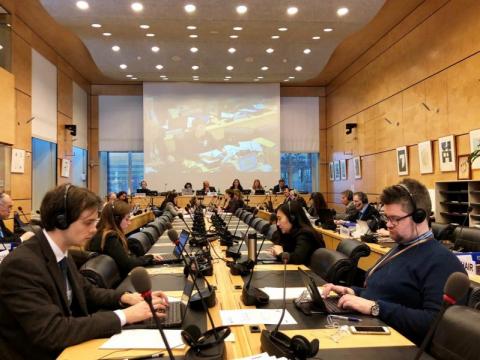 Current Clinic Projects
UN Human Rights Committee Work ("HRC Team")
Clinicians are working to support the Human Rights Committee (HRC). Throughout the year, clinicians research and brief the HRC on countries coming up for review before their month long sessions in October, March and July. In October 2022 the countries up for review included Philippines, Kyrgyzstan, Russian Federation, Haiti, Nicaragua, Ethiopia and Japan. This research includes review of relevant shadow reports and constitutional provisions, as well as issues of implementation in the relevant States. Clinicians also conduct research and analysis on individual communications submitted to the HRC, which may come from any country party to the ICCPR on any of the rights protected by the treaty. The HRC team may travel to Geneva during the Committee's March session to work side by side with HRC members.
All-Party Parliamentary Group on Modern Slavery ("Supply Chain Team") 
The IJHR Clinic is the official external research group for the Canadian All-Party Parliamentary Group (APPG) to End Modern Slavery, a body currently comprised of over 40 Canadian MPs and Senators that seeks to make significant advances in fighting human trafficking in Canada and abroad. The Clinic provides the APPG with legal memos related to human trafficking and works to develop related legislation. The team is working to identify pressing modern slavery issues that the APPG should consider and travels to Ottawa to participate in briefings to members of Parliament on those issues. The team is also part of a global network of lawyers seeking to utilize customs tariffs laws to combat human trafficking. The team will also develop content for the Modern Slavery APPG's website.
Magnitsky Act Legal Advocacy ("Magnitsky Team")
The Magnitsky Team is part of an international consortium of lawyers working to develop submissions to countries with Magnitsky Acts, which include Canada, the United States, the United Kingdom, Australia, Norway, Lithuania, Latvia, and Estonia. The team is working with pro-bono counsel in USA, UK, and Canada, as well as Human Rights First, to develop specific case files on human rights abusers and corrupt officials who could be added to the Magnitsky Act visa ban and asset freeze lists. The team has thus far made submissions on 24 individuals and entities in different jurisdictions.
Special Rapporteur for Human Rights and the Environment ("Environment Team")
The Environment Team works with the UN Special Rapporteur on Human Rights and the Environment to advance international advocacy projects that develop the connection between environmental justice and international human rights. The team is currently assisting with climate crisis litigation before international treaty bodies, the European Court of Human Rights, and the Inter-American Court of Human Rights. The team is also partnering with local communities to bring their concerns to international fora and seek justice in ongoing human rights and climate change violations. 
Past Projects
Office of the International Co-Prosecutor, Extraordinary Chambers in the Courts of Cambodia ("ECCC Team")
The ECCC was created to prosecute the senior leaders of Democratic Kampuchea, and those most responsible for the crimes and serious violations of Cambodia laws related to crimes, international humanitarian law and custom, and international conventions recognized by Cambodia, that were committed between 17 April 1975 and 6 January 1979. The ECCC Team is assisting the Office of the International Co-Prosecutor in its work on cases before the Court, through fact and legal analysis, information processing and management, and legal research. The OCP conducts preliminary investigations, prosecutes cases throughout the investigative, pre-trial, trial and appellate stages, processes victim complaints, and participates in judicial investigations. The nature of the work varies based on the OCP's docket as well as the stages and development of proceedings, but the ECCC Team is gaining practical exposure to the core aspects of building criminal cases in an international context.
BC Whistleblower protection laws ("Whistleblower Team")
British Columbia is in the process of updating its whistleblower protection laws. In April 2018, the Clinic issued a report on important requirements for effective whistleblower laws. The BC Government has recently passed Bill M-216, a public disclosure law that addresses whistleblower protections. This team is assessing Bill M-216 in light of the Clinic's April 2018 report, offering recommendations to improve the Bill's effectiveness, following development of the Bill, and developing an advocacy campaign to encourage British Columbia to pass stronger legislation to ensure the protection of whistleblowers. The team is also engaging in public outreach by meeting with influential policymakers to discuss best practices for developing strong whistleblower protections. 
Corporate Liability and Deterrence ("Corporate Deterrence Team")
How does criminal prosecution of business actors, as opposed to civil litigation or regulatory enforcement, impact actual business practices? Is criminal liability for human rights abuses considered in business risk assessment and to what degree? The Corporate Deterrence Team is drafting a report exploring the utility in expanding current international criminal definitions to capture the actions of corporate actors, and asking whether international criminal law would be more effective in deterring the actions of such actors than in the deterrence of religious extremists, rebel fighters, or warlords.   
For current students' reflections, critiques, and thoughts on their experiences working on these projects, please visit the Allard IJHR Clinic blog.
International Justice and Human Rights Clinic Projects, 2014-2018
From 2014-2021, students at the Allard IJHR Clinic worked on projects with a wide array of partners, including:
Additionally, students contributed to report drafting on a wide range of human rights topics they identified throughout the course of their studies:
Students have participated in trial monitoring:
Monitored mass criminal trial in N'Djamena, Chad of twenty-four henchmen of former dictator Hissène Habré
Monitoring ongoing litigation in British Columbia courts where foreign plaintiffs seek redress against Canadian corporations for rights abuses.
The Clinic additionally monitors Canadian human trafficking case law and maintains a database and case commentary on all reported Canadian human trafficking cases.