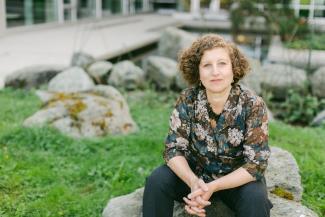 Lisa Martz is a senior litigation lawyer with a wealth of advocacy and leadership experience — and she says she's thrilled to have the chance to share what she's learned with Allard Law students.
A graduate of Allard Law, Martz returned to the law school to teach in January 2021 as an adjunct professor and supervisor of the Judicial Externship program, before accepting her current a role as a lecturer in August 2022.
"When I stepped away from full-time practice as a civil litigation lawyer, I knew I wanted to get involved in work with a broader social impact," says Martz. "Returning to the law school has allowed me not only to talk to students about so many of the useful 'things I know now that I did not know then,' but also to play a part in opening up the kind of reflective and questioning conversations about the legal profession and our justice system in which I think we all need to participate."
In this Q&A, Martz shares her thoughts on teaching, ethics, and advocacy — and why students should consider applying to Allard Law's Judicial Externship program.
What have you enjoyed most about your new role so far?
Finding ways to make the material feel relevant and interesting for students is a really stimulating challenge. I've been teaching for a few terms now and am surprised at how I want to keep switching things up. I also really love debunking the urban myths — about articling applications, career paths, et cetera — that seem to circulate amongst law students. There are so many of them! Anything I can do to make the process of planning for life after graduation less anxiety-provoking feels really gratifying.
What is the Judicial Externship program and why should students apply?
The Judicial Externship is a like a clerkship at the Provincial Court of BC — only before graduation. Third-year students spend a term working with judges at the Provincial Court full-time Monday-Thursday and then on Fridays we have a seminar where we debrief the students' week at the Court and reflect on the broader systemic issues reflected in what the students have seen. 
I am so excited to get students thinking about what kind of lawyer they want to be — not just in terms of practice area or work environment, but also in terms of how they conduct themselves. 
I think it's a fantastic way to finish law school, whether you think you are headed for a litigation practice or just want to be an informed citizen. The Provincial Court judges who work with the students are so supportive and welcoming.
This semester you're teaching a course on Legal Ethics & Professionalism. What are some of the ethical issues that come in your class that you find most fascinating?
I am so excited to get students thinking about what kind of lawyer they want to be — not just in terms of practice area or work environment, but also in terms of how they conduct themselves. There are definitely some bright lines that shouldn't be crossed, but there is a lot of room to bring your own values into your professional life. The role of lawyers and the legal profession are changing and we all contribute to legal culture by how we participate in it.
What advice would you give to law students who are interested in a career as a litigator?
Look for opportunities to work with lawyers who will mentor you, wherever that might be. There are good lawyers in many different kinds of environments. Also recognize that effective advocacy doesn't just happen in court. Learning how to be an advocate for your clients on phone calls, in correspondence and in meeting rooms is just as important as learning how to handle yourself on your feet in a courtroom. 
I think the modern-day litigator should be thinking about how best to solve their client's problems, with court being only one option — and, frankly, often the last one that should be pursued.
As an alum of the law school, what was most memorable about your time here?
The Gale Moot, hands down (and not just because we won!). Having the opportunity to work closely with faculty and volunteer judges honing our written and oral arguments over a period of months, and then getting to present them in very real court-like environments was an experience that prepared me for practice like nothing else. 
---