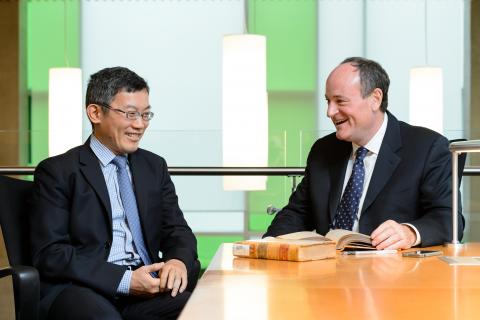 Welcome to the Centre for Asian Legal Studies (CALS) at the Peter A. Allard School of Law. We are the largest group of academics teaching and researching Asian legal issues in Canada. We focus on the law and legal culture of China (including Taiwan), Japan, Korea, and Southeast Asia. The core of the Centre is comprised of faculty members and adjunct professors who work in these jurisdictions/areas. We also have a number of visiting scholars from many Asian countries, made up of academics, practitioners, prosecutors, judges, and other researchers (see "Visiting Scholar Profiles").
Past research projects included a program on Asia-Pacific Dispute Resolution supported by the Major Collaborative Initiatives Program (MCRI) of the Social Sciences and Humanities Research Council of Canada (SSHRC).  This project, undertaken in collaboration with UBC's Institute of Asian Research, involved archival and interview research on attitudes in China, Japan, and Canada about international rule regimes in trade and human rights, and analysis in light of a paradigm of 'selective adaptation.'  Additional projects included a SSHRC-funded project on China's laws and policies on governance relations in the periphery. Other projects involved socio-legal research on issues of sustainable development, human rights, and globalization.
In addition, the 2013 China Law Links program was developed specifically to meet the needs of those in the Canadian legal community preparing for business projects in China or with Chinese firms in Canada.
We offer a range of courses in Asian Law, and these are listed under "Asian Law Courses Offered". We also offer an active seminar series featuring cutting-edge legal and social scientific research on legal and political institutions in Asia.
This site contains information on our seminar series and other events, news about faculty research and other projects, links to our blog, and details of our Visiting Scholars program.