Toby Goldbach
Assistant Professor
B.A. (McGill), J.D., LL.M. in ADR (Osgoode), J.S.D. (Cornell)
Profile
Toby Goldbach joined Peter A. Allard School of Law in 2017 following a two-year teaching fellowship at Cornell University Law School. Dr. Goldbach was a UBC Green College Leading Scholar (2018-2020) and is co-chair of the Law and Society Association Collaborative Research Network on Innovations in Judging. 
Dr. Goldbach holds a JD and an LLM specializing in Dispute Resolution from Osgoode Hall Law School. She earned her doctorate from Cornell Law School, where she was a Rudolf B. Schlesinger Research Fellow and a Visiting Scholar at the Cegla Center for Interdisciplinary Research of the Law at Tel Aviv University Buchmann Faculty of Law. 
Dr. Goldbach's research sits at the intersection of legal procedure, law and development, and legal anthropology, focusing on the transnational movement of norms related to court procedure and dispute resolution. Dr. Goldbach's research is informed by her experience serving as Senior Law Clerk to Chief Justice Patrick LeSage at the Superior Court of Justice (Ontario) and as a lawyer at the Ministry of the Attorney General (Ontario) Civil Justice Policy and Reform branch. Her writing also relies on research conducted at the World Bank's Law, Justice and Development Week; meetings of the International Organization for Judicial Training; the opening ceremonies for the Aboriginal Conference Settlement Suites and consolidated courthouse in Thunder Bay, Ontario; and field research at the Supreme Court of Israel. Her research has been published in the Annual Review of Law and Social Science, the Cornell International Law Journal, and the Indiana Journal for Global Legal Studies.
Dr. Goldbach's current research examines norms related to commercial courts and court-connected mediation in Ghana, and well as U.S. District Court judicial efforts to develop fairness hearing procedures for class action settlements in mass tort civil actions.
Related Posts
Courses
Courts, Politics, and the Judicial Function

Ethics and Professionalism

Jurisprudence and Critical Perspectives

Transnational Law
Publications
"Building the Aboriginal Conference Settlement Suite: Hope and Realism in Law as a Tool for Social Change" 46 Law & Social Inquiry 1.116-152 (2021)
"Why Legal Transplants" 15 Annual Review of Law and Social Science 10.1-19 (2019)
"Judicial Practice in Action: Court Reform and Responsive Judges in Canada" in Tania Sourdin and Archie Zariski, The Responsive Judge (2018)
"From the Court to the Classroom: Judges' Work in International Judicial Education and Training," 49 Cornell International Law Journal 617 (2016)
"Instrumentalizing the Expressive: Transplanting Sentencing Circles into the Canadian Criminal Trial," 25 Transnational Law & Contemporary Problems 61 (2015)
"The Movement of U.S. Criminal and Administrative Law: Processes of Transplanting and Translating," 20 Indiana Journal of Global Legal Studies 141 (2013) (with Peter J. Katzenstein and Benjamin Brake)
"Juries, Lay Judges and Trials," in Encyclopedia of Criminology and Criminal Justice (Gerben Bruinsma & David Weisburd eds., 2013) (with Valerie Hans)
Book Review, 41 Int'l J. Legal Information 222 (2013) (Reviewing Mads Andenæs and Camilla B. Andersen, Theory and Practice of Harmonisation)
"Cultural Conflict Obscured? The Alternative of Sentencing Circles, Clashing Worldviews, and the Case of Christopher Pauchay," 10 Illumine 53 (2011)
View Professor Goldbach's publications available on SSRN at http://ssrn.com/author=1124900
Selected publications are also available at the bepress Digital Commons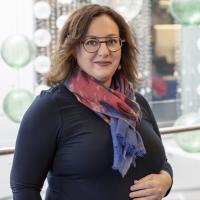 Organization Affiliations
Centre for Feminist Legal Studies
Research Interests
Comparative law
Courts, litigation and access to justice
Dispute resolution, arbitration and mediation
Jurisprudence, legal theory, and critical studies
Law and development
Law and society
---
How is judges' work in and beyond the courtroom transforming the politics and practices of dispute resolution?
---