Reflecting on the role for law in African development at the Re-imagining Agenda 2063 virtual conference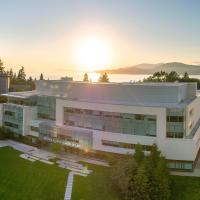 Oct 14, 2021
Written by: 
---
What are the roles for law in African development? How can we move beyond endless cycles of optimism and skepticism about law's ability to aid in development? What new challenges does the continent face in light of a changing landscape in health, education, technology, and investment partners?
These questions were central to the nine panels and two keynote addresses that were part of the virtual conference Re-imagining Agenda 2063: A Socio-Legal Foundation of the Africa We Want. From June 21–24, 2021, over 30 scholars and practitioners from around the world sought to answer these questions in the context of Africa's latest continental development plan, Agenda 2063. 
 
Judge Nkemdilim Izuako's opening address
Formulated under the auspices of the African Union, Agenda 2063 is designed to cement the continent's transformation through inclusive and sustainable growth and development. This transformation would attain the African Union's pan-Africanist vision of "an integrated, prosperous and peaceful Africa, driven by its own citizens, representing a dynamic force in the international arena." While a first 10-year implementation plan for Agenda 2063 is set to conclude in 2024, goals such as a 30% increase in income earnings, secure job opportunities for every one out of four persons, or an 80% decrease in hunger and malnutrition are still a long ways from being attained. As previous law and development measures have failed to be fully realized, participants sought to re-examine the continental development plan in order to set the course for achieving holistic and sustainable development. 
Judge Nkemdilim Izuako—a former judge of the Nigerian high court, the Gambian Court of Appeals, and the United Nations Dispute Tribunal in Kenya—began the conference by reflecting on what is needed to achieve a peaceful and prosperous Africa. Unrest, civil conflict, and insecurity in various facets of African lives hinder peace and prosperity across the continent. The inability to peacefully travel within a country, for example, was described as a significant obstacle to prosperity. Realizing peace and prosperity would require transformational leaders committed to empowering citizens and revitalizing democracy. The goals and aspirations of Agenda 2063 are not lofty, according to Judge Izuako. She contends they are achievable if legal and social frameworks across Africa are leveraged to decentralize power and strengthen democratic and cultural institutions. 
What are the roles for law in African development? How can we move beyond endless cycles of optimism and skepticism about law's ability to aid in development?
Several important themes related to the role for law in African development emerged from the panels that followed. Revitalizing African legal solutions in development processes was described as crucial for realizing Agenda 2063, which was the theme of the first panel session. Anthony Diala and Veronica Fynn Bruey argued for greater inclusion of African legal traditions and the rule of law in attaining the objectives of Agenda 2063. Recognizing the role of the development worker in setting development agendas, as well as decolonizing laws and legal institutions across the continent are critical to this endeavour, as Shimelis Kene and Mary Jiyani argued, respectively, during their presentations on development practice and land reform in Malawi.
Using the law to uplift and integrate Africa's most vulnerable peoples was also described as vital to achieving Agenda 2063. Luwam Dirar asserted during her presentation that women's emancipation across Africa has been gradual because it was never integrated into other African decolonization or racial justice movements. Rita Ozoemena elaborated by arguing that women's full participation in leadership and governance was contingent on removing constraints including repressive conceptions of gender roles, sexual and gender-based violence, and socio-economic exclusion.
Strengthening regionalization was another key measure that panelists discussed as critical for achieving Agenda 2063. Brenda Kombo and Dennis Ndambo examined regionalism in the context of the African Continental Free Trade Agreement. Both asserted that questioning the role of trade law and its relationship to politics and social change can render more visible the diverse legal arrangements that can promote free trade among African countries. Beyond trade, strengthened regionalism can also ensure greater peace and security. In their examination of the conflict in Mozambique, Linda Mushoriwa and Esther Njieassam argued that both the Southern African Development Community and the African Union have yet to take concrete steps to respond to the crisis. However, the potential for reformed legal relationships between the institutions and member states could improve efforts to combat insecurity and promote peace.
The importance of leveraging new and emerging technologies, especially artificial intelligence (AI), was another theme that emerged during the conference. During their respective presentations on corporate governance and human rights, Oludolapo Makinde and Jake Okechukwu argued that a re-imagination of AI could advance Agenda 2063 by aiding in the fight against corruption and promoting human rights. Different panelists also considered what is needed to secure Africa's future in the wake of global health emergencies, like the COVID-19 pandemic. Like other parts of the world, African governments were confronted with an unprecedented health crisis that presented a dilemma between saving lives and saving the economy. In their presentations, Dunia Zongwe, Zvikomborero Chadambuka and Altayesh Terefe discussed how African governments could better respond to future crises through employment law mechanisms and social security reforms. 
View a report of the conference participants' presentations on the Allard Research Commons.
The conference concluded with closing remarks by Professor Penelope Andrews, the first Black dean at the University of Cape Town Faculty of Law, immediate past president of the Law and Society Association and current co-Director of the Racial Justice Project at New York Law School. Professor Andrews linked the current fight for racial justice around the world to historical anti-colonial, Pan-Africanist movements, arguing that today's anti-colonial movements have much to learn from previous campaigns, including the first Pan-African conference held in London in July 1900. Professor Andrews emphasized the importance of transforming the remnants of colonial political, economic, and legal institutions to realizing the objectives of Agenda 2063. 
 
Professor Penelope Andrews' closing remarks
Throughout the conference, participants noted overlapping research agendas and expressed interest in continuing to dialogue. To that end, conference materials—such as keynote addresses and the conference report—are available to the public through the project website Conference organizers also encourage scholars and practitioners to contribute to Agenda 2063 Reimagined: The Blog by sending a proposal for a blog post to Agenda2063Project@allard.ubc.ca. Through critical engagement with the foundational questions on law's role in ushering in new formats for growth and sustainable development, we may foster a development agenda that serves the continent and represents African values.
---