Carol Liao
Associate Professor; UBC Sauder Distinguished Fellow
Principal Co-Investigator, Canada Climate Law Initiative
B.A.H (Queen's); LL.B. LL.M. (UBC); Ph.D./S.J.D. (Joint Degree) (UBC/University of Toronto)
Profile
Dr. Carol Liao is Associate Professor at Allard Law and the UBC Sauder Distinguished Fellow of the Peter P. Dhillon Centre for Business Ethics at the UBC Sauder School of Business. Her research focuses on corporate law and sustainability, climate governance, gender and racial justice. She is Principal Co-Investigator of the Canada Climate Law Initiative, dedicated to advancing director knowledge on the latest in climate science and fiduciary obligation. She is the recipient of the Influential Women in Business Award from Business in Vancouver, the Women of the Year Award (Equity and Inclusion Champion) from BCBusiness, and was named as one of Canada's Top 100 Most Powerful Women by the Women's Executive Network.  
An internationally-respected and interdisciplinary scholar, Dr. Liao has delivered over 150 invited talks around the world on sustainable business and has been featured and cited over 100 times in various TV, radio and news media on corporate governance, ESG and equity issues. She is a member of two UBC research clusters: Decision Insights for Business & Society and the Future Minerals Group, where she and a cross-faculty team led the Killam award-winning course, Heavy Metal. As Director of the Centre for Business Law from 2019-2023 (on sabbatical 2023-2024), she hosted 127 professional and scholarly events on range of contemporary business topics. She is Principal Investigator of a SSHRC Insight Grant-funded empirical study on sustainable corporate governance.  
Dr. Liao is committed to community-engaged scholarship. She is featured in the Federation of Asian Canadian Lawyers (FACL) BC documentary But I Look Like a Lawyer (screened at the Vancouver Asian Film Festival) and sits on the FACL BC Advisory Committee. She delivered the closing keynote at the 43rd Annual Women in Law Dinner (transcript) and FACL BC 10th Anniversary Gala (transcript). She is a member of the Solicitors' Legal Opinions Committee of BC and is a director of the Pacific Canada Heritage Centre - Museum of Migration Society, an anti-racist museum dedicated to broadening the collective memories of historically marginalized groups in the Pacific Northwest. 
Dr. Liao is on the Steering Committee of the Climate Solutions Research Collective (supported by the UBC VPRI Office) and the UBC Centre for Asian Canadian Research Engagement. She is also on the Advisory Board for The Phil Lind Initiative, Affiliate Faculty of the Centre for Climate Justice, and on the Advisory Council for BCBusiness.
Before joining UBC, Dr. Liao was a faculty member at the University of Victoria where she received the UVic Law Students' Society First Year Class Teaching Award. She has been nominated multiple years for the George Curtis Memorial Teaching Award. Prior to academia, Dr. Liao was a senior associate in the New York Mergers & Acquisitions Group of Shearman & Sterling LLP, where she represented public and private multinational corporations in a variety of transactional and governance matters. She is a former judicial clerk of the BC Court of Appeal.
Courses
Business Organizations (LAW 459 / 506D)
Corporate Social Responsibility and the Law (LAW 306D)
Contract Law (LAW 211)
Topics in Corporate Law (LAW 467D)
Publications
Books
Beate Sjåfjell and Carol Liao, eds., Research Handbook on Sustainability and Corporate Accountability (Edward Elgar, forthcoming 2024).
Robert Yalden, Janis Sarra, Paul D. Paton, Mark Gillen, Mary Condon, Carol Liao, Mohamed Khimji, Bradley Bryan, Frankie Young, Barnali Choudhury, Peer Zumbansen, Business Organizations: Practice, Theory, and Emerging Challenges, 3rd ed (Emond, forthcoming 2025).
Robert Yalden, Janis Sarra, Paul D. Paton, Mark Gillen, Mary Condon, Carol Liao, Michael Deturbide, Mohamed Khimji, Bradley Bryan and Gary Campo, Business Organizations: Practice, Theory, and Emerging Challenges, 2nd ed (Emond, 2018).
Selected Articles and Chapters
Carol Liao, "An Anti-Racist Feminist Agenda for Sustainable Corporate Law" in Christopher Bruner and Marc Moore, eds, A Research Agenda for Corporate Law (Edward Elgar, 2023).
Carol Liao, "B Corporation, Benefit Corporation, and Neoliberal Greenwash: The Private American Branding Attempt to Globally Capture the Definition and Regulation of 'Good' Business" in Dana Brakman Reiser, Steven A. Dean, and Giedre Lideikyte-Huber, eds., Social Enterprise Law: A Multijurisdictional Comparative Review (Intersentia, 2023).
Carol Liao, "A Canadian Model of Corporate Governance" (2014) 37:2 Dalhousie Law Journal 559.

Reprinted in Corporate and Financial Law: Interdisciplinary Approaches eJournal, James A. Fanto and Lawrence E. Mitchell, eds, Vol. 9, No. 60 (5 December 2013). 
Originally the 2013 Robert Bertram Award Report, Canadian Foundation for Governance Research (November 2013).
Ranked first on the list of All Time Top Papers in the Corporate Governance Network's eLibrary on Canada by the Social Science Research Network.
Opinion Editorials
Werner Antweiler, Shaun Barker, Roger Beckie, Erik Eberhardt, Allen Edzerza, Ken Edzerza, Sara Ghebremusse, Lindsey Heagy, Maria Holuszko, Nadja Kunz, Carol Liao, Allison Macfarlane, Kirby Muldoe, Shandin Pete, Dave Porter and Philippe Tortell, "A Critical Look at Critical Minerals," Policy Options, 23 February 2023.
Cary Wu, Abidin Kusno, Ann H. Kim, Carol Liao, Dennis Kao, Guida Man, Hae Yeon Choo, Jing Zhao, Min Zhou, Muyang Li, S. Harris Ali, Sibo Chen, Sida Liu, Weiguo Zhang, and Zhifan Luo,

"

As Asian Canadian Scholars, We Must #StopAsianHate by Fighting All Forms of Racism

," 

The Conversation

, 

15 April 2021.
For Dr. Liao's publications available on SSRN, go here.
Selected publications are also listed on the Law Library Faculty Research Publications Database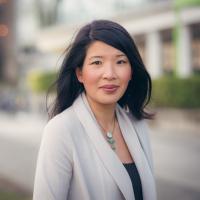 Organization Affiliations
Centre for Asian Legal Studies
Centre for Business Law
Centre for Feminist Legal Studies
Centre for Law and the Environment
Research Interests
Business, corporate and commercial law
Environmental law, natural resources, and climate change
Feminist legal studies
Law and social justice
Legal ethics and the legal profession
---
What are – and what should be – the fundamental principles driving the development of corporate law and governance in light of climate change and other environmental, social, and economic sustainability risks?
---