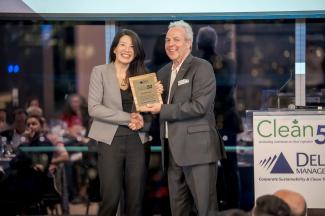 Dr. Carol Liao has been named to Canada's 2024 Clean50 list, which recognizes the top 50 individuals and teams in Canada who have demonstrated measurable leadership in fighting climate change and who are helping Canada transition to a low-carbon economy.
A professor at the Peter A. Allard School of Law at UBC, UBC Sauder Distinguished Fellow at the Peter P. Dhillon Centre for Business Ethics, and Principal Co-Investigator at the Canada Climate Law Initiative, Dr. Liao was recognized for her contributions in the Education and Thought Leadership category.
The Clean50 Awards are awarded annually by Delta Management Group and the Clean50 organization to recognize those who have done the most to advance the cause of sustainability and a clean economy in Canada.
At the Clean50 Summit held on September 28, 2023, Dr. Liao was also recognized with the TELUS Community Service Award, which honours an individual who has made the greatest contribution to their community outside of their workplace.
"It is sincerely humbling to be chosen as part of the Clean50 this year," said Dr. Liao.  "Climate change is the greatest challenge of our time and will require complex collaborations across industries and disciplines – the Clean50 is just one more way to build those necessary connections in the transition to clean energy and a green economy."  
Other 2024 honourees include Canada's Minister for the Environment and Climate Change Steven Guilbeault and former Vancouver mayor Gregor Robertson, now at Nexii.
"An internationally respected scholar of corporate law and sustainability, Carol is helping shift the future of corporate governance towards the new era of sustainable business and decarbonization," says Gavin Pitchford, CEO, Delta Management Group.
"The process to narrow down to just 50 honourees this year was extremely difficult for reviewers – we had a record number of nominees," adds Pitchford. This year more than 1,000 teams and individuals were nominated.
Among her contributions to the fight against climate change and the shift towards a sustainable economy, Dr. Liao has delivered over 150 talks around the world on sustainable business. In 2022, she was the editor of Corporate Law and Sustainability from the Next Generation of Lawyers, which provides insights from young lawyers on meeting sustainability targets, and co-editor of Innovating Business for Sustainability: Regulatory Approaches in the Anthropocene, together with Drs. Beate Sjåfjell and Aikaterini Argyrou.
Dr. Liao is also the Principal Investigator on a Social Sciences and Humanities Research Council (SSHRC) Insight Grant to study sustainable corporate governance and was part of the team that led the Killam award-winning course Heavy Metal – a new graduate course that examines the future of mining in a low-carbon economy.
"Dr. Liao's research lies at the intersection of climate science, fiduciary obligation, and EDI, where she is widely published," says Pitchford. "In addition to educating emerging lawyers, Dr. Liao has a demonstrable track record of institution-building and industry collaborations. She has expanded the reach of climate governance across sectors."
---