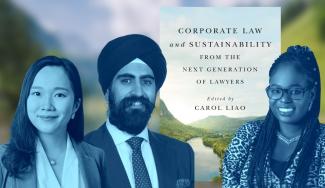 A group of young lawyers say corporate law can help change the status quo in a new book on law, business and the intersecting environmental, social and economic sustainability crises.
Corporate Law and Sustainability from the Next Generation of Lawyers, edited by Allard Law professor Dr. Carol Liao and published by McGill-Queen's University Press, provides insights from a dozen millennial lawyers who are calling for corporate accountability and bringing forward new ideas to meet sustainability  goals and advance human rights.
"This book was created with the driving belief that amplifying the next generation of lawyers is imperative in addressing the intergenerational sustainability crises that we face," says Liao. "Young people are growing up at an epoch in human history, when ongoing climate crises, pandemics, social inequities, geopolitical risks and the recurrent message that time is of the essence has been permanently etched into their collective psyche. It's no wonder that their perspectives on corporate legal issues provide a level of clarity to the distraction and noise."
Two in-person book launches are scheduled next month at Allard Law on November 2 and Downtown Vancouver on November 3.
Below, three of the book's contributors — Oludolapo Makinde, Selena Chen, and Bikaramjit Sandhu — share insights from their chapters and discuss how they would like to see things change.
---
Oludolapo Makinde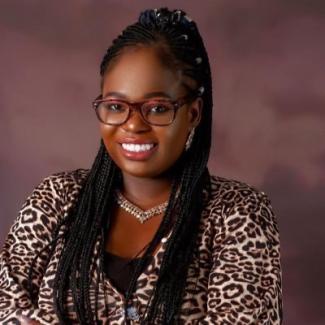 Oludolapo Makinde is a doctoral candidate at the Peter A. Allard School of Law and a Liu Scholar at the School of Public Policy and Global Affairs. She's researching how corporate governance, corporate social responsibility and artificial intelligence can tackle corporate corruption.
In her chapter, "Gender Diversity on Corporate Boards: Much Ado About Mandatory Quotas?", Makinde makes the case for gender diversity on corporate boards — and how we might get there.
Does Canada need a law mandating greater diversity on corporate boards?
Makinde: Yes, Canada does need a law mandating greater diversity on corporate boards. I say this because progress thus far on attaining gender parity solely through disclosure measures or relying on pressure from institutional investors has only gotten us so far. The improvements have been incremental.
My chapter examines how different jurisdictions have used voluntary quotas, 'comply or explain' diversity disclosure requirements — which in Canada now goes beyond simply gender — and mandatory quotas. My comparative study revealed that of all these methods, mandatory quotas have recorded the most success in enhancing gender diversity on boards.
Currently, according to Osler's 2021 Diversity Disclosure Practices report, women hold only 23% of board seats of TSX-listed companies that filed diversity disclosure statements. The 'comply or explain' disclosure regime for gender has been in place in Ontario since 2015. 23% is quite far off from gender parity, and we have to explore all possible avenues if we are truly committed to achieving board diversity sooner rather than later.
What do you hope readers take away from your chapter?
Makinde: I hope readers take away the urgency and importance of taking firmer steps toward enhancing diversity on corporate boards. We have such a long way to go to attain gender parity, and broader diversity goals on boards and the C-suite. We have explored voluntary measures and soft laws to enhance gender diversity, and have made very little progress. We can't afford to dilly-dally any longer. It's high time companies are mandated to achieve specified diversity targets. 
---
Selena Chen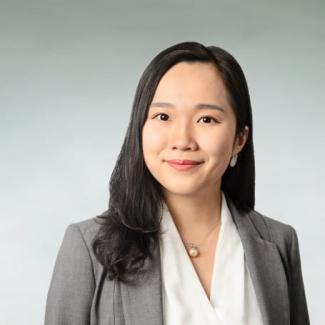 Selena Chen is a Corporate Commercial & Securities Associate at MLT Aikins in Vancouver. She completed her JD at the Allard School of Law in 2019.
In her chapter, "Behind the Veil: An Analysis of Fast Fashion Retailers' Engagement with Sustainable Supply Chain Management," Chen weighs in on the efficacy of CSR initiatives implemented by fast fashion retailers in their complex, cross-border supply chains.
To what extent are fast fashion brands in Canada currently held accountable for environmental and human rights issues in their supply chains?
Chen: In Canada, public companies are required under Canadian securities laws to disclose material information relevant to investors, which includes reporting on ethical business practices and corporate governance. This establishes a baseline of disclosure, allowing a certain level of accountability to be achieved throughout the fashion industry. We are also seeing higher global baselines being set with the International Sustainability Standards Board, which allow for more consistent forms of disclosure.
Disclosure doesn't always equate to holding companies accountable. One of the biggest challenges is that there are often little to no penal powers attached to reporting requirements.  However, it forces companies to complete internal reviews and, hopefully, compels them to "clean up their act" before they are forced to air their dirty laundry out in the public.
What do you hope readers take away from your chapter?
Chen: Disclosure itself can be a powerful tool as the potential of negative information coming to light could be enough incentive for companies to put in place mechanisms that would prevent situations from occurring in the first place. But for countries that have weak legal frameworks, certain approaches within sustainable supply chain management have been shown to be more of an incentive to "drive problems underground" than revamp management systems to sustain compliance and encourage improvement over time.
As technology develops, the speed at which information is transmitted also increases. As such, increased disclosure requirements under law may allow information to come to light, which can then be picked up by shareholders or media and disseminated to a greater audience. I think these two items can go hand in hand, and work together to compel "good behaviour" from businesses. More impact action-oriented reporting, as opposed to passive communicative reporting, and a shift in focus from just what companies are currently doing to how they are combatting sustainability issues could move us further towards UN sustainable development goals.
---
Bikaramjit Sandhu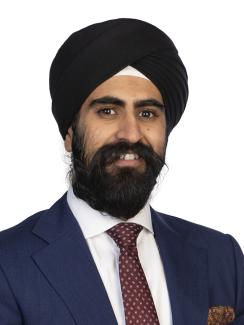 Bikaramjit Sandhu is an associate at Bennett Jones LLP (Toronto). He maintains a general corporate law practice that focuses on mergers and acquisitions, corporate finance, shareholder activism and private equity matters. He completed his JD at Allard Law in 2019.
In his chapter, Sandhu explains how shareholder activism can pressure corporations toward adopting ESG policies.
How has the role of the 'activist shareholder' changed over the years? 
Sandhu: In 2019, investors were beginning to understand the seriousness of the diverse and complex challenges that fall under the ESG umbrella. Now, these factors are being integrated into investment strategies and decision-making.
Activist shareholders are uniquely capable of pressuring corporations into action to adopt policies that improve their ESG footprint. For retail and institutional investors, ESG offers the opportunity to not only make more informed choices with their capital and thereby reap greater returns, but it also allows them to vote on social issues with the same capital.
What do you hope readers take away from your chapter?
Sandhu: I would like readers to remember that all stakeholders in a corporation have a role to play in creating a better future. We should all look for ways to work together.
Additionally, it's important for young lawyers to have an open mind and fully assess the situation when advising on corporate and sustainability matters. It's very important to provide advice that ensures a sustainable future and greater positive impact for future generations.
---
Other contributors to Corporate Law and Sustainability from the Next Generation of Lawyers include: Cristina Borbely (Gowlings WLG), Blair Feltmate (JFK Law), Catherine L.H. Lee (Terra Law Corporation), Julie Liang (Canada Revenue Agency), Megan Parisotto (BC Ministry of Attorney General), Erica Sandhu (Hastings Labour Law), Saul Wang (Dentons LLP), Asha Young (Lawson Lundell LLP), Sherry Yu (Translink). Foreword by Professor Joel Bakan, author and filmmaker of The Corporation and The New Corporation.
Upcoming Book Launches & Events
Join us for two upcoming celebratory book launches for Corporate Law and Sustainability from the Next Generation of Lawyers, co-hosted by the Centre for Business Law, Centre for Law and the Environment, Centre for Feminist Legal Studies, Allard Law & Business Society, Allard Women's Caucus, and Bennett Jones LLP.
Wednesday, November 2, 12:30-2pm, Lew Forum at Allard Law. Register online.
Thursday, November 3, 5-7pm, Bennett Jones LLP, #2500, 666 Burrard Street. Register online.
Sign up to the Centre for Business Law newsletter for updates on upcoming book events.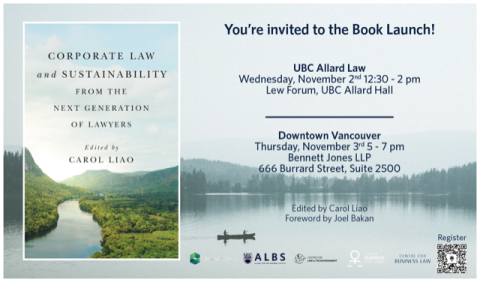 ---