Anne Uteck
Assistant Professor of Teaching
Faculty Lead for the ILS Summer Intensive in Torts, Director for Competitive Mooting Program
B.A. (SMU), LL.B (UNB), LL.M (Dalhousie), PhD (uOttawa)
Profile
Professor Uteck practiced law in Nova Scotia before before deciding to pursue an academic career beginning at the SMU Sobey School of Business. She completed her doctorate on reconceptualizing spatial privacy for the Internet of Everything during which time she was a SSHRC Doctoral Fellow, Gowlings Fellow in Technology Law and recipient of an Excellence Scholarship and Doctoral Research Scholarship from the University of Ottawa as well as winning several international peer reviewed competitions.
Prior to joining Allard School of Law in 2016, Professor Uteck taught extensively in the 1L curriculum and in areas of commercial law, including e-commerce at both Dalhousie and University of Ottawa law schools, as well as courses focused on her research interests in privacy and more broadly, law and technology including The Law of Everyware. She was also a Visiting Professor in the international graduate business law programme at Vrije University in Amsterdam where she taught privacy and e-commerce law.
As a member of the Law & Technology Institute and the interdisciplinary Master of Electronic Commerce programme at Dalhousie University and the Centre for Law, Technology and Society at the University of Ottawa, Professor Uteck's leadership, research and teaching contributed to enhancing awareness and understanding of the legal, policy, and ethical challenges posed by existing and emerging technologies.
On the strength of Professor Uteck's academic career and teaching intensive focus, she was appointed in the tenure-track educational leadership stream.
Professor Uteck currently teaches Torts, Contracts and Secured Transactions, supervises students' advanced research in privacy law, coaches the upper year competitive B.C. Law Schools Moot and serves as a faculty mentor to 1L students.
Professor Uteck is committed to the Indigenous Legal Studies community, regularly tutoring students and actively contributing to the Academic Leadership Program. She is the lead faculty on the ILS Academic Leadership Summer Intensive – a newly launched program to provide incoming Indigenous JD students with an opportunity to build skills and community and creating space to connect with Allard Law students, faculty and staff.
Courses
Contracts
Torts
Secured Transactions
Commercial Transactions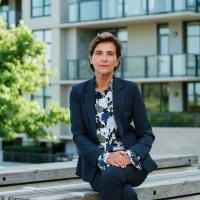 ---