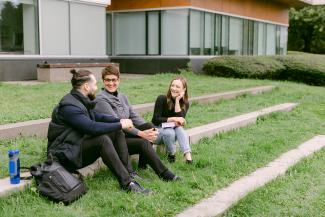 This past summer, Indigenous Legal Studies brought together Allard Law faculty, Indigenous alumni and other members of the community to offer an intensive course to incoming Indigenous first-year students: the Indigenous Legal Studies (ILS) Summer Intensive in Tort Law.
The pilot course focused on substantive skill development, community building and mentorship, grounded in Indigenous perspectives and approaches. The Intensive offered the incoming Indigenous law student cohort the opportunity to take a five-credit core curriculum course over seven weeks, running from May–June 2021.
The objectives of the Intensive included preparing students for the demands of first-year law school, honing the academic legal skills necessary to succeed at law school and building a community of learners who can support one another as they navigate their legal studies. The course included an examination of tort law through the lens of Indigenous perspectives, including the perspectives of many in the Indigenous legal community who informed and broadened students' study of the curriculum. Students also had an opportunity to engage with and reflect on the challenges of studying colonial law and to learn more about Indigenous legal orders.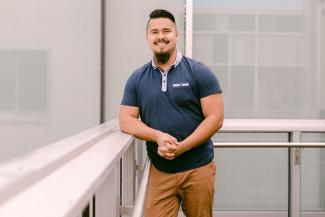 Gabriel George is a first-year law student and a member of the Tsleil-Waututh Nation. This summer, he was among the cohort of Indigenous students from across Canada and the United States who completed the course, which he says has had a profound impact on his life and the lives of his classmates.
"There are these intangible barriers to success, such as self-doubt, cultural differences and a sense of social alienation," says Gabriel. "The course helped us overcome these problems and build a sense of belonging and confidence among the Indigenous law student community." Gabriel was chosen by his peers as a co-recipient of the ILS Spirit Award for his contributions both inside and outside of the classroom, alongside classmate Sara Finnegan of the Métis Nation.
Building on the 2020 ILS Summer Intensive
In response to the pandemic-related cancellation of the University of Saskatchewan Summer Program in Property and Customary Law—an eight-week course that provides Indigenous students from across Canada an opportunity to study Property Law and Customary Law before starting law school— Indigenous Legal Studies at Allard Law offered its own a two-week online ILS Summer Intensive in 2020.
The Intensive was designed to provide an opportunity for first-year Indigenous law students to be oriented to their legal studies and to connect with one another before beginning a year of virtual studies. This year, due to the success of the first ILS Summer Intensive, the planning team developed the pilot five-credit ILS Summer Intensive in Tort Law, taught by Professor Anne Uteck.
"Thanks to the full support of former Dean pro tem Janine Benedet and the ILS Committee, this was a huge initiative for our planning team, unlike anything offered at other law schools in Canada," says Anne. The course was made available in a hybrid format, with students attending both in-person and on Zoom.
The ILS Intensive planning team was comprised of Allard Law Professors Anne Uteck, Nikos Harris, and Darlene Johnson, Associate Director Lee Schmidt, and second-year Indigenous law students Cassandra Sawers, Verukah Poirier and Rikki Logan.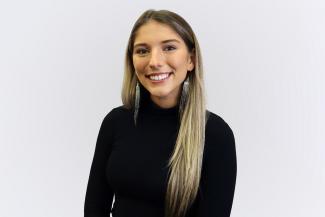 Rikki Logan participated in the first ILS Summer Intensive and was a student in Anne's Tort Law class during her first year. For the ILS Summer Intensive in Tort Law, Rikki worked closely with Anne in the design and development of the torts curriculum, incorporating and highlighting decolonizing tort law principles and Indigenous perspectives to challenge students to think critically about torts concepts.
For instance, Rikki explains that 'the reasonable person'—a hypothetical person used by the courts to determine whether an individual's conduct was appropriate—was defined with just one worldview in mind.  "The hope is that through this course, we can start to reconcile these challenges in studying common law as Indigenous students," Rikki shared.  "Indigenous scholars and practitioners," Anne adds, "gave extremely valuable context, depth and insight to many of the topics we covered in the course."
Highlighting Indigenous Perspectives and Laws
Students also had the opportunity to hear first-hand from the Indigenous legal community and those working with and for Indigenous peoples—including practicing lawyers, professors, Provincial Court Judge Alex Wolf, author Harold Johnson, Elder Kat Norris and Elder Larry Grant, and upper-year Indigenous peers—on topics such as the challenges of studying colonial law, the Indian Residential Schools Settlement and systemic issues faced by Indigenous peoples in Canada.
"I think it's crucial that to be a competent lawyer, you understand law that reflects more than the predominant colonial perspective," says Rikki. "Students can take this knowledge with them through their careers and use it to achieve Indigenous clients' success."
Terri-Lynn Williams-Davidson, QC, a citizen of the Haida Nation and founder of White Raven Law, was one of the program's returning guest lecturers, speaking to students about Haida laws and the Haida worldview and providing an overview of the fundamental differences between how Western legal systems and Haida and Gitxsan legal systems address civil wrongs, alongside White Raven Law Associate Nigel Baker-Grenier.
A JD graduate and current PhD student at Allard Law, Terri-Lynn hoped her talk would encourage students to begin thinking outside the box about possible legal frameworks that could work for their nations' laws—and to consider what others in the past may have discounted.
"I think there's a tendency for students to feel like there isn't really a place for them in the practice of law—that there isn't a place for Indigenous laws or for different ways of thinking about law," says Terri-Lynn. "Indigenous laws and different conceptions of worldviews are not something to be bracketed or overlooked; they need to be applied in full expression to properly serve our clients."
Supporting Student Success
ILS Associate Director Lee Schmidt reflected the Intensive's objective to facilitate the beginnings of a community of learners and colleagues who can be relied upon when the stark reality of disrespect of Indigenous peoples surfaces: "When asked to take concepts of terra nullius and the doctrine of discovery at face value, it is evident that the law school experience can be a violent and disrespectful place for Indigenous students as they navigate first year, in particular. By offering an opportunity to commence the building of a tight-knit community of peers in the summer, we hope that students will be able to thrive in the law school environment and lean on one another when these foundations of the colonial legal system, which are deeply disrespectful of Indigenous world views and legal orders, are discussed."
The members of the planning committee strongly emphasized how invested the student members of their team were in the success of the course and each of the students. As Lee notes, "Without the contributions and input from Verukah, Rikki and Cassandra in the planning and execution of the ILS Summer Intensive in Tort Law, we would not have had such an overwhelming success. Their motivation and dedication to the success of each of the students was motivational and inspiring."
Like Rikki, second-year law student Verukah Poirier completed the 2020 ILS Summer Intensive as an incoming first-year law student, and she returned to take on the role of ILS Mentorship Coordinator. She says that participating in the first ILS Summer Intensive set her up for academic and personal success, and that she learned the value of fostering community among Indigenous students. "As an Indigenous law student, there are many times where I feel like I do not belong at law school," she explains. "But the first ILS Summer Intensive reminded us that imposter syndrome is very real and that we all deserve to be here. That stuck with me."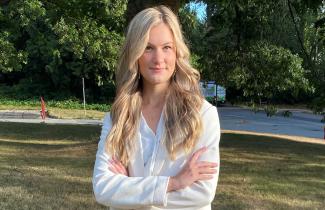 A feature of the ILS Summer Intensive important to the planning committee was providing cultural support for students, including through the ILS JD mentorship program begun in 2020. In 2021, Lee and Verukah matched incoming students with upper-year Indigenous students, and each week, Verukah hosted in-person or online events to strengthen community and provide mentoring opportunities.
Verukah and Rikki also assisted with skill-building exercises, such as case briefings and reflection sessions. "I know first-hand as a participant in last year's ILS Summer Intensive that these skills helped me build the confidence I needed to succeed in law school," Verukah says. "I also think the strong community that we built over the summer will benefit the students as they start their legal journeys together, as they've connected with each other and upper-year Indigenous law students who are here ready to support them when they need it."
Cassandra Sawers, a third-year Indigenous law student, piloted the ILS JD Mentorship Program at the law school in 2020, and in 2021 took on the position of ILS Coach, providing one-on-one tutoring to students each week during the Intensive and over the remainder of the summer to ensure they had the opportunity continue skill building and review prior to September. Coaching is an integral part of the ILS Academic Leadership Certificate, an optional certificate program that provides Indigenous students with further opportunities to engage with academic and leadership skill development during the school year.
Professor Nikos Harris is the academic lead for the ILS Academic Leadership Certificate, alongside Lee who facilitates the program's leadership sessions. Through the certificate program, Nikos has had the opportunity to work with students who completed the first ILS Summer Intensive and the new ILS Summer Intensive in Tort Law. He says he was struck by the strong sense of community that the ILS Summer Intensive continues to foster. "There were a couple of students who weren't a part of the summer course, but the group is so strong that they bring others into the community that they've built," he explains.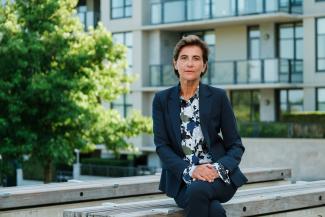 Professor Anne Uteck shared her reflections on the success of the course and the value of early community building: "This was accomplished not just by being together and getting to know everyone, but strengthened by the mentoring and cultural events; the Indigenous programming weaved through the course; the constant interaction, support and presence of the team throughout the course in person and online; encouraging all guests to share and situate themselves; and making space for students to feel safe and respected – and ultimately comfortable and confident sharing, speaking and working collaboratively. We all saw, and felt, by the end of the course, that this objective was achieved, and now, we are all seeing these connections flourish every day at Allard."
Now in his first year of law school, Gabriel George says completing the ILS Summer Intensive in Tort Law laid the groundwork for him and his classmates to approach their studies through their own unique Indigenous lens—and that increasing the representation of Indigenous lawyers in Canada who can do just that is critical: "Although the Canadian legal system is a vehicle of colonialism, it's crucial for more Indigenous peoples to get involved in this field to help assert our inherent rights and to provide Indigenous peoples with meaningful representation and protection in the colonial justice system." 
Summer Intensive in tort law Returns next summer
In 2022, Indigenous Legal Studies will again be offering the ILS Summer Intensive in Tort  Law. Stay tuned for further details and registration announcements. For more information, please contact Indigenous Legal Studies Associate Director Lee Schmidt at lschmidt@allard.ubc.ca.
---
We are grateful to the donors who made the 2021 ILS Summer Intensive in Tort Law possible and to all who generously gave of their time and expertise.
---