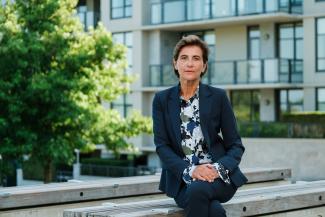 We are pleased to recognize Professor Anne Uteck for her outstanding contributions to the law school with the Jim Taylor, QC Faculty Scholar Award. This award is given to a faculty member who consistently gives more than their fair share of time and energy to the Faculty. And Professor Uteck has certainly done that.
"Professor Uteck is a cherished member of the law school community. She shows such warmth and generosity in her work – be it through teaching innovation, advancing new ventures and ideas, or supporting our students and colleagues.  It is such a joy to see her work recognized with this award – and to pause for a moment to celebrate the integrity, humour, and grace she brings to everything she does," said Efrat Arbel, Associate Professor.
Arriving at the Allard School of Law in 2016, Professor Uteck hit the ground running, building relationships with new colleagues, teaching six courses and being nominated for the Curtis Excellence in Teaching Award. One of her nominators for this award said she, "consistently demonstrates the utmost respect for her students…she believes that we can rise to the challenge and empowers us to excel…Professor Uteck is a role model for her students. She balances intellectual rigour with compassionate honesty and clearly cares deeply about her students."
In addition to her full teaching load, Professor Uteck has been dedicated to supporting students outside the classroom in a number of ways. She is a coach for the BC Law Schools Moot, a very important experiential learning opportunity for upper-year law students. The students each year "are incredibly impressed with how much of her time and expertise she gives to the students," said one nominator. She has volunteered to develop and oversee parts of orientation programming in her first two years at Allard Law and has served as a faculty mentor to countless students. As one of her nominators summed it up, "Anne makes many contributions while having a large teaching load and giving so much of her time to her students."
Professor Uteck continues to be actively involved with Indigenous Legal Studies, tutoring students one-on-one and regularly participating in the weekly Academic Leadership sessions. Most recently and notably, Professor Uteck was instrumental in building and leading the Academic Leadership Certificate - Summer Intensive. This newly launched program provided incoming Indigenous JD students with an opportunity (virtually) to build skills and community while also creating space to connect with Allard Law students, faculty and staff.
"Anne worked tirelessly to help formulate the program and then personally delivered a number of the lectures to the students," said Nikos Harris, Associate Professor of Teaching and Director of Experiential Learning at Allard Law. "The summer program was a big success due in large part to Anne's efforts."
Professor Uteck has undertaken a heavy service role at the faculty including chairing a busy committee that has been particularly challenging as it planned and transitioned to remote exams and respond to the increased number of students in need of academic support as a result of the pandemic. And she currently serves on the Presidential Advisory Committee for the Selection of a new Dean of Allard Law..
On receiving the award, Professor Uteck expressed her heartfelt and genuine thanks to Harris & Company."I am truly touched by this recognition. I did not know Jim Taylor, but from what I have heard from colleagues and learned about Jim, he set an example we should all strive for. Leadership within his practice, a long record of volunteerism, an outstanding faculty member, an award-winning teacher and a person of exceptional kindness and generosity to so many. It is very humbling to be recognized in his memory – and with my remarkable colleagues who preceded me as recipients. This recognition (originally made possible by Jim Taylor and now Harris & Company), is so valuable for inspiring us to contribute to our community in every way we can. I love my work and find joy in the many opportunities we have to engage and participate in the life of our school and community. This award is especially meaningful and gratifying for those of us who strive to contribute in ways beyond our jobs that support our students, enhance and strengthen our law school community. The generous monetary component of this award makes a difference by allowing me to build on this commitment in ways that would not otherwise be funded."
Learn more about Professor Uteck.
About the Jim Taylor Faculty Scholar Award:
This award is currently supported by Harris & Co. in the memory of Jim Taylor, QC. Jim played an instrumental role in establishing this award, which provides a deserving Allard School of Law faculty member with a $5,000 research grant every year. Jim, who passed away in 2016, had close ties to the law school and was a beloved member of the UBC and local law communities.  You can learn more about Jim on the Allard Law History Project website.
---