We're incredibly proud of our Allard Law student mooters, who have just wrapped up an impressive season.
 
In a moot, student teams play the role of lawyers in a mock court proceeding. Participating in a moot provides valuable courtroom experience and – for many students – mooting is often remembered as a law school highlight.
 
To learn more about this year's upper-year moots, we spoke with Allard Law students Sarah Chetney (Gale Cup Moot team), Caitlin Wardrop (Wilson Moot team) and Jayden Friesen-Kehler (Peter Burns Moot and MacIntyre Western Canada Trial Cup Moot) about their mooting experiences – from agonizing over 'fake municipal policy' to presenting arguments at the Supreme Court of Canada.
Sarah Chetney  – Gale Cup Moot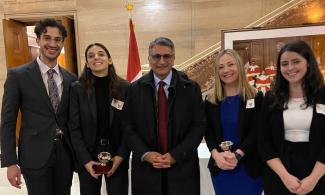 Founded in 1974, the Gale Cup Moot is a national, bilingual moot that challenges students to take on a criminal law topic. On March 3-4, Allard Law's team travelled to Ottawa for the 50th Gale Cup Moot. This year's moot focused on an appeal of a Supreme Court of Canada decision R v LaFrance.
The 2023 Allard Law's Gale Cup Moot team was sponsored by Hunter Litigation Chambers.
What was your biggest highlight from the Gale Cup Moot?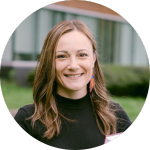 Sarah: Undoubtedly, the most memorable moment was when our team advanced to the final rounds and had the privilege of presenting our arguments at the Supreme Court of Canada, with Justice Jamal presiding as Chief Justice.
It was an extraordinary experience to be in the very chambers where pivotal decisions that shape Canadian law and society are made, and to stand at the podium where countless skilled advocates have argued before us. This was a highlight not just of my time at law school so far, but I'm sure it will be a highlight of my career as well.
 
What have you enjoyed most about mooting?
Sarah: My favourite parts were the teamwork and the incredible coaching we received from so many amazing practitioners. Our team of four grew incredibly close as we wrote endless factum drafts, crammed to meet deadlines, and perfected our oral submissions during weekly practices with local lawyers and judges. We supported each other through the stressful times and genuinely had a ton of fun together.
I also appreciated the amazing coaching we received. Our coaches, Isabel Grant and Mary Ainslie, KC, were such tireless and encouraging supporters. They were always available to lend advice or a pep talk when we needed, and knew just the right times to nudge us beyond our comfort zones so that we could achieve our full potential. We were also fortunate to receive coaching and feedback from many legal professionals during our weekly practices in the months leading up to the moot. We are so grateful to the many lawyers and judges who gave us some of their precious personal time to help in our preparation.

What would you say to students who are trying to decide if they want to participate in an upper-year moot?
Sarah: If I could say one thing to a student who is considering participating in an upper-year moot, I would say to absolutely do it if you can. It's certainly a lot of hard work, and at times you might wonder what you were thinking, but I promise that you won't regret it!
I can't think of any other learning experience that would provide the same level of high-level, practical skill-building than being part of a moot. You'll build amazing friendships with your teammates and coaches, laugh a lot (and maybe cry just a little), and make some of your favourite law school memories.
 
Caitlin Wardrop – Wilson Moot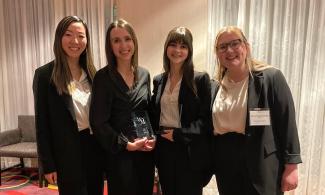 The Wilson Moot explores pressing legal issues concerning the equality of women and minorities. Every February, law students from across Canada are invited to the Federal Court Facility in Toronto to participate in this national moot.
The 2023 Allard Law's Wilson Moot team was sponsored by Borden Ladner Gervais (BLG) LLP.

What are some of your biggest highlights from the Wilson Moot?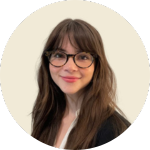 Caitlin: Getting to know such an amazing team and the close relationships you form while doing a moot was a huge highlight. I learned so much from working with my teammates and our time strategizing and bouncing ideas off one another. When you are deep into the moot preparation, it's comforting to know that there are other people who are also agonizing over a particular clause of a fake municipal policy. Seeing all our hard work come together at the competition was very rewarding.
It was also interesting to get to see how other law schools approached the same legal issues in different and creative ways. Getting to argue in the final round was also a big highlight!
How did your coaches help you prepare for your moot?
Caitlin: We had incredible coaches for the Wilson Moot. The help and support we received from Professor Hoi Kong, Jessica Magonet, and Allison Render was immeasurable. Our coaches organized countless practices at law firms around the city, where we practiced our arguments in front of counsel and received valuable feedback. We also received amazing help from last year's moot team, who gave us tips from the competition and helped us refine our arguments.
I truly can't thank our coaches enough for their support, their calm answers to our panicked emails, and the late nights they endured providing feedback on our factums. We couldn't have done it without them!
 
What impact do you think mooting this year has had on other aspects of law school?
Caitlin: Mooting is a unique law school experience as it gives you the opportunity to truly do a deep dive into one particular area of the law. That experience in itself is valuable, as well as the research and public speaking skills that come along with it. I really enjoyed how it allowed me to explore an area of law I was really interested in to a level I would not have been able to in a regular class.
Mooting also offers a great complement to other law school classes and experiences. Once you gain a deeper understanding in one area of the law, you begin to see all the ways it relates to other areas and can help to make sense of other legal issues. I've already used knowledge I gained in the moot in my other courses, my research assistant work, and interviews.



Jayden Friesen-Kehler – Peter Burns Moot and Western Canada Moot (MacIntyre Cup)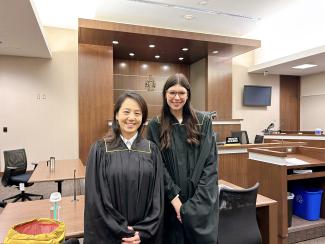 The Peter Burns Moot is a trial moot that takes place each year at Allard Law in November. Eight students compete, pairing up to act as counsel in a mock trial. The two winners of the Burns Cup advance to the Western Canada Moot (MacIntyre Cup). This year's Burns mooters included Na Young Bae, Stephanie Bowick, Emma Chapman, Sahaj Claire, Jayden Friesen-Kehler, Yara Nijm, Verukah Poirer, and Cameron Zubko.
The 2023 Burns Moot was sponsored by Joven Narwal and the BC Crown Counsel Association. Allard Law's Western Canada Moot (MacIntyre Cup) team was sponsored by Joven Narwal.
 
What was it that drew you to the Peter Burns Moot?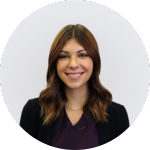 Jayden: I loved my mooting experience in first-year and wanted to continue to build on my oral advocacy skills. I specifically was interested in the Peter Burns Moot because rather than being an appellate-style moot as in first-year, the Peter Burns is a competitive mock-trial where students have the ability to compete within a live trial set-up, cross-examine witnesses and give jury addresses. As someone who is interested in litigation, this moot offers first-hand experience into what the trial process looks like.
 
What have you learned from this experience?
Jayden: The most important thing I learned was the oral advocacy skills that I can now take into my future practice. Being able to learn these skills from experienced practitioners who coach you through the entire process is more valuable than any law school reading can teach you.
No matter what kind of law you want to go into, whether it be criminal, civil, litigation or solicitors work, understanding how to clearly, effectively, and confidently communicate to others will always be so important.

Can you share any tips for law students who will be mooting next year?
Jayden: Don't be afraid and give it your all! Mooting may seem intimidating, but everyone around you – including your teammates, coaches, volunteers and judges – want to see you learn, grow and succeed. The level of confidence you will gain from putting yourself in a new and challenging environment is so worth it, so put yourself out there and give it your best shot. The more effort you put into a moot will directly translate into how much benefit you get from the experience.
Thank you!
Our sincere thanks to each of the volunteer judges and coaches who have guided and supported our students. 
Allard Law's mooting program is made possible by the financial support of the legal community. We would like to thank the following supporters for their recent sponsorship:
BC Crown Counsel Association

Blake, Cassels & Graydon LLP

Borden Ladner Gervais (BLG) LLP

Continuing Legal Education of British Columbia

Fasken

Hunter Litigation Chambers

Joven Narwal

Mandell Pinder LLP

Moore Edgar Lyster LLP

Roper Greyell LLP

Thorsteinssons LLP

Victory Square Law Office LLP
For any questions about sponsorship of the upper-year mooting program, please contact Joyce Lau, Development Officer, at jlau@allard.ubc.ca.
---