Hoi Kong
Rt. Hon. Beverley McLachlin, P.C., UBC Professorship in Constitutional Law
BA, MA, LLB/BCL (McGill), LLM, JSD (Columbia)
Profile
For the 2020-2021 academic year, Professor Kong will be a Scholar at the Peter Wall Institute for Advanced Studies. 
Professor Hoi Kong is the inaugural holder of The Rt. Hon. Beverley McLachlin, P.C., UBC Professorship in Constitutional Law, which he assumed in 2018.  He researches and teaches in the areas of constitutional, administrative, municipal and comparative law, and constitutional and public law theory.  
Prior to joining the Allard School of Law, Professor Kong was an Assistant and then Associate Professor at McGill University's Faculty of Law, where he served a term as Associate Dean (Academic).   He was previously an Assistant Professor of Law, cross-appointed with the School of Urban Planning at Queen's University, and an Associate-in-Law at the Columbia Law School.  Professor Kong clerked for Justice L'Heureux-Dubé and Justice Deschamps at the Supreme Court of Canada. 
Over the years, Professor Kong has received a number of accolades for his teaching. These include the Queen's University Law Students' Society Teaching Excellence Award; the John W. Durnford Award for Teaching Excellence, awarded by McGill's Law Students' Association; and McGill University's Principal's Prize for Excellence in Teaching.  
In 2017, he received the Canadian Association of Law Teachers' Academic Excellence Award, for outstanding contributions to teaching and research in law. 
Professor Kong co-directs with Professor Ron Levy the Project on Deliberative Governance and Law.  He is also on the board of directors of the Centre for Interdisciplinary Research on Montreal and the executive editorial board of the American Journal of Comparative Law. 
Courses
Public Law
Charter of Rights and Freedoms
Publications
Recent Publications:
"The Deliberative Mandate Referendum" (2020) 53:1 UBC Law Review 177-202

Comeau and Constitutional Interpretation" (2020) 94 Supreme Court Law Review (2d) 57-83.

"Deliberative Constitutionalism in Canada" (2018) 31:1 Journal of Parliamentary and Political Law 101-116.

"Compromise, Rights and Federalism: Academic Reflections and Constitutional Jurisprudence" in Daniel Jutras and Marcus Moore (eds.) Canada's Chief Justice: Beverley McLachlin's Legacy of Law and Leadership (Lexis-Nexis, 2018) 375-391 and (2018) 87 Supreme Court Law Review 83-99.
With Ron Levy, "Deliberative Constitutionalism: An Introduction" in Ron Levy, Hoi Kong, Graeme Orr and Jeff King (eds.) The Cambridge Handbook of Deliberative Constitutionalism (Cambridge University Press, 2018) 1-13.
With Nik Luka, Jaimie Cudmore and Andrea Dumas, "Deliberative Democracy and Digital Urban Design in a Canadian City" in Peter Lindsedth et al. (eds.) Digital Democracy in a Globalised World 180-200 (Edward Elgar, 2017).
With Ron Levy, "Deliberative Constitutionalism" in John Dryzek, Andre Bachtiger, Jane Mansbridge and Mark Warren (eds.) The Oxford Handbook of Deliberative Democracy, (Oxford University Press, 2018) 625-639.
"The Modest Case for Constitutional Limits on Electoral Reform in Canada" in Peter Loewen, Andrew Potter, and Daniel Weinstock (eds.) Should We Change How We Vote: Evaluating Canada's Electoral System (McGill-Queen's University Press, 2017) 177-187.
"The Federalism Implications of the Assisted Human Reproduction Act Reference" in Trudo Lemmens, Andrew F. Martin, Ian B. Lee, and Cheryl Milne (eds.) Regulating Creation: Law, Ethics and Policy of Assisted Human Reproduction (Toronto: University of Toronto Press, 2017) 46-69. 
"Two Conundrums of Canadian Administrative Law and a Theoretical Turn" in Russell Weaver et al. (eds.) Comparative Perspectives on Administrative Procedure (Carolina Academic Press, 2017) 129-48.
"The Spending Power in Canada" in Nathalie DesRosiers, Patrick Macklem and Peter Oliver (eds.) Oxford Handbook of the Canadian Constitution (Oxford University Press, 2017) 433-46.
Publications listed on the Law Library Faculty Research Publications Database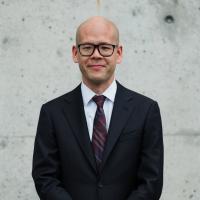 Research Interests
Administrative law and regulatory governance
Comparative law
Environmental law, natural resources, and climate change
Jurisprudence, legal theory, and critical studies
Public and constitutional law
---
How can we make laws and public institutions more legitimate in the eyes of those whose lives are affected by them?
---