Jun 1, 2021
This year's mooting season made for a unique experience: for the first time, all moots were hosted online. Allard Law students and coaches rose to the challenge, and our students say that the skills they learned—as well as the mentorship and friendships that came from the experience—were invaluable. The law school would like to extend its congratulations and thanks to all students, coaches, and everyone involved in this year's moots.
Throughout the year, Allard Law students participated in more than a dozen competitive moots. We caught up with students from five of our teams to get their insights and reflections on this past mooting season.
National Labour Arbitration Moot
Allard Law students Sebastian Cooper and Alie Teachman took home first prize at the National Labour Arbitration Moot, held in January 2021. The team was coached by Professor Bethany Hastie, as well as Jennifer Russell and Bobby Sangha from Roper Greyell LLP.
When asked about highlights from the moot, Alie and Sebastian mentioned the tremendous progress they made as advocates. "There was a moment when our understanding of the problem and issues developed to such a point that we began to welcome questions," says Sebastian. "We saw them as a further opportunity to explain our argument or drive home a point." Alie adds, "By the time the competition rolled around, we were confident that we knew our facts and authorities as well as anyone."
Having the chance to work as a team also contributed to the experience. "Participating in a moot can be an overwhelming experience, but having a great partner by your side makes all the difference," says Alie. "The feeling of pride that comes with learning so much in such a short period of time makes it all worthwhile."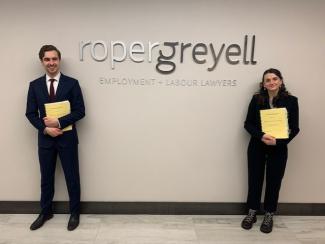 BC Law Schools Competitive Moot
On February 6, 2021, the Allard Law team won the BC Law Schools Competitive Moot, which brings together teams from each of the law schools in BC. Allard Law students Cole Bailey, Rachel Garrett, Trevor Hunt, Tristen Packwood-Greaves and Victoria Tortora represented UBC. The students were coached by Professors Anne Uteck and Elizabeth Edinger, as well as Monique Evans, Emily Snow and Struan Robertson from DLA Piper.
Rachel Garrett received the top oralist scores for the competition, but as she notes, "the bigger highlight was how much fun it was to work as a team." Though this year's moot was challenging, the team developed a strong sense of camaraderie. Rachel says, "We were all in the same challenging situation together. At the end of the day, it was an incredibly rewarding experience and a great way to build practical skills."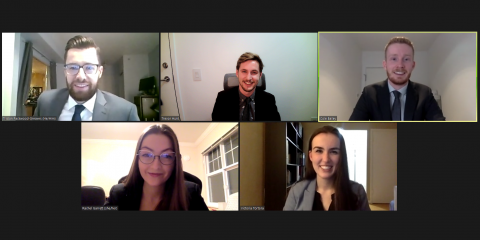 Wilson Moot
The Wilson Moot honours the Honourable Bertha Wilson's contribution to the law, particularly the promotion of justice to the disempowered. The Allard Law team, consisting of Natasha Vlajnic, William Wijaya, Rachel Abrahams and Sophie Harrison, made a strong showing in the competition. Team members Natasha and William say they found it rewarding to see their own improvement throughout the process. "We put so many hours into our prep, and seeing the quality of the final work and how much we learned doing what we were doing was very valuable," says Natasha.
The collaborative environment was also a big draw, with each member bringing in different skills that complemented those of their teammates. William says, "It was valuable to work in a group dynamic in a 'litigation' setting, which you normally don't get exposure to in law school."
Immigration and Refugee Law Moot
The inaugural Immigration and Refugee Law Moot was held in March 2021, with four students representing Allard Law:  Paul Van Benthem, Karen Jantzen, Yan Wang and Simran Hothi. The team took home the prize for Top Law School, Top Factum and Top Respondent Team, as well as second place for Top Oralist Team. Simran Hothi won second place for Best Oralist.
Paul says he appreciated the opportunity to write in a collaborative environment and to connect with members of the Vancouver Immigration Law bar. He says the moot was an "immensely enjoyable" experience, which was particularly meaningful during the COVID-19 pandemic. "It's a nice sliver of camaraderie in the middle of an isolating school year."
Jessup International Moot Competition
The Jessup is the world's largest moot competition, where teams prepare oral and written pleadings on a topic involving international law. Allard Law's team of Julia Fyfe, Gabrielle Matheson, Imalka Nilmalgoda, Thor Paulson and Niki Vaahedi did an amazing job in their arguments. They were coached by Professor Sara Ghebremusse and Dionne Liu of Harper Grey.
The international aspect of the moot was a highlight for Thor, as were the Friday night Zoom hangouts with his teammates after a big deadline. "With my teammates, moot prep really forged our friendship," he says. The mentorship the team received also contributed to the experience. "It's rare that you get a practicing lawyer and a professor to provide feedback on six drafts of the same memo, but that's part of the Jessup experience," says Thor. "The feedback we received on our oral arguments from our coaches, as well as a rotating cast of guest judges, was so motivating and valuable."
---
Thank you to our supporters
Allard Law's mooting program is made possible by the financial support of the legal community. We would like to thank the following supporters for their recent sponsorship:
Continuing Legal Education Society

Fasken

Mandell Pinder

Naomi Wright

British Columbia Crown Counsel

Roper Greyell LLP

Moore Edgar Lyster

Victory Square Law

Blake Cassels & Graydon

Oyen Wiggs Green & Mutala LLP

Granard Management Limited Partnership

Borden Ladner Gervais LLP

McMillan
---
Allard School of Law

All Students