Bethany Hastie
Assistant Professor
BBA (Cap), JD (UBC), LLM, DCL (McGill University)
Profile
Bethany Hastie is an Assistant Professor at the Peter A Allard School of Law, University of British Columbia. Her research examines issues attending precarious labour in the intersecting spaces of labour and employment, migration, and human rights law, with a focus on migrant labour, domestic work, labour exploitation, gender and work, and employment discrimination. 
Professor Hastie completed her doctorate in law at McGill University, where she held an O'Brien Fellowship in Human Rights and Legal Pluralism and a SSHRC Doctoral Fellowship. She was a UBC Green College Leading Scholar from 2017-2019, and is a current member of UBC Centre for Migration Studies.
Professor Hastie's current research includes a SSHRC-funded project exploring models of collective representation for precarious workplaces, a review of BC and Ontario human rights law on sexual harassment, funded by the Canadian Bar Association, and a comparative study on migrant worker recruitment legislation across Canada, funded by the Law Foundation of BC. 
Professor Hastie is available to supervise graduate students working on topics germane to labour and employment law, transnational labour law, domestic and international human rights law, and feminist legal studies.
Courses
Torts
Human Rights Law in Canada
Publications
Bethany Hastie
"Platform Workers and Collective Labour Action in the Modern Economy"
Full text:  (2020) 71 U.N.B.L.J. 40   
Bethany Hastie
"Workplace Sexual Harassment and the "Unwelcome" Requirement: An Analysis of BC Human Rights Tribunal Decisions from 2010 to 2016"
Full text: (2020) 32:1 C.J.W.L. 61-84
Allard Research Commons
Bethany Hastie
"Assessing Sexually Harassing Conduct in the Workplace: An Analysis of BC Human Rights Tribunal Decisions in 2010–16 "
Full text: (2019) 31:2 C.J.W.L. 293-316
Allard Research Commons
Bethany Hastie
"Human Rights and Precarious Workplaces: A Comment on British Columbia Human Rights Tribunal v Schrenk"
Full text: (2019) 52:1 U.B.C. L. Rev. 169-199
Bethany Hastie
"Renewing Labour's Engagement with Old Forms of Precarity: A Case Study of Unionization of Migrant Agricultural Workers in British Columbia"
Full text: (2019) 49:1 L Cap &Soc 28-53
Bethany Hastie
"The Inequality of Low-Wage Migrant Labour: Reflections on PN v FR and OPT v Presteve Foods"
Full text: (2018) 33:2 CJLS 243-259
Bethany Hastie
"The Inaccessibility Of Justice For Migrant Workers: A Capabilities-Based Perspective"
Full text: (2017) 34:2 Windsor Y.B. Access Justice 20-39
Allard Research Commons
Bethany Hastie
"Réflexions sur les contours flous des limites entre travail domestique et servitude"
(2017) 41:1 Anthropologie et Sociétés 107
Dia Dabby, Bethany Hastie & Jocelyn Stacey
"Doctoral Studies in Law: From the Inside Out"
Full text: (2016) 39:1 Dal. L.J. 195-213
Allard Research Commons
SSRN Paper
Julie Kaye & Bethany Hastie
"The Canadian Criminal Code Offence of Trafficking in Persons: Challenges from the Field and within the Law"
Full text: (2015) 3:1 Soc Inclusion 88-102
François Crépeau & Bethany Hastie
"The Case for 'Firewall' Protections for Irregular Migrants: Safeguarding Fundamental Rights"
(2015) 17:2-23 Eur J Migr & L 157-183
Allard Research Commons
SSRN Paper
Bethany Hastie & François Crépeau
"Special Rules on Refugees"
in Andrew Clapham, Paola Gaeta & Marco Sassòli, eds., The 1949 Geneva Conventions: A Commentary
Oxford: Oxford University Press, 2015
pp. 1313-1326
Bethany Hastie & François Crépeau
"Criminalising Irregular Migration: The Failure of the Deterrence Model and the Need for a Human-Rights-Based Framework"
(2014) 28:3 J Immig Asylum & Nat'lity L 213
Bethany Hastie & Alison Yule
"Milestone or Missed Opportunity: A Critical Analysis of the Impact of Domotor on the Future of Human Trafficking Cases in Canada"
Full text: (2014) 19:1 Appeal 83-93
Bethany Hastie
"To Protect and Control: Anti-Trafficking and the Duality of Disciplining Mobility"
in Martin Geiger & Antoine Pécoud, eds., Disciplining the Transnational Mobility of People
New York: Palgrave Macmillan, 2013
pp. 126-144
Bethany Hastie
"Doing Canada's Dirty Work: A Critical Analysis of Law and Policy to Address Labour Exploitation and Trafficking"
In Ato Quayson & Antonela Arhin, eds., Labour Migration, Human Trafficking and Multinational Corporations
New York: Routledge, 2012
pp. 121-137
Professor Hastie's selected works can be viewed at  Allard Research Commons page.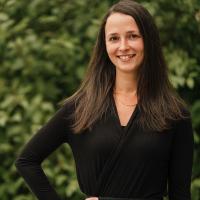 Organization Affiliations
Centre for Feminist Legal Studies
Research Interests
Human rights
Labour and employment law
Law and social justice
---
How might the law create space for meaningful choice at and about work?
---