Sara Ghebremusse
Assistant Professor
Profile
Dr. Sara Ghebremusse is an Assistant Professor at the Allard School of Law. She writes, researches, and teaches in the areas of African law and society, law and development, mining governance in the Global South, human rights, and transnational law. She has published in all these fields and has presented her research at conferences in Canada, Germany, Kenya, Mexico, South Africa, and the United States.
Dr. Ghebremusse supervises graduate students in subjects related to her research and teaching interests. She is a member of UBC Black Caucus.
Related Posts
Courses
Indigenous Settler Legal Relations

Legal Institutions and Resource Extraction in the Global South

Transnational Law
Publications
 "The Shortcomings of Regulating Transparency for Sustainable Development in African Mining" in Beate Sjåfjell, Carol Liao & Aikaterini Argyrou, eds, Innovating Business for Sustainability (Edward Elgar, 2022), 141–163. 
 "Mining", Max Planck Encyclopedia of Comparative Constitutional Law (2021, Oxford University Press).
"New Directions in Mining Governance and the Sustainable Development Goals in Africa" in Series: New Thinking on SDGs and International Law, Centre for International Governance Innovation (May 14, 2020). 
"Can free, prior and informed consent combat mining land use conflicts in Zambia?" in Amissi Manirabona & Yenny Vega Cárdenas (eds), Extractive Industries and Human Rights in an Era of Global Justice: New Ways of Resolving and Preventing Conflicts (Toronto: LexisNexis, 2019) 313-332.
"Application of Y.S. Lee's General Theory of Law and Development Botswana" (2019) 12:2 Law and Development Review 403.
"Good Governance and Development in Botswana - The Democracy Conundrum," (2018) 11:2 Law and Development Review 913-938.
"New Directions in African Developmentalism? The Emerging Developmental State in Resource-Rich Africa" (2016) 7:1 The Journal of Sustainable Development Law and Policy 1-24.
"Conceptualizing the Developmental State in Resource-Rich Sub-Saharan Africa" (2015) 8:2 Law and Development Review 467-502.
"Human Rights in Eritrea: Why Tragedies Like Lampedusa Will Continue" (2014) 7:2 Rights Review 5.
Selected publications are also listed on the Law Library Faculty Research Publications Database.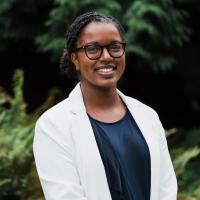 Organization Affiliations
Centre for Business Law
Centre for Feminist Legal Studies
Research Interests
Environmental law, natural resources, and climate change
Human rights
International law
Law and development
Transnational law
---