Truth and Reconciliation Resource Recommendations for Indigenous History Month and Beyond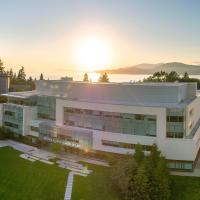 Jun 25, 2021
In this list, Allard Law faculty and staff share their recommendations for students and colleagues in the legal community on the themes of truth and reconciliation and Indigenous and Aboriginal law. The list includes reports, films, articles and books by authors including Allard Law Professors Gordon Christie, Robert YELḰÁTŦE Clifford and Johnny Mack.
Reports
National Inquiry into Missing and Murdered Indigenous Women and Girls
Truth and Reconciliation Commission Reports
Report of the Royal Commission on Aboriginal Peoples 
Yellowhead Institute
Aboriginal Justice Implementation Commission
Films
Books
Tortured People: The Politics of Colonization (2002) by Howard Adams

Recovering Canada: The Resurgence of Indigenous Law

(2002) by John Borrows

Canada's Indigenous Constitution

(2011) by John Borrows

Braiding Legal Orders: Implementing the United Nations Declaration on the Rights of Indigenous Peoples

(2019) by John Borrows, Larry Chartrand, Oonagh E. Fitzgerald and Risa Schwartz

Otter's Journey Through Indigenous Language and Law

(2018) by Lindsay Keegitah Borrows

Halfbreed (1973) by Maria Campbell

The Unjust Society

(1999) by Harold Cardinal

Canadian Law and Indigenous Self‐Determination: A Naturalist Analysis

(2019) by Gordon Christie

States of Denial: Knowing about Atrocities and Suffering

(2001) by Stanley Cohen

Red Skin, White Masks: Rejecting the Colonial Politics of Recognition

(2014) by Glen Coulthard

Policing Indigenous Movements: Dissent and the Security State

(2018) by Andrew Crosby and Jeffrey Monaghan

A Mind Spread Out on the Ground

(2019) by Alicia Elliott

Alicia Elliott's 

opinion piece

in the Washington Post speaks to Canada's response to the 215 children found in the Kamloops Indian Residential School burial grounds.

What it is to be a Métis: the stories and recollections of the elders of the Prince George Métis Elders Society

(1999), by Mike Evans, Marcelle Gareau, Lisa Krebs, Leona Neilson and Heidi Standeven.

The Secretaries of Riel

(1985) by Donatien Fremont 

Five Little Indians (2020) by Michelle Good

Making Native Space: Colonialism, Resistance, and Reserves in British Columbia

(2003) by Cole Harris

Indigenous Diplomacy and the Rights of Peoples: Achieving UN Recognition (2008) by James Youngblood (Sa'ke'j) Henderson

21 Things You May Not Know About the Indian Act: Helping Canadians Make Reconciliation with Indigenous Peoples a Reality

 (2018) by Bob Joseph

Peace and Good Order: The Case for Indigenous Justice in Canada

(2019) by Harold Johnson

The Inconvenient Indian

(2013) by Thomas King

Surviving Canada: Indigenous Peoples Celebrate 150 Years of betrayal

(2017) by Kyra Ladner & Myra Tait, eds

Birdie (2015) by Tracey Lindberg

Nationhood Interrupted: Revitalizing nehiyaw Legal Systems

(2015) by Sylvia McAdam

Brotherhood to Nationhood: George Manuel and the Making of the Modern Indian Movement (2020) by By Peter McFarlane and Doreen Manuel

Truth and Conviction: Donald Marshall Jr. and the Mi'kmaw Quest for Justice

(2021) by L Jane McMillan

Unsettling Canada: A National Wake-Up Call (2015) by Arthur Manuel and Grand Chief Ronald M. Derrickson
The Reconciliation Manifesto Recovering the Land, Rebuilding the Economy (2017) by By Arthur Manuel and Grand Chief Ronald Derrickson
The Fourth World: An Indian Reality (2018) by George Manuel and Michael Posluns
My Conversations with Canadians (2017) by Lee Maracle

The Colonizer and the Colonized

 (1991) by Albert Memmi

A National Crime The Canadian Government and the Residential School System, 1879 to 1986 (1999) by John S. Milloy

Thunder in my Soul: A Mohawk Woman Speaks

(1995) by Patricia Monture-Angus

Theft Is Property! Dispossession and Critical Theory

(2019) by Robert Nichols

Aboriginal Peoples and the Law: A Critical Introduction (2018) by Jim Reynolds

Paying the Land

(2020) by Joe Sacco  

Price Paid: The Fight for First Nations Survival

(2016) by Bev Sellers

They Called me Number One: Secrets and Survival at an Indian Residential School

(2012) by Bev Sellars

As We Have Always Done: Indigenous Freedom through Radical Resistance

(2021) by Leanne Betasamosake Simpson

Storying Violence: Unravelling Colonial Narratives in the Stanley Trial

(2016) by Gina Starblanket & Dallas Hunt

Suffer the Little Children: Genocide, Indigenous Nations and the Canadian State

(2018) by Tamara Starblanket

My Name is Seepeetza

(1992) by Shirley Sterling

Seven Fallen Feathers: Racism, Death, and Hard Truths in a Northern City

(2017) by Tanya Talaga

The North-West Is Our Mother: The Story of Louis Riel's People, the Métis Nation

(2019) by Jean Teillet

Indigenous Writes: A Guide to First Nations, Métis & Inuit Issues in Canada

 (2016) by Chelsea Vowel

The Right to Be Cold One Woman's Story of Protecting Her Culture, the Arctic and the Whole Planet (2016) by Sheila Watt-Cloutier

Medicine Walk

(2015) by Richard Wagamese

Out of Concealment

(2017) by Terri-Lynn Williams-Davidson
Articles
Teaching and Learning Resources
Contributors 
This list was compiled from recommendations by Allard Law faculty and staff: Efrat Arbel, Associate Professor; Janine Benedet, Dean pro tem and Professor; Lindsay Cashin, Alumni Relations Manager; Paige MacKenzie, Assistant Dean, Development; Benjamin Perrin, Professor; Dr. Graham Reynolds, Associate Professor; Dr. Robert Russo, Lecturer; Lee Schmidt, Indigenous Legal Studies Associate Director; Jocelyn Stacey, Assistant Professor; James G. Stewart, Associate Professor; Kristen Thomasen, Acting Assistant Professor; Stepan Wood, Professor; Margot Young, Professor.
Future calls for submissions will be circulated to ensure this list is kept up to date.
---
COUNSELLING SUPPORT
The Hope for Wellness Help Line is open to all Indigenous Peoples across Canada, and offers 24-hour mental health counselling, via phone 1-855-242-3310 or chat Line.
Call 310-6789 (no area code needed) toll-free anywhere in BC to access emotional support, information and resources specific to mental health and substance use issues. Available 24 hours a day.
KUUS-US: The KUU-US Crisis Line Society operates a 24-hour provincial Aboriginal Crisis line for: adults, elders and youth https://www.kuu-uscrisisline.ca/ 
Adult/Elder Crisis Line: 250-723-4050 
Child/Youth Crisis Line: 250-723-2040 
BC Wide Toll Free: 1800-KUU-US17 (1-800-588-8717) 
Métis Crisis Line BC Toll Free: 1833-MétisBC (1-833-638-4722)  
The Indian Residential School Survivors Society (IRSSS) provides essential services to Residential School Survivors, their families, and to those dealing with intergenerational trauma. Call toll free: 1 800 721 0066.
The First Nations Health Authority Mental Wellness & Counselling Support offers a list of providers registered with health benefits at fnha.ca/benefits/mental-health or call 1 855 550 5454.
Student Counselling Services
UBC Counselling Services - 604 822 3811
M–W & F: 8.30-4.30/Th: 10.30-4.30  
Drop-in counselling, wellness advising and counselling appointments. 
Anna Kline, Counsellor and Manager, Student Wellbeing - 604 822 4928, kline@allard.ubc.ca
Counselling appointments for Allard law students
Indigenous students can access support via the Student Health and Wellbeing portal.
UBC Student Assistance Program (SAP) - 1 833 590 1328 (In North America), 1 604 757 9734 (Outside North America) UBC student community counselling service – immediate and short term counselling. Available 24/7.
Here2Talk - 1 877 857 3397  BC post-secondary student counselling service – single session. Available 24/7.
---