Samuel Beswick
Assistant Professor
LLM, SJD (Harvard), LLB(Hons), BCom (Auckland), Admitted as a Barrister and Solicitor of the High Court of New Zealand
Profile
Assistant Professor Samuel Beswick is a private law scholar with primary research interests in the areas of torts, unjust enrichment, limitations, and remedies. His current research concerns the temporal scope of judicial changes in the law, as well as the rule of law in public authority civil liability. Dr. Beswick has published his research in leading common law journals, and has presented at workshops and conferences across North America and in the United Kingdom. He is the editor of the open-access casebook,
Tort Law: Cases and Commentaries
(
2021 CanLIIDocs 1859
). He has held teaching positions at Harvard Law School, King's College London, and the University of Auckland.
Dr. Beswick is a Green College Member of Common Room and former Leading Scholar. He studied at Harvard as a Frank Knox Memorial Fellow and a Peter Brooks Saltonstall Memorial Scholar. He wrote his dissertation under Professor John C.P. Goldberg and received the Irving Oberman Memorial Prize in Constitutional Law. His thesis was favourably cited in a 2020 judgment of the United Kingdom Supreme Court. Dr. Beswick was also Deputy Executive Editor of the Harvard National Security Journal and President of the SJD Association. At Auckland, he wrote his dissertation under Associate Professor Scott Optican and received the New Zealand Ministry of Justice Article Prize. He was also an Editor-in-Chief of the Auckland University Law Review and graduated a Senior Scholar in Law.
Prior to joining Allard Law, Dr. Beswick was a postdoctoral fellow at Harvard Law School's Project on the Foundations of Private Law, practised in the Solicitor's Office of HM Revenue & Customs (London, UK), practised as a litigator at Meredith Connell (the Office of the Crown Solicitor for Auckland), and was a judicial clerk in the High Court of New Zealand.
Courses
Publications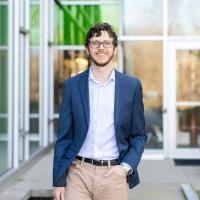 Organization Affiliations
Research Interests
Courts, litigation and access to justice
Jurisprudence, legal theory, and critical studies
Legal education
Tort law
---
How is the retrospective nature of judge-made law compatible with the rule of law?
---