Efrat Arbel
Associate Professor
Member of the Bar of British Columbia
B.A (McGill); J.D. (UBC); LL.M, SJD (Harvard Law School)
Profile
Efrat Arbel publishes and teaches in refugee law, prison law, constitutional law, and tort law. Her research examines how legal rights are negotiated and defined in liminal legal spaces like the border, the detention center, and the prison.
Prior to joining the Allard School of Law, Dr. Arbel completed her masters and doctoral studies at Harvard Law School, where she received numerous fellowships and awards, was Canada Research Fellow with the Weatherhead Centre for International Affairs, and worked as a researcher with the Harvard Immigration and Refugee Law Clinic. She held a postdoctoral appointment at the University of British Columbia between 2012-2014, with visiting appointments at the Oxford Center for Criminology (2013) and the European University Institute (2014).
Currently, Dr. Arbel is principal investigator on a SSHRC funded project that brings the insights of trauma-informed practice to immigration detention. She is also analyzing the application of the law of torts to immigration detention, evaluating the impact of Canadian border restrictions on refugees, and mapping the treatment of gender, gender-identity, and gender expression in refugee decision making. Together with PhD candidate Molly Joeck, Dr. Arbel is recipient of a Covid-19 Wall Solutions Award for research examining how the onset of Covid-19 has impacted immigration detention.
Combining her academic work with legal practice, Dr. Arbel is regularly engaged in advocacy and litigation involving refugee and prisoner rights. She has prepared independent research reports for, engaged in consultations with, and produced submissions for various government agencies, including the Canada Border Services Agency, BC Corrections, and the Immigration and Refugee Board. She has been commissioned to produce expert opinions in ongoing challenges before Canadian courts. She serves as an advisor to the Multi-Agency Partnership BC Immigration Holding Center Support Program and conducts training for the Immigration and Refugee Board's Gender Taskforce. Dr. Arbel is a frequent media commentator on refugee and prison issues, and has been cited by numerous media outlets, including by The Globe and Mail, National Post, and The New York Times.
 
Dr. Arbel serves on the Executive Committee of UBC's Centre for Migration Studies and is a member of the International Editorial Board of Oxford University's Border Criminologies.
 
 
Courses
Refugee Law
Advanced Charter Law
Torts
Publications
"

Immigration Detention in the Age of COVID-19

" (with Molly Joeck) in Catherine Dauvergne (ed.), Research Handbook on the Law and Politics of Migration (2021: Edward Elgar Press) 260-276 

Responding to Gender Violence in Immigration Detention: Towards a Trauma-Informed Approach

(Vancouver, 2020)

"Rethinking the 'Crisis' of Indigenous Mass Imprisonment" (2019), 34(3) Canadian Journal of Law and Society 437-456
"Immigration Detention and the Problem of Time: Lessons from Solitary Confinement" (with Ian Davis) (2018) 4(4) International Journal of Migration and Border Studies 326-344
"Devalued Liberty and Undue Deference: The Tort of False Imprisonment and the Law of Solitary Confinement" (2018) 84 Supreme Court Law Review 43-70
"Immigration Status, Immutability, and the Limits of Equality Protection in Canadian Law" (with Eileen Myrdahl) in R. Albert, P. Daly and V. MacDonnell (eds) The Canadian Constitution in Transition (University of Toronto Press, 2018) 365-385
"Bordering the Constitution, Constituting the Border" (2016) 53(3) Osgoode Hall Law Journal 824-852
"Between Protection and Punishment: The Irregular Arrival Regime in Canadian Refugee Law" in K. Reiter and A. Koenig (eds) Extreme Punishment: Comparative Studies in Detention, Incarceration, and Solitary Confinement (Palgrave, 2015), 197-219
"Contesting Unmodulated Deprivation: Sauvé v Canada and the Normative Limits of Punishment" (2015) 4(1) Canadian Journal of Human Rights 121-141
"Gendered Border Crossings" in E. Arbel, C. Dauvergne, and J. Millbank (eds) Gender in Refugee Law: from the Margins to the Centre (Routledge, 2014), 243-263
Bordering on Failure: Canada-U.S. Border Policy and the Politics of Refugee Exclusion (with Alletta Brenner) Harvard Immigration and Refugee Law Clinical Program, Harvard Law School (Cambridge, MA: 2013)
"The Culture of Rights Protection in Canadian Refugee Law: Examining the Domestic Violence Cases" (2013) 58(3) McGill Law Journal 729-771, 
"Shifting Borders and the Boundaries of Rights: Examining the Safe Third Country Agreement Between Canada and the United States" (2013) 25(1) International Journal of Refugee Law 65-86
For Professor Arbel's publications available on SSRN, go here: http://ssrn.com/author=1124948
Selected publications are also listed on the Law Library Faculty Research Publications Database.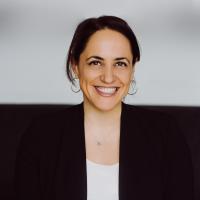 Organization Affiliations
Centre for Feminist Legal Studies
Research Interests
Human rights
Immigration and refugee law
Jurisprudence, legal theory, and critical studies
Law and social justice
Public and constitutional law
Tort law
---
How are legal rights and responsibilities negotiated and defined in liminal legal spaces like the border, the detention centre, and the prison?
---