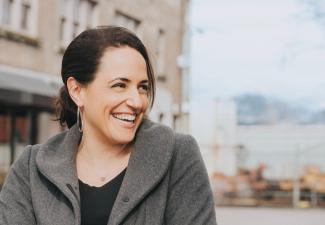 The University of British Columbia announced today that Professor Efrat Arbel has been awarded a UBC Killam Accelerator Research Fellowship. The award is presented annually to six exceptional early-career researchers from across all disciplines at UBC who have demonstrated outstanding research achievement and the potential for significant impact in their fields of scholarship.
Professor Arbel will launch a two-year research study analyzing the inner workings of Canadian immigration detention.
"The Killam Accelerator Research Fellowship represents one of the university's most prestigious research awards, and the Allard School of Law is thrilled to see Professor Arbel recognized with this honour," said Allard Law Dean Ngai Pindell. 
With this award, Professor Arbel will receive a one-time research allowance of $50,000. Funding is also provided for a teaching release, to enable Professor Arbel to dedicate time to research. She will be recognized at an annual event in May and will deliver a public lecture on her research during the fellowship's two-year term.
"It is an absolute joy to be selected as a recipient of this award," said Professor Arbel. "I am both humbled and invigorated, and so grateful for this amazing opportunity to develop my research with the invaluable support of the Killam Accelerator Research Fellowship."
Throughout her two-year term, Professor Arbel aims to advance the legal understanding of Canada's immigration detention regime, which she says has become a site for some of the most pernicious and most extreme acts of violence in the country.
"In the past decade alone, Canada has incarcerated tens of thousands of immigration detainees, including children and refugee claimants, for non-criminal reasons and for indeterminate amounts of time," Professor Arbel said. "The law and policy of immigration detention is deeply flawed, and suffers from systemic problems that continue to produce structural and material harm. There is an urgent need to address these harms, and my research commits to advancing this goal."
Professor Arbel's research will make an important intervention in the field by focusing not only on the law and policy of immigration detention, but also on the lived experience of immigration detainees. "There is a pressing need to understand the law and policy of immigration detention through the lived experience of detainees," she explained. "I hope that my research can document these experiences in meaningful and respectful ways, and in doing so, both honour these experiences and advance the legal understanding of immigration detention. Ultimately, I hope my work can serve as a vehicle for bold and urgently needed change," she added.  
Professor Arbel joined the Allard School of Law in 2014. Prior to joining the faculty, she completed her master's and doctoral studies at Harvard Law School under the supervision of Professor Martha Minow, one of the world's leading thinkers on law and justice. Professor Arbel's research examines how legal rights are negotiated and defined in liminal spaces like the border, the detention center and the prison. She is widely recognized as an expert in her field, and has published policy-relevant scholarship that has shaped the development of Canadian law and policy in recent years.
In addition to her teaching and research, Professor Arbel has prepared independent research reports for, engaged in consultations with, and produced submissions for government agencies including the Canada Border Services Agency and the Immigration and Refugee Board. She has been commissioned to produce expert opinions in ongoing legal challenges before Canadian courts, and regularly engages in pro-bono advocacy and litigation involving refugee and prisoner rights. Currently, Professor Arbel serves as an advisor to the Multi-Agency Partnership BC Immigration Holding Center Support Program.
"Professor Arbel is an internationally recognized scholar with an established record of research excellence that has an impact on law reform," said Dean Pindell. "This award is well deserved, and will allow Professor Arbel to develop her research at the highest caliber and to address questions of central importance in Canadian law." 
The Allard Law community congratulates Professor Arbel on this well-deserved honour. To read more about Professor Arbel's work on immigration detention, visit the Allard Research Commons to access her most recent publications.
The Killam Accelerator Research Fellowship program is established through a bequest from the late Dorothy J. Killam, and strengthens UBC's support for early-career researchers who are ready to launch the next stage of their careers. Offered on a competitive basis, up to six awards are made annually through the Izaak Walton Killam Memorial Fund.
---