Profile
Prior to joining Allard Law, Brenna was a Reader in Law and Critical Theory at SOAS, University of London, and previously held faculty positions at the Queen Mary School of Law, Kent Law School and the University of Reading Law School. She has also held visiting appointments at L'École des hautes études en science sociales (Paris) and the Stellenbosch University Faculty of Law (South Africa).
Brenna earned a BA (Hons.) in South Asian Studies and History from the University of Toronto, her LLB at UBC, and was called to the Bar of British Columbia after clerking at the BC Court of Appeal and articling with Arvay Finlay. The recipient of numerous graduate scholarships, she completed her PhD at Birkbeck School of Law, University of London.
Brenna's research and teaching broadly lie within the fields of property studies and legal theory, spanning the disciplines of property law, critical theory, colonial legal history and critical race feminism. Her book Colonial Lives of Property: Law Land and Racial Regimes of Ownershipwas published in 2018 with Duke University Press, and the co-edited book (with Rafeef Ziadah) Revolutionary Feminisms: Conversations on Collective Action and Radical Thought was published in 2020 with Verso. She has published widely in various leading academic journals. She is regularly invited to deliver plenary and keynote addresses at academic venues around the globe, and in a variety of disciplinary and interdisciplinary settings.
 
Courses
Indigenous Settler Legal Relations LAW 200
Topics in Human Rights: Global Legalities Law 351D
Publications
Books             
Colonial Lives of Property: Law, Land and Racial Regimes of Ownership (Durham: Duke University Press, May 2018)     
Edited Books   
Plastic Materialities: politics, legality and metamorphosis in the work of Catherine Malabou, co-edited with Jon Goldberg-Hiller (Durham: Duke University Press, 2015)
Revolutionary Feminisms: conversations on collective action and radical thought, co-edited with Rafeef Ziadah (London: Verso, 2020)
Abolition Geography: Essays Towards Liberation, Ruth Wilson Gilmore, co-edited with Alberto Toscano (London: Verso, 2022)
Special Journal Issues
Reflections on Dispossession: Critical Feminisms ed. with Davina Bhandar (2016) Darkmatter Journal
Articles
2021       "Theft in Broad Daylight: Racism and Neoliberal Legality" in Law and Critique 32: 285-299.
2017       "Representing Palestinian Dispossession: Land, Property and Photography in the Settler Colony" (with Alberto Toscano) in Settler Colonial Studies, Vol.7 Issue 1, pp1-18
2016       "Status as Property: Identity, Land and the Dispossession of First Nations        Women in Canada" in B. Bhandar and D. Bhandar eds special issue, Reflections on Dispossession: Critical Feminisms, Darkmatter Journal
2016       "Cultures of Dispossession: Rights, Status and Identities," co-authored with Davina Bhandar, in Special Issue, Reflections on Dispossession: Critical Feminisms,  Darkmatter Journal
2015        "Race, Real Estate and Real Abstraction" (with Alberto Toscano) in Radical Philosophy 194 (Nov/Dec 2015), pp.8-17
2015        "Possession, Occupation and Registration: Recombinant Ownership in the Settler Colony" in Settler Colonial Studies, Volume 6, Issue 2, Special Issue on Settler Colonial Logics and the Neoliberal Regime, edited by David Lloyd and Patrick Wolfe, pp119-132
2015         "Critical Legal Studies and the Politics of Property" in Property Law Review, special issue on Research Methods in Property Law, eds Sarah Blandy and Susan Bright, p186-194
2015         "Title By Registration: instituting property and conjuring racial value in the settler colony" Journal of Law and Society, Vol. 42, Issue 2, p253-282
2014         "Property, Law and Race: modes of abstraction" in UC Irvine Law Review Vol. 4
2012         "Strategies of Legal Rupture: the politics of judgment" in Windsor Access to Justice Yearbook,Vol. 30, pp59-78
2011         "Plasticity and post-colonial recognition: owning, knowing and being" in Law and Critique, Vol 22, Issue 3, pp227-249
2009         "The Ties that Bind: multiculturalism and secularism reconsidered" in Journal of Law and Society Vol.36, Issue 2, pp 301-326
2007          "Re-covering the Limits of Recognition: The Politics of Difference and Decolonisation in John Borrows' Recovering Canada: The Resurgence of Indigenous Law" in the Australian Feminist Law Journal, Vol.27, pp 125-155
2004          "Anxious reconciliation(s): unsettling foundations and spatializing history"    in Environment and Planning Journal, Society and Space, Vol.22 Issue 6,     pp 831-845
Book Chapters
2022      "The Right to Housing, the Right to the City" in The Cambridge History of  Rights eds. Meredith Terretta and Samuel Moyn (London: CUP)   
2021       "Race" in Handbook on Marxism eds. Sara R. Farris, Beverly Skeggs, and Alberto Toscano (London: Sage)                            
2018       "Fault-lines in the Settler Colony: On the Margins of Settled Law" in Transformative Property Law: Festschrift for A.J. van der Walt (Cape Town: Juta and Company Publishers)                                                      
2017        "Registering Interests: Modern Methods of Valuing Labour, Life and Land" in  Justin Deseutels-Stein and Christopher Tomlins eds. Contemporary Legal  Thought (Cambridge: Cambridge University Press)                                                    
2014        "Introduction: Staging Encounters" co-authored with Jonathan Goldberg-Hiller, in Plastic Materialities: Politics, Legality and Metamorphosis in the work of Catherine Malabou (Durham: Duke University Press, 2015)                                               
2014         "Law, Sovereignty and Recognition" co-authored with Jonathan Goldberg Hiller, in Plastic Materialities: Politics, Legality and Metamorphosis in the work of  Catherine Malabou (Durham: Duke University Press, 2015)     
Other Publications & Commissioned Work
"Colonial Lives of Property in South Australia, British Columbia and Palestine" interview with Léopold Lambert, The Funambulist Magazine #40, March-April 2022
"Lost Property: the continuing violence of improvement", The Architectural Review, 8 October 2020
"Lethality, Property, Race: Reflections on Cheryl Harris's Whiteness as Property",
Aug 18th, 2020, Harvard Law Review Blog

"Property/Eigentum" Brenna Bhandar in conversation with Daniel Loïck, Texte Zur Kundst  30/117 (Mar. 2020)

"Organised State Abandonment: the meaning of Grenfell", Sociological Review blog, 3 Dec. 2018

"Possessive Nationalism: Race, Class and the Lifeworlds of Property", Viewpoint Magazine, Feb 1, 2018
"The Stern Review", London Review of Books blog, August 2nd, 2016
"From Proletarians to Proprietors" in Jacobin, January 30th, 2015
"The First Nations of Canada are still waiting for the colonial era to end" in The Guardian, Oct. 24, 2013 

"A Right to the University" London Review of Books blog, Dec. 10th, 2013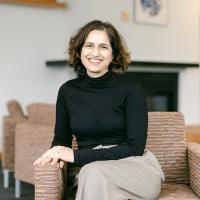 ---