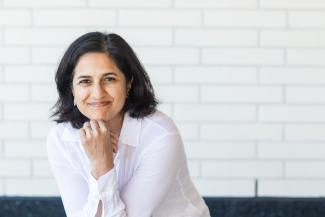 Dr. Brenna Bhandar is a well-known property scholar and legal theorist—as well as an Allard Law graduate—and we're delighted to have recently welcomed her back to the Allard Law community as an associate professor.
Dr. Bhandar's transdisciplinary approach to scholarship spans the disciplines of property law, critical theory, colonial legal history and critical race feminism. Her recent book, Colonial Lives of Property (Duke University Press, 2018), examines how modern property law contributes to the formation of racial subjects in settler colonies and to the development of racial capitalism. 
Dr. Bhandar holds a PhD from the Birkbeck School of Law, University of London, and joins Allard Law from the School of Oriental and African Studies, University of London, where she was a Reader in Law and Critical Theory. This fall, she will be teaching Indigenous Settler Legal Relations—a first-year course designed to help students foster a decolonized understanding of law, legal institutions and legal processes in Canada. 
Dr. Bhandar shared with us a bit about her current research and what she's looking forward to most at Allard Law.
What are your research interests?
My research interests lie at the crossroads of property law, critical theory, race, gender and colonialism. More specifically, I have long been interested in the ways that property laws and modern processes of racialization are thoroughly intertwined with one another. I take a theoretical, transdisciplinary and historically situated approach to my research. I examine the relationship between property and race in specific colonial and post-colonial contexts, attuned to longer histories of dispossession and their contemporary effects on society.
This research culminated in the publication of Colonial Lives of Property: Law, Land and Racial Regimes of Ownership in 2018. Another strand of my research has focused on critical race feminisms, exploring histories of Black, Indigenous and post-colonial feminist thought and how these bodies of work can inform legal study and practice. This work led to the publication of a book in 2020, co-edited with Rafeef Ziadah, Revolutionary Feminisms: Conversations on Collective Action and Radical Thought, which incorporated interviews with 10 leading anti-racist feminists conducted over a period of five years.
Tell us about your current research projects.
My current research has turned to a specific form of property: residential real estate and housing. Motivated by a desire to understand the conditions which led to the 2017 Grenfell Tower fire in London, I have begun study of residential housing markets and the role of privatization, deregulation and financialization in changing forms and norms of ownership and tenancies in the UK context. Primary to my research is a focus on the legal architectures that have facilitated these transformations in the housing market, and also, their effects on racialized and marginalized communities. A related theme of study is to consider the relationship between neoliberalism, law and race. I have two forthcoming publications on these topics.
In a second project I am furthering my research on the doctrine of preemption, with a multidisciplinary group of scholars located at UBC, SFU and UVIC, with particular focus on how this doctrine affected specific First Nations in British Columbia. Our hope is that this research will both educate the wider public about the realities of colonial settlement in the province, and support specific First Nations in their struggle to reclaim their land.
A third research project will bring a multidisciplinary group of scholars from Europe, the UK, and the US to UBC next June to explore the themes of 'Dispossession and the Commons' in a three-day workshop. Funding has been awarded by both Allard Law Faculty and the Independent Social Research Foundation (Europe) to carry out this work.
What do you look forward to most about being a part of the Allard community?
I'm very excited to join the Allard community. I've met several of my new colleagues in person by now and anticipate much intellectual and scholarly camaraderie. I will be meeting students this autumn with great anticipation. The wide range of academic expertise at Allard will certainly be enriching, and I hope to contribute to the vibrant academic and community life at Allard. There are many challenges facing universities, not least of which involve fundamental tenets of academic freedom, equity, diversity and anti-racism initiatives, decolonizing and reconciliation work, to name but a few. I look forward to working with colleagues on these and other important matters with which educators are contending all over the world.
Learn more about Dr. Brenna Bhandar.
---