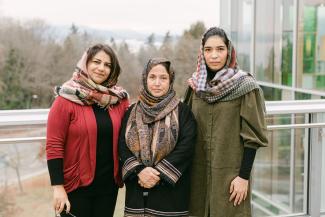 Since the Taliban's return to power in Afghanistan in August 2021, women judges throughout the country have lost their jobs, had their lives threatened and have been forced to evacuate or go into hiding. Last March, the International Association of Women Judges published an open letter to the international community seeking assistance in evacuating and resettling women judges who remained in Afghanistan. 
Today, we're pleased to announce the creation of Allard Law's new Afghan Women Judges Program. Through this new program, three judges from Afghanistan have recently joined us at the law school. Judge Bibi Wahida Rahimi accepted a two-year position as a Research Associate. Judges Freshta Masomi and Zamila Sangar accepted two-year appointments as visiting scholars with the Centre for Asian Legal Studies.
Allard Law students, faculty and the broader legal community will benefit from their insights into contemporary Afghan law and society and their first-hand experience as judges, both before and after the Taliban returned to power.
 
Highlighting the beauty of Afghan society
Forced to flee Afghanistan following the Taliban's takeover, Judge Rahimi previously served as a judge at the Primary Court in Panjshir, Afghanistan, where she heard cases on violence against women from 2017 until the regime change in 2021.
At Allard Law, Judge Rahimi's research will provide important insights into aspects of Afghanistan's judicial system, focusing on topics including women and the law in Afghanistan and the experience of women judges within the system.
In a project she's titled Turning Back, Judge Rahimi will explore the lives and career paths of several Afghan women judges. She describes this work as "very close to her heart." In another project, Judge Rahimi will examine Afghanistan's laws on violence against women and how those laws have been applied in practice. In a third project, she plans to explore the relationship between literacy, women and success.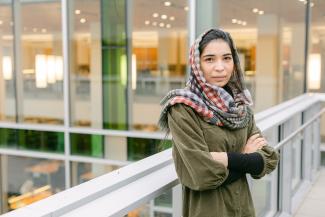 "I want to contribute my knowledge and experience for my generation, and for every girl who dreams independently for herself," she explains. "I also want to try to make a connection through my writing with those who feel their dreams and future have reached an endpoint. I feel a great responsibility on my shoulders to continue this academic path and share my vision."
The thread tying each of these projects together is Judge Rahimi's desire to highlight the beauty and positive elements of Afghan society, which she describes as being overshadowed by the current regime.
"For me, research is a way of thinking independently and telling untold stories," Judge Rahimi adds.
Since arriving in Canada in April 2022, Judge Rahimi has been active in sharing her knowledge about the future of Afghanistan and the experiences of Afghan women judges who were exiled from the bench. Recently, she presented on the situation of Afghan women and girls in a private briefing with the UN Special Rapporteur on Afghanistan. She has also shared her expertise with global media outlets – including Al Jazeera, BBC, and the New York Times – to create greater awareness of the major threats to women judges and the judicial system in Afghanistan.
This April, Judge Rahimi will be speaking at the National Retreat for Women in Victoria, BC, co-organized by the Honourable Janet Austin, Lieutenant Governor of British Columbia, together with other inspiring women leaders.
Establishing Allard Law's new

Afghan Women Judges Program
Allard Law's new Afghan Women Judges Program, established in November 2022, was inspired by a call for law schools across the country to help support women judges from Afghanistan who had been forced out of their jobs following the Taliban's return to power. That request was sent by Toronto Metropolitan University Professor Patricia Hania, on behalf of the International Association of Women Judges, to the Canadian Council of Law Deans.
Professor Graham Reynolds, Allard Law's Associate Dean, Research and International, says it was this call for support that spurred him and his colleagues to action. "We wanted to do something to help Afghanistan's women judges who lost their careers and had their lives put at risk," he says. "With the help of a dedicated team of individuals both within and outside UBC, and in collaboration with UBC's Centre for Feminist Legal Studies and Centre for Asian Legal Studies, we were able to create the Research Associate position. It was truly a team effort."
Associate Dean Reynolds notes that Professor Patricia Hania and the Honourable Risa Levine, former judge of the BC Court of Appeal and a member of the Canadian Chapter of the International Association of Women Judges, played a particularly critical role in the creation of both the Research Associate position and the Afghan Women Judges Program. "Without their efforts, these initiatives would not have been launched," he adds.
The Honourable Risa Levine says that seeing the results of their efforts – and getting to meet the three judges in person – has been a particularly special experience. "Freshta, Wahida and Zamila radiate kindness and serene optimism," she says. "I am awed by their commitment to their work on behalf of women in Afghanistan and humbled by their strength and resilience in the face of the losses they experienced in leaving Afghanistan and the challenges of coming to a new country. They are remarkable women, who have so much to teach us comfortable Canadians."
Allard Law's Afghan Women Judges Program includes English-language training provided by UBC's English Language Institute and an ongoing seminar series that provides both an introduction to the Canadian legal system and opportunities for the judges to meet with Canadian judges, lawyers and professors.
Associate Dean Reynolds hopes that, in time, the program will inspire other law schools across Canada to find ways to support and collaborate with Afghan judges who have recently arrived in Canada.
"The Allard Law community is proud to welcome Judges Rahimi, Masomi and Sangar, and looks forward to working with and learning from them," he says.
Thank you to all who have generously donated their time and financial support to the Allard School of Law's Afghan Women Judges Program.
Funding for the Research Associate position and the Afghan Women Judges Program was made possible thanks to the generous philanthropic support from members of the broader legal community as well as financial support from UBC's Scholars at Risk Fund. We are also grateful to the UBC English Language Institute for providing tuition waivers for program participants.
---