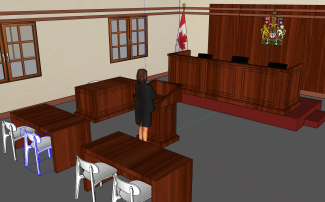 Every year, first-year Allard Law students try their hand at mooting — an exercise that has student teams playing the role of lawyers in a mock court proceeding.
Students gain experience in written and oral advocacy, appearing before a panel of lawyers who act as moot court judges. The experience is valuable, but often stressful.
That's where a new moot court simulator app comes in, currently under development by a team at Allard Law and the UBC Emerging Media Lab.
Like a flight simulator, but for lawyers
Allard Law Adjunct Professor Jon Festinger says the idea for a moot simulator came to him while listening to Dr. Stefan Bouchard, Canada Research Chair in Clinical Cyberpsychology, explain how virtual reality (VR) can be used as a type of exposure therapy. Someone with a fear of flying, for example, can begin to get comfortable with the idea of boarding a plane by first spending time in a VR flight simulator.
When Festinger asked himself what had frightened him the most when he was in law school, the answer was obvious: the first-year moot. And he suspects he's not alone. "Just talking to students first-year students, I would estimate that probably 75% of them are terrified of the first-year moot," says Festinger.
Ironically, students often find they enjoy the actual moot experience. "Many students after the moot start considering a possible career in litigation because they find it a great experience to advocate their positions and respond to questions from the bench," says Professor Nikos Harris, Allard Law's Director of Experiential Learning. "However, students find the preparation process extremely stressful and feel intimidated about the concept of appearing before three experienced lawyers in their first year of law school."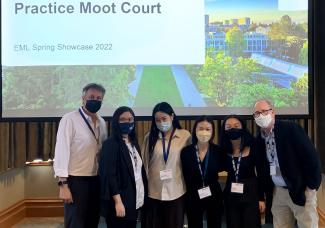 Reflecting on his own experience as a law student, Festinger says that while he walked into his first moot "absolutely terrified," he walked out "unbelievably exhilarated."

So, Festinger proposed a project to help students better prepare for their first-year moot, in a virtual setting. Harris and Allard Law Manager of Student Experience Barbara Wang soon came on board. 
From vision to reality
The Allard Law team submitted a proposal the UBC Emerging Media Lab to create an app that would allow students to pop open a laptop and begin practicing their moot submission at any time, with the goal of creating an immersive experience that feels like being in a physical courtroom.
The proposal was accepted and the project launched in September 2021.
Thanks to the swift work of the Emerging Media Lab team members, the simulator has already moved into the prototype phase. "We're very lucky the Emerging Media Lab has set up such an incredible program," says Festinger. In addition to collaboration with senior staff, student employees — primarily upper-year UBC Computer Science students — have helped drive the project development forward.
When law students open the app, they enter a virtual courtroom and are greeted by a virtual judge. They then have the option of launching a practice session and delivering a timed submission. The virtual judge will pose common question from a pre-preprogrammed list, or students can add their own questions or allow teammates or coaches to add questions on their behalf.
To make the whole experience more realistic, the app can also detect pauses in a student's speech, allowing the virtual judge the opportunity to interject. "You will be interrupted and asked questions, just like in a real moot," says Festinger. Students who are just starting to practice their arguments can also pause the scenario if they need a moment to collect their thoughts or review their arguments.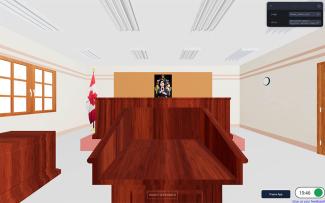 Barbara Wang, an Allard Law graduate and former competitive mooter, says this app would have been helpful when she was in law school, particularly before her first-year moot. Wang coordinates the law school's first-year moot and hopes that the tool will make the experience a more positive one for students.
"In my first year, I would have taken the bank of questions and thought to myself, 'Can I answer this?' If I can't, shoot, I need to go back to the drawing board and think about what I'd say if a judge did ask me those questions," Wang explains. "I hope that's what students will find useful about it."
What's next
While the app is still in the alpha testing phase, the goal is for all first-year law students to be able to use the tool to practice, beginning next year. "Next year's mooters are going to have an incredible opportunity," says Harris.
While the tool is not yet VR-enabled, that's also a goal for the future. "To have VR, we have to find a way for students to be able to read their own materials with VR goggles on," Festinger explains.
Wang is likewise hoping for some ambitious new options — such as speech recognition, to remind nervous students to slow down when speaking, and eye-movement tracking, to remind them to look up from their notes and make occasional eye contact with the judges. "It would be great to see, a year from now, more refined features and a little bit of AI," Wang says.
Another goal is to use AI to make the judges more realistic — and perhaps reach a point where they're imbued with distinct personalities, which Festinger says he'd love to see. "This is a platform on which we can build a lot of things," he adds. "Depending on how it evolves, it could be really quite amazing."
For Harris, helping students get the most out of their first moot will be well worthwhile. "Many students start out assuming that litigation is not for them and that they want to go into areas of law that don't involve oral adequacy," says Harris. "We have a lot of people in litigation today who never would have given it a try, had they not had the mooting experience."
---