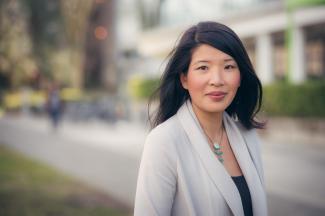 Dr. Carol Liao has been named Woman of the Year by BCBusiness in the Equity and Inclusion Champion category.
A professor at the Peter A. Allard School of Law, director of the Centre for Business Law and a principal co-investigator at the Canadian Climate Law Initiative, Carol's work shows how sustainable business and equity and inclusion are inextricably linked. Carol has delivered workshops on equity, diversity and inclusion in leadership to numerous corporate and non-profit boards and was on the Steering committee of the 2021 National Forum on Anti-Asian Racism. She's also a member of the Employment Equity Working Group of the BC Human Rights Commission.
In this Q&A, Carol shares her insight on anti-racism in the workplace, the importance of acknowledging and rejecting biases, and how a new generation of lawyers is starting to change legal practice for the better.
You were just named an Equity and Inclusion Champion. What does 'equity and inclusion' mean to you?
To be honest, I sometimes worry that words like "equity and inclusion" become convenient catchphrases for people, particularly those that benefit from the status quo, to mask or sanitize the underlying issues. Equity and inclusion are critically important for any organization — to ensure fair and equitable treatment for all within a respectful, diverse, inclusive and discriminatory-free environment.
But often people don't know how to actualize that and then use the words "equity and inclusion" to avoid saying, for example, colonialism, racism, misogyny, homophobia, ableism. So we can't use these words to divert from addressing the root problems of inequity and exclusion.
We see inequality and racism increasingly being recognized as something that needs to be addressed within the workplace, but problems persist. What will it take to get organizations to start to implement genuinely equitable practices?
The temptation to social-wash can be high for organizations or faculties, but leaders need to understand the real risks in that — including how demoralizing it can be for employees to watch an organization's outside marketing switch while nothing is being done from within. There should be concerted efforts and genuine leadership to invest in EDI (equity, diversity and inclusion) principles.
The table stakes for any organization include established codes of conduct, mandated EDI and bias training, gender and race-based policy analysis and auditing, anti-harassment and bullying policies, whistleblowing and "speak up" channels, non-retribution policies, and demonstrable anti-racist practices. Representation matters, and what is the tone at the top? I'm currently working with Vancity's mental health strategy lead, Shona McGlashan, going into organizations that are at a tipping point, to embolden and educate leaders in thinking about how to address the structural racism and systemic discrimination built within our institutions from historic inequalities. Addressing gendered and racial devaluation in our institutions is crucial to building diverse leadership and inclusive organizational cultures.
May is Asian Heritage Month, a time to celebrate the many achievements and contributions of Canadians of Asian heritage. At the same time, we know that anti-Asian racism and hate crimes in Canada have been on the rise since COVID-19. How can we fight back against anti-Asian hate?  
First, there should be a commitment to learn about the history of BC and the racist policies that were employed to disenfranchise and exclude BIPOC groups in this province. Let's be honest about our history and how their legacies echo in our organizational cultures. The 'model minority' myth leverages the perceived 'success' of Asians as proof of how current systems aren't racist…in actuality, Asian Canadians have higher levels of poverty, with disaggregated data showing some groups having more than double and triple the poverty rates of white people.
I think the next generation of lawyers are already starting to change things — in the questions they ask in their interviews, where they decide to work, in their advocacy.
On the leadership level, empirical studies have shown white professionals are twice as likely to be promoted into management compared to their Asian counterparts. Asian people are considered good subordinate employees, but hit a 'bamboo' ceiling as biases on leadership challenge advancement. Mentorship and advocacy programs involving knowledge exchanges between senior and junior members across an organization are one small way to combat this, as well as prioritizing diversity in leadership.
Individually, our brains are wired to make shortcuts and there are a few thousand studies showing bias across industries — in policing, teaching, medicine, sports, law, you name it. The challenge is in taking individual ownership, and to detect, reflect and reject. We spend a lot of time worrying about if we are good or bad people, the reality is that we all have these biases and we need to push ourselves to be unbiased and anti-racist. It is an act of commission to do so.
How can new lawyers, who may not have as much power in their organizations, help build a more inclusive culture within the legal profession?
I actually think the next generation of lawyers are already starting to change things — in the questions they ask in their interviews, where they decide to work, in their advocacy. These new lawyers are educated in a manner different than past generations, who may not have benefited from formal education on Canada's settler-colonial histories, truth and reconciliation with Indigenous peoples, structural racism, the effects of climate change, environmental, social and governance (ESG) principles, business and human rights.
Many of these young lawyers are entering law firms armed with very relevant information that can be a significant benefit to firms, so I believe their influence in adding to a more inclusive culture will come sooner than we think. I am very hopeful about the next generation of lawyers.
---