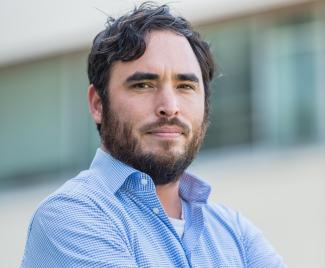 In recognition of his exceptional teaching, Professor Johnny Mack is this year's recipient of the George Curtis Memorial Award for Teaching Excellence and a recipient of UBC's Killam Teaching Prize.
"This means a great deal to me," says Professor Mack. "As an Indigenous scholar and teacher, I work to interrupt the conventional stories we tell ourselves about ourselves and our relations to law by centering Indigenous ethics. I do not expect to be rewarded, so being recognized and singled out faculty-wide for excellence in teaching is immensely heartening and meaningful," he adds.
The Curtis Award is presented annually to an Allard Law faculty member who has been nominated by their students. UBC's Killam Teaching Prize is presented to professors across the university who have been nominated by their faculty in recognition of excellence in teaching.
Professor Johnny Mack is from the Toquaht Nation (Nuu-chah-nulth) and is an assistant professor at the Allard School of Law. His teaching, which focuses on Indigenous legal orders and Canadian Aboriginal and treaty rights, employs a critical decolonial ethic, emphasizing the social and historical context surrounding the relationship between Indigenous law and Canadian law.
In a word, Professor Mack describes his teaching as intersubjective. "A nerdy word, I realize, but what I mean is that I try to invite the students into a shared intellectual and critical space where we can identify key concepts or tensions in the law and process them together," he explains. "I do not really know how to preside over students and lecture — I do much better coming beside them as a guide and interlocuter."
Growing up as a deeply analytical thinker who was captivated by new ideas, Professor Mack says that he nonetheless didn't consider higher education as a serious option for most of his life. "I was a teenage runaway and high school dropout and found myself in a fair bit of trouble," he explains. "At the outset, returning to school was a means of getting out of trouble and I quickly found myself taking refuge in ideas about history, power, law and colonization. These ideas changed the world for me." It was this same passion for new ideas that put Professor Mack on the path to becoming a law professor.
For Professor Mack, one of the most rewarding parts of teaching is helping facilitate those lightbulb moments of clarity for his students, where he can see complex ideas about the law and its relationship to the social world click into place. "The discussion that follows just takes off to a higher level of analysis," he says
In turn, Professor Mack's student nominators credit his unique approach to pedagogy for encouraging a high level of critical and analytical thinking in the classroom — and for creating a space where Indigenous students feel safe sharing Indigenous-specific experiences and legal knowledge. They describe him as deeply committed to student learning and inclusivity, and note that his scholarship on Indigenous legal traditions, which he brings into his teaching, is pushing the boundaries of law and equally deserving of recognition.
Allard Law student Chelsea Gladstone is one of Professor Mack's nominators. She put his name forward for his ongoing dedication to decolonial legal innovation and for the important role he plays as an Indigenous mentor in law.
"Professor Mack approaches his teaching using an anti-hierarchical method and this makes the classroom feel safe and inviting for student participation and reciprocal learning," Chelsea explains. "For Indigenous students, this is especially important because law school can feel foreign to our ways of knowing and being, but Professor Mack makes a conscious effort to push beyond the boundaries of colonial pedagogy and he reinvents new ways for students to learn and engage with legal theory," she adds.
Chelsea, who is a member of the Haida Nation, says she's particularly grateful to Professor Mack for inviting Indigenous students to draw on their ancestral Indigenous legal knowledge, and plans to bring the legal tools that she learned in law school back to her community. "Professor Mack made me feel like I have a place in law as a Haida student and transformed my experience at Allard in a positive way," she says.
Graduating Allard Law student Laura Beaudry, who is Cree and Métis, says she nominated Professor Mack in part because he was the first professor she had who critiqued the law and allowed students to feel comfortable doing the same. "If we don't push back against the status quo, then the problems we see in the law will never change," she explains. "Professor Mack gave us the space to do that without judgement."
Professor Johnny Mack will be recognized for his achievements in teaching at UBC's upcoming graduation ceremony on May 25.
---