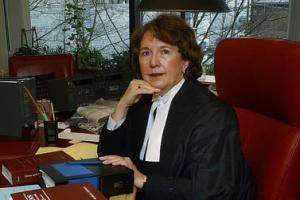 The Allard School of Law is proud to recognize the significant recent achievements of a number of members of our alumni community. First, congratulations to alumna and former dean the Hon. Madam Lynn Smith, Q.C., O.C. (LLB '73) on being appointed an Officer of the Order of Canada.  To learn more about the Hon. Madam Lynn Smith, Q.C., O.C.'s accomplishments, as well as her experiences as a student and dean at the law school, read her profile on the Allard School of Law  History Project website. 
Congratulations as well to the following members of the alumni community for being honoured with the Queen's counsel designation for their contributions to BC's justice system:
Bruce Ralston (LLB '80)

Karen Martin (LLB '84)

Tom Fellhauer (LLB '87)

Janine Benedet (LLB '93)

Brook Greenberg (LLB '96)

Patrick McGowan (LLB '97)

Michael Bain (LLB '98)

Ryan Dalziel (LLB '03)
Thank you for your exemplary dedication to your community and to the practice of law.  You are an inspiration to our students and we look forward to seeing what you will accomplish next.
---