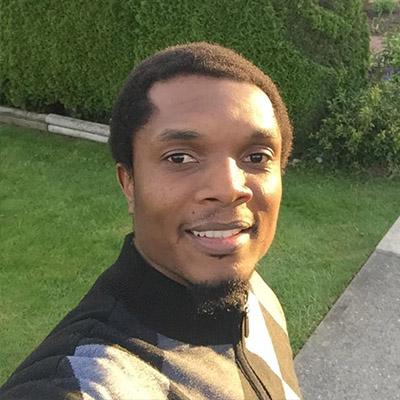 Gideon Odionu is a PhD student at Allard Law. Prior to joining UBC, Gideon obtained his LLM degree from the University of Saskatchewan in 2018, where he was also a Graduate Teaching Fellow, Graduate Research Assistant and Graduate Students' Representative at the Faculty Council. He completed his Bachelor of Laws degree in 2011 at the University of Jos, Nigeria, and was subsequently called to the Nigerian Bar in 2012. Gideon has gained significant law practice experience having worked as a Senior Associate in the law of firm of Kenna Partners.
Gideon is both a 2020 UBC Sustainability Scholar and a UBC Sustainability Ambassador. Through the UBC Sustainability Initiative, he is currently working on a funded internship project at the BC Housing Research Center. His broad research interests include international investment law, development, international law and the Global South. Gideon's current PhD research at Allard Law  addresses the tension between three policy goals that are shared by most contemporary governments: encouraging investment, mitigating climate change and achieving sustainable development. Fundamentally, his research seeks to identify international and domestic legal tools for integrating sustainable development into investment law so that foreign investment supports ─ or at least does not impede ─ the fight against climate change. This challenge is global in scope and highly relevant to the Global South.  His PhD research supervisor is Professor Stepan Wood.
Learn more about Gideon and his research.
Why did you decide to pursue graduate studies?
I felt the need to build capacity and strengthen my research interests having gained significant law practice experience in Nigeria. In addition, undertaking graduate studies was a great way to gain recognition as a specialist in the research areas I have always been passionate about. To explore those areas, I decided to enroll in a thesis-based LLM program in Canada. Upon completing the LLM program, I started a PhD at Allard Law so that I could make significant contributions to my research areas and bring my ideas for human and environmental wellbeing to life.
What attracted you to Allard Law?
Allard Law is one of the best law schools in Canada, and around the world. It also offered me the opportunity to work with leading scholars in my research areas. For instance, my supervisor, Stepan Wood is a distinguished Professor and Canada Research Chair in Law, Society and Sustainability (Tier 1). Under his guidance and that of my doctoral supervisory team which includes erudite scholars like Professor Karen Mickelson, I aspire to keep on learning and building capacity in my research areas. Allard Law also provides generous funding for PhD students.  The opportunity to study in the beautiful UBC Vancouver campus was also one I always looked forward to.
What informed your current research focus?
The motivation for undertaking my current research focus stems from a strong interest in foreign investment, sustainability and climate change mitigation. While working in Nigeria, I witnessed the environmental, social, health, and economic effects of oil and gas production carried out by international oil and gas corporations (IOCs) in the Niger Delta region of the country. My LLM dissertation ― which in part, focused on whether foreign investment laws, investment treaties and/or private contractual obligations would impede the enactment of new gas flaring legislation and if such legislation would impact on IOCs engaged in oil production activities in Nigeria ― and the deplorable environmental condition of the Niger Delta region provided the impetus for my current research focus.
In what ways would your research make an impact?
Broadly, I consider my research as an opportunity to inspire and create positive and meaningful change around the world. While the challenge which my research seeks to address is global in scope, it is highly relevant to the Global South. The countries of the Global South are currently grappling with the challenge of achieving sustainable development and balancing competing foreign investment and climate change mitigation goals.
What has been the highlight of your time at Allard and UBC?
I have had the opportunity to participate in several sustainability projects and voluntary activities. As a UBC Sustainability Scholar, I am currently working on a sustainability project with BC Housing Research Center. Apart from that, my position as a UBC Sustainability Ambassador has offered me the chance to work as part of a team to enlighten students about sustainability, support student engagement with sustainability, and connect sustainability groups on campus. Another highlight of my time here, would be taking part in a community outreach seminar at Bowen Island, BC, which was aimed at advancing public policy discussions on climate change and sustainable finance. I am grateful to my supervisor, Allard Law and UBC for the opportunity to take part in these activities along with my doctoral responsibilities.
What strategies have you adopted to help you through graduate school?
I always keep in mind what I really want from graduate school and seek opportunities to achieve those objectives. I also find time to relax and maintain a work-life balance.
---