GREEN RIGHTS AND WARRIOR LAWYERS VIRTUAL ACADEMY DAY 2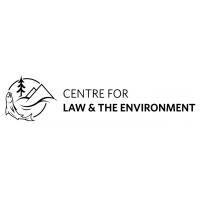 Centre for the Law and the Environment Assistant
Jan 16, 2023
How can lawyers and Indigenous legal knowledge holders use the power of law to fight for environmental justice, human rights to a healthy environment and the rights of non-human beings and ecosystems?
The First Annual Green Rights & Warrior Lawyers Virtual Academy and Inspirathon seeks to inform and inspire interested people around the world about the role of law in securing environmental rights and justice.
This innovative program mobilizes the power of stories to bring issues of environmental rights and justice to life and inspire action, as nine courageous "Warrior Lawyers" from around the world shared their stories of advancing "Green Rights" through (or sometimes despite) law.
Day 2 of the Academy featured:
Mumta Ito, lawyer, environmental campaigner and Executive Director of Nature's Rights (UK)
Marjan Minnesma, lawyer, social entrepreneur, Goldman Prize winner and Executive Director of the Urgenda Foundation (Netherlands)
Tony Oposa, lawyer, storyteller, change maker and Normandy Chair for Peace (Philippines)
Each talk was followed by a space-limited, informal "at the kitchen table" chat in where participants engaged in a relaxed virtual conversation with the Warrior Lawyer who has just given a public talk. 
WATCH THE RECORDINGS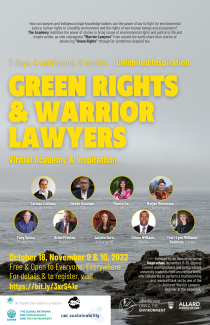 ---
Centre for Law and the Environment