The year the climate emergency came to British Columbia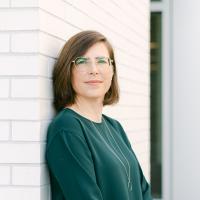 Jocelyn Stacey
Associate Professor
Dec 13, 2021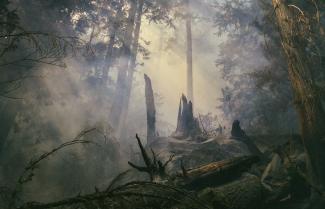 2021 has been a year of emergencies in British Columbia. Despite beginning with good news—the roll-out of COVID vaccine to priority groups across the province—the pandemic has shifted to become the backdrop against which the climate emergency has begun to play out.
This year saw the end of the longest provincial state of emergency in the province's history. For 16 months, the Province issued emergency orders to address the COVID-19 pandemic. But on the heels of lifting this order, a fatal heat dome settled over the Pacific Northwest. With temperatures hitting 49.6°C in Lytton, BC, a new Canadian record, and reports that Lower Mainland homes topped 40°C indoors, 301 people died on a single day of extreme heat. The West Coast turned into an expansive graveyard of tide pools, containing evidence that more than one billion sea creatures perished in the combination of extreme heat and low tide.
Next were the wildfires. The shocking vaporization of the town of Lytton and the less shocking and now repeated failure of provincial wildfire response to notify affected First Nations communities. At least 1,600 wildfires burned across the province, consuming nearly 9,000km2, the third-worst wildfire season on record. And now the floods, which displaced nearly 15,000 people, led to the deaths of over 100,000 livestock, and demolished highways and rail lines, disrupting major supply chains. At least four people have died.
Why this is different
Each of these events has a precursor in the recent past in this province. None was unpredictable. Yet this year it feels different. As someone who researches and writes about environmental emergencies, I see three features of this year of emergencies that stand out as distinctive.
First, we have experienced compounding emergencies and cascading risks in real time. Environmental issues often present challenges of space and time: decisions to permit pollution, for instance, have environmental consequences but those consequences are spread out over a large area or may not be perceptible for a long time. (Greenhouse gas emissions causing climate change are case in point.) But this year has been the opposite, in which the rapid succession of extreme events has caused dramatic disruption and repeatedly captured national attention.
The absence of exceptional measures to protect communities in response to these extreme events stands in stark contrast to the continued use of exceptional force and rights-violations up north, where RCMP arrest journalists and continue to violently remove Indigenous land defenders resisting extractive industry development on their lands.
Compounding emergencies are those in which two events—each on its own likely to constitute an emergency—occur at the same time, amplifying the impacts. Each of the emergencies this year are compounded by the pandemic: for instance, those worried about COVID exposure and thus unwilling to access public cooling facilities faced greater risk of heat-induced illness and death in their own homes. 
Cascading risks are those in which an initial event triggers further and potentially more severe secondary emergencies. As reflected in BC's own materials, fires lead to flooding and landslides, and this time flooding has led to further infrastructure and supply chain issues. The City of Merritt had to evacuate because of the complete failure of its wastewater treatment facility,   and much of BC remains under a fuel rationing order in response to the gasoline shortage in southwest BC. No longer separated by space and time, these compounding and cascading events reveal the climate emergency in real time.
The second reason this is different is the sheer number of emergency orders issued in the province this year. Under the three provincial states of emergency and COVID public health emergency, the provincial government has issued dozens of emergency orders —travel restrictions, evacuations, gasoline rations, gathering limitations, mask requirements. Individually, some of these orders have been scrutinized for their effectiveness and legality (for example, here). Collectively, these orders underscore the enormous challenges of responding to compounding and cascading emergencies in the absence of adequate prevention, mitigation, precautionary action and planning.
The third reason it is different is that entire communities have faced the prospect of an unresponsive government. For long days in the midst of fire and flood, community leaders pleaded with the provincial government to declare provincial states of emergency and to mount the coordinated and resourced response needed to match the scale of these crises. Only after at least five days of local government and Indigenous leaders demanding the Province declare an emergency to escalate the response to the over 100 out-of-control wildfires, did the Province react. In response to the November flooding, BC declared a provincial state of emergency two days after the neighbouring State of Washington, and only after the full scale of the disaster came into view.
The absence of exceptional measures to protect communities in response to these extreme events stands in stark contrast to the continued use of exceptional force and rights-violations up north, where RCMP arrest journalists and continue to violently remove Indigenous land defenders resisting extractive industry development on their lands. These contrasting responses highlight the state's dual role in failing to respond to climate disasters while also actively contributing to them in the first instance. BC's failure to mitigate and failure to adapt are on full display.
Where to from here
Phrases now proliferate to capture the profoundly unsettling nature of these repeated extreme events. Whether we're now living in 'the new normal' or through 'a dress rehearsal' for the full scale of the climate crisis, we know to prepare for continued instability, disruption and change that impacts virtually all aspects of public policy.
Disaster risk reduction is the concept that captures this ever-present vulnerability to disaster and continued climate disruption. Adopted in 2015, the Sendai Framework for Disaster Risk Reduction provides guidance to countries on how to take anticipatory action to reduce disaster risk and losses to lives, livelihoods, health and to the socio-ecological communities that we are all embedded within. Disaster risk reduction is fundamentally anticipatory and cross-cutting. That is, it requires every government agency and every aspect of public policy to identify and assess potential vulnerabilities to disaster and to take steps to mitigate those risks. Crucially, the concept directs attention to underlying drivers of disaster risk: climate change, discrimination, colonization. A commitment to the Sendai Framework means addressing these underlying drivers through systemic – rather than technical and siloed – reforms.
In the fall of 2018, BC became the first Canadian province to commit to implementing the Sendai Framework. Curiously, though, the Province's own description of disaster risk reduction seems to miss its crucial components. On its website, Emergency Management BC, the lead emergency management agency in the province, describes disaster risk reduction as the standard cycle of emergency management operations (mitigation-preparedness-response-recovery). While the emergency management cycle is a useful way of describing distinct and activities that are undertaken by specialized agencies to manage emergencies, this is not disaster risk reduction. It is rather a process for managing emergencies operationally.
As we reach the end of this year of emergencies, the Province has not fulfilled its commitment to disaster risk reduction. And the possibility that lead agencies and officials may not understand the basics of what it requires is even more worrying. If 2021 has been the year the climate emergency arrived in British Columbia, then 2022 must be the year British Columbia picks up the tools best suited to the task of responding.
---