SSHRC Partner Engagement Grant: Tŝilhqot'in Law and Jurisdiction in the Pandemic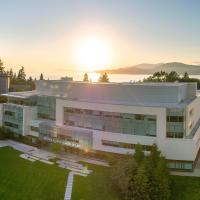 Mar 16, 2021
A year into the pandemic, we asked Professor Jocelyn Stacey about her COVID-19 research with the Tŝilhqot'in National Government.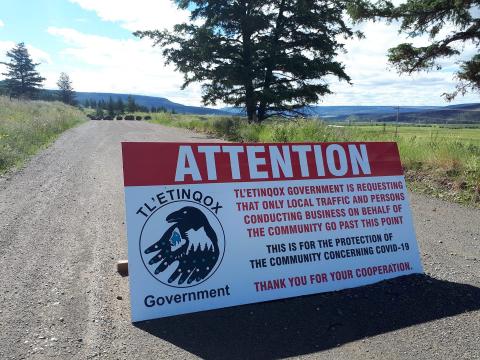 Tell us a little bit about the focus of this research project.
This project investigates the Tŝilhqot'in Nation's experiences of COVID-19 and the jurisdictional challenges that emerge when an Indigenous nation seeks to lead its own public health emergency response. The project is a partnership between UBC and the Tŝilhqot'in National Government and it builds on our previous work on Tŝilhqot'in jurisdiction and the 2017 wildfires. We have a fabulous research team: Crystal Verhaeghe (Emoda Design/ʔEsdilagh First Nation), Emma Feltes (PhD candidate, UBC Anthropology), Jade Dumoulin (JD student Allard Law) and myself. 
What drew you to work in this area? How did you become involved?
While the Tŝilhqot'in Nation is known for being the first, and still only, First Nation to have Aboriginal title declared by the Canadian courts, the Nation is also a leader in Indigenous emergency management. The Nation entered into the first tripartite agreement in Canada with respect to emergency management, so there is a commitment on the part of all three governments to the Tŝilhqot'in Nation in implementing its own jurisdiction, laws and policies over emergencies that affect its territory and people. At the same time, extensive research shows that Indigenous peoples are made vulnerable to emergencies because of historic and ongoing colonization. (Think about the housing and infrastructure crisis on reserve, meaning sometimes 13 people sharing a worn-down house with Elders, and with no suitable spaces on reserve to self-isolate.) Strengthening Tŝilhqot'in jurisdiction is the pathway to ameliorating and rectifying this vulnerability. I've worked with the Tŝilhqot'in Nation for about four years now, beginning with the wildfires and now with COVID, to understand and advance Indigenous leadership in times of crisis. It's a real privilege to do this work in partnership with the Nation.
What question are you hoping to answer with this project?
Our research asks how Tŝilhqot'in knowledge and experience have generated distinctive responses to COVID-19 within the Nation, and it investigates the ways in which Canadian law and policy has supported or at times undermined Tŝilhqot'in COVID responses. For instance, we know that initially First Nations' checkpoints (or border advisories and controls) sparked significant controversy, despite the very strong support for similar measures taken by the Canadian state (e.g. Canada/US border controls). Our work documents in detail why one Nation (with six communities) decided to install checkpoints for all communities, how those were implemented and the challenges with receiving adequate support from Canada and BC to effectively exercise Tŝilhqot'in jurisdiction through these checkpoints. 
What do you hope to achieve with this research? What is your goal end result?
Everyone, everywhere is learning through the experience of the global pandemic. This project seeks to facilitate that learning in a systemic way to advance the implementation of Tŝilhqot'in jurisdiction. The immediate goal is a comprehensive report on the Tŝilhqot'in experience, with specific recommendations on how all levels of government – Tŝilhqot'in, provincial, and federal – can adapt their policies and practices to support Tŝilhqot'in jurisdiction and to begin to address the wide-ranging and profound impacts of the pandemic on, not only the Tŝilhqot'in, but Indigenous peoples across Canada. The report comes out on March 18! Watch for Dada Nentsen Gha Yatastɨg/Tŝilhqot'in in the Time of COVID. (The literal translation to English is "I am going to tell you about a very bad disease.") 
View the report (PDF) on the Tŝilhqot'in Nation's website. 
On April 8, 2021 attend a virtual webinar on the report.
---