No Fly Zone Speaker: The Rights of Nature Movement (Webcast)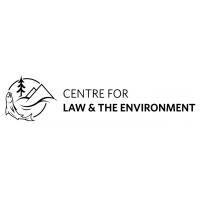 Centre for the Law and the Environment Assistant
Mar 5, 2020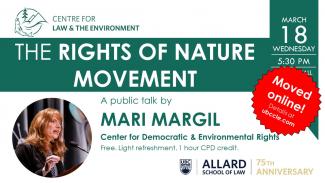 The Georgia Straight's "Talk of the Week" for the week of March 11, 2020
UPDATE: THIS TALK WILL BE DELIVERED LIVE ONLINE.
To join the event from a computer or mobile device, go to https://bluejeans.com/931205199?src=join_info. When prompted, download and launch the Bluejeans app.
Keynote Address: The Rights of Nature Movement
The Centre for Law & the Environment Speaker Series is proud to present a keynote address by Mari Margil, a leading force in the global Rights of Nature movement. The Rights of Nature represent a major shift in how humankind governs itself toward the natural world. Learn how this movement has grown in just over a decade from local communities to national laws, for the first time treating nature as possessing legal rights of its own.
Free and open to the public. Light pre-lecture refreshment starting 5:00 pm. No RSVP required.
Mari Margil is the Executive Director of the Center for Democratic and Environmental Rights, www.centerforenvironmentalrights.org, where she leads the International Center for the Rights of Nature. Previously, she was the Associate Director of the Community Environmental Legal Defense Fund, assisting the first places in the world to secure the Rights of Nature in law, including Ecuador. Today, she is working in Australia, Sweden, Philippines, Nepal, and elsewhere, as well as with indigenous peoples and tribal nations, to advance Rights of Nature legal and policy frameworks. Mari received her Master's degree from Harvard University's Kennedy School of Government. She is a co-author of The Bottom Line or Public Health (Oxford University Press) and Exploring Wild Law: The Philosophy of Earth Jurisprudence (Wakefield Press).
More details at https://marimargilrightsofnaturetalk.eventbrite.ca.
This public keynote is the second of two events in a Rights of Nature Double-Header. The first event is a public workshop on Rights of Nature legislation featuring presentations by Allard JD student researchers and discussion with a panel of distinguished experts. More details about that event at HERE.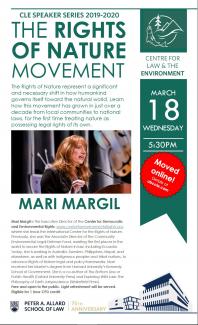 Presented by the Centre for Law & the Environment and Rights of Nature BC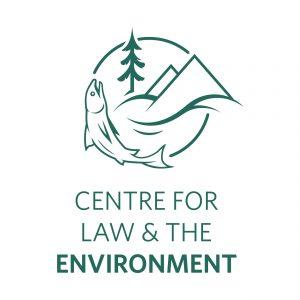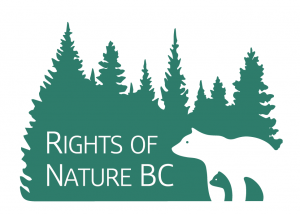 ---
Centre for Law and the Environment