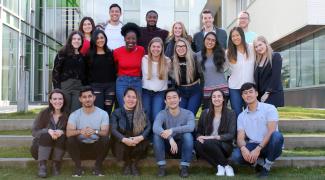 Thank you for your interest in supporting the Peter A. Allard School of Law. Gifts may be made as a one-time contribution or pledged over multiple years, and can be fulfilled through many different financial vehicles. The key ways of giving are listed below, and we would be pleased to work with you to identify the giving method (or combination of methods) that will best meet your philanthropic goals.
Gifts of Cash
Gifts may be made by cash, cheque, credit card or money order. Gifts made by cheque or money order should be made payable to the Allard School of Law, UBC.
Gifts of Securities
Publicly traded securities include shares, flow-through shares, bonds and mutual funds. Tax savings are substantially greater when donating publicly traded securities directly to UBC rather than donating the cash proceeds from the sale of these same securities.
In the May 2, 2006 federal budget, the government announced the elimination of the capital gains tax on such donations. This means even more tax savings for donors.
UBC can accept both electronic and certificate shares as well as gifts of publicly traded options. If you choose this gift type, you will immediately receive a donation receipt for the value of these gifts.
Give Online
You may donate online with your credit card via UBC's secure Donation Page. You can sign up for a monthly giving program or make a one-time gift.
Gifts in Kind
A gift-in-kind is a non-cash donation and includes items such as artwork and real estate. In particular, the law school seeks works of donated or loaned art, with an emphasis on acquiring Pacific Northwest art, Indigenous art as well as works of art that enhance and contribute to the overall appearance and environmental themes found within Allard Hall. Once the gift is appraised, a donation receipt is issued for the fair market value of the gift. Art can also be bequeathed to the law school. Please note that the law school and University follow carefully considered art acquisition procedures to ensure that a donation will achieve the intended purposes of the donor and the University. Learn more about making a gift of art to the Allard School of Law.
Deferred and Planned Gifts
By planning your gift today, you can help future generations of students and researchers meet the needs of tomorrow. Professional staff are available to discuss the following deferred and planned giving options to determine which option works best for you:
Gifts by Will
Gifts of Publicly Traded securities
Gifts of RRSP and RRIF funds
Charitable Remainder Trusts
Charitable Gift Annuities
Immediate Gift of Future Interest in Real Estate
International gifts
Commemorative giving: In Honour and In Memoriam
UBC can help you create a legacy in honour of a loved one, friend or colleague with the establishment of named awards such as scholarships and bursaries.
Matching Gifts
Many companies and firms encourage their employees to contribute to charities by offering a matching gift program. This means the company will donate funds equal to your contribution to the same fund, effectively doubling the gift. Check with your employer to see if they offer a charitable gift matching program, or visit www.matchinggifts.com/canada/ubc/ to view the current list of participating companies.
International Foundations
The University of British Columbia has established three international charitable foundations for donors living in the United States, the United Kingdom, and Hong Kong. These foundations expedite support to the University and maximize tax benefits for non-residents of Canada. Gifts made to our Foundations will flow directly to UBC to be used as the donor directs. No administration fees of any kind are deducted from your charitable gift.
All of the Foundations are equipped to handle wired gifts of cash and securities, gifts received through public and private foundations, corporate matching gifts, gifts of real property, charitable annuities, and legacy gifts such as bequests, insurance or charitable trusts.