Robert Russo
Lecturer
LLB, LLM, PhD (Allard School of Law)
Profile
Dr. Russo obtained his LLB, LLM and PhD degrees from the Allard School of Law.  His research has been primarily in the area of immigration and labour/employment law and he has published several peer-reviewed articles in this field.  He joined UBC as a part-time faculty member in 2017 and was appointed a full-time Faculty Lead Lecturer for the LLMCL program in 2018.  He has subsequently guided the teaching for the Distance Learning and LLMCL programs as well as teaching in the first-year J.D. program.  He has also designed and taught online courses in in Torts and Public Law.
Dr. Russo's current interests in law extend to human rights, labour and justice issues. He has been invited to present on labour and migration issues to the Royal Society of Canada and the International Labour Organization.  He worked as a legal researcher before pursuing his graduate law degrees.  For almost a decade he served as one of the Federal Government's representatives at hearings held across Canada to resolve individual claims related to federally operated residential schools.  
He is an active member in the local legal community and a member of the Law Society of British Columbia.   He has taught for the Continuing Legal Education Society and the Professional Legal Education Co-Operative Association, among other organizations, and has volunteered his time with various refugee and human rights organizations in the Lower Mainland.
Courses
LAW 515 (Canadian Public Law)
LAW 503E (Canadian Tort Law)
LAW 505 (Canadian Criminal Law & Procedure)
LAW 515 (Canadian Private Law: Contractual Obligations and Remedies)
Publications
"Collective Struggles: A Comparative Analysis of Unionizing Temporary Foreign Farm Workers in the United States and Canada" 41 (2018) Houston Journal of International Law 5
"Temporarily Unchained: The Drive to Unionize Foreign Seasonal Agricultural Workers in Canada -- A Comment on Greenway Farms and UFCW" 169 (2011) BC Studies 131
 "A Cooperative Conundrum? The NAALC and Mexican Migrant Workers in the United States" 17:1 (2010-11) Law and Business Review of the Americas 27
Robert Russo, "SAWP and Unionization," * Invited as a presenter to the 2010 Royal Society of Canada Symposium, "Immigrating to Canada? Who Comes? Who Stays? Who Decides?" Ottawa, Ontario, October 15, 2010
Robert Russo, "Book Review: Fighting For Political Freedom, eds. L. Karpik, T. Halliday et al." 47:1 (2009) Alberta Law Review 291
Robert Russo, "Security, Securitization and Human Capital: The New Wave of Canadian Immigration" 3:4 (2008) International Journal of Social Sciences 299
(with W. Wesley Pue) "The Problem of Official Discretion in Anti-Terrorism Law: A Comment on R. v. Khawaja" 24 (2008) Windsor Review of Legal and Social Issues 57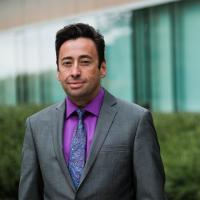 Research Interests
Immigration and refugee law
Labour and employment law
---
How can technology and globalization benefit the working class?
---